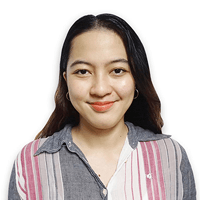 Why Should You Upgrade Your Plan to Microsoft 365 Business Premium?
Remote working has had businesses look for a solution to keep their team members productive and connected despite the location gap. Fortunately, cloud-based productivity suites such as Microsoft 365 provide just that.
If you've been searching for a suitable plan for your business but are still on the fence about which one to get, this article is for you. Today, we're going to talk about one of the Microsoft 365 plans that can help your business be in optimal shape without breaking the bank: Microsoft 365 Business Premium.
Microsoft 365 Business Premium offers a cost-effective solution to improve cybersecurity, reduce operational costs, and empower employees to work from anywhere. Since it is a cloud-based solution with multiple subscription levels, you can purchase the service level that makes the most sense to your business and easily scale up or down at your own pace.
At Intelligent Technical Solutions, we help hundreds of businesses thrive by setting up relevant tools for seamless operations. In this article, we'll go over:
What is Microsoft 365 Business Premium?

What's the difference between Microsoft 365 Business Standard, Microsoft 365 Business Premium, and Microsoft 365 Enterprise plans?

What is included in the Microsoft 365 Business Premium Plan?

Is Microsoft 365 Business Premium the right plan for your business?
After reading, you will be able to improve your business' productivity and team performance, no matter where you are in the world.
What is Microsoft 365 Business Premium?

Microsoft 365 Business Premium is the top-tier Microsoft Suite subscription under the Business category. This plan is suited for small businesses that want the complete Microsoft Office 365 experience at an affordable cost.
Business Premium offers everything included in Business Standard, such as:
Business-class email,

Cloud file storage, and

Microsoft Teams

, among others.
It exclusively provides advanced cyber threat protection and device management across the network.
How much does Microsoft 365 Business Premium cost? The annual subscription will cost you $22 per user per month, which automatically renews if you don't cancel the plan.
Microsoft 365 Business Standard vs. Business Premium vs. Enterprise Plans
The main difference between the three is the number of users they support. Microsoft 365 Business Standard and Premium are specifically created for small and medium-sized businesses with up to 300 users, while Microsoft 365 Enterprise supports bigger organizations.
Microsoft 365 for Enterprise is a set of licensing plans offering increased compliance and security management levels, providing additional business intelligence and analytics functionality. These plans are designed for businesses with more than 300 users in their network.
So, the number of team members is critical to choose which plan fits you best.
What is Included in the Microsoft 365 Business Premium Plan?
When you subscribe to the Business Premium plan, you get to enjoy the latest and up-to-date Microsoft apps and services to boost efficiency and productivity, including:
Outlook

Word

Excel

PowerPoint for Windows or Mac

OneNote

PC version of Access and Publisher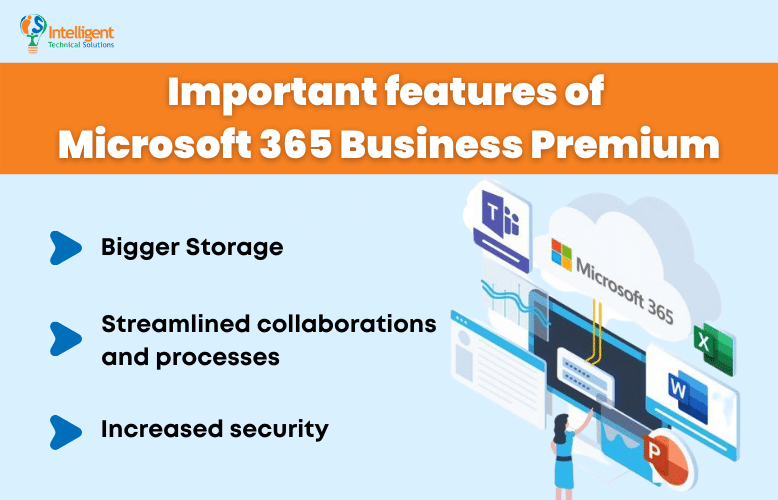 The plan also consists of three important features: Bigger storage, Streamlined processes, and Increased security. To give you a quick rundown, here are the main inclusions:
Bigger storage
You'll have 1 TB of OneDrive Cloud storage per user. This allows you to edit and share documents, photos, and other files from anywhere on all your devices without having to worry about running out of space.
Emailing through Outlook will also be less of a hassle with an enterprise-grade email that gives you a 50 GB mailbox per user and the capacity to send attachments of up to 150 MB.
Streamlined collaborations and processes
Keep your team on the same page and make collaborations easier using group chat, online meetings, calling, and web conferencing with Microsoft Teams.
Subscribing to Business Premium also lets you streamline appointment scheduling with customers and partners through Microsoft Bookings. Thus, providing an easy-to-navigate webpage where customers can find and book appointments around the clock.
Increased security
Cybersecurity is critical for business longevity and growth. As a business owner, you should prioritize strengthening your network defenses above all else. Fortunately, Business Premium not only enables you to increase productivity but also your security.
With Microsoft Defender and Azure Information Protection (AIP), you can guarantee enterprise-grade security for your business.
Microsoft Defender protects you against the most common cyber threats, such as ransomware, phishing attacks, and viruses across devices with next-generation antivirus and endpoint detection and response (EDR).
AIP, on the other hand, encrypts sensitive emails and restricts the copying and forwarding of confidential business information–all while enabling unlimited cloud archiving.
As an additional layer of protection, Business Premium also allows you to apply security policies to help protect work data on company-owned and employee devices:
You can set up secure remote access and safeguard your organization against password loss with advanced

multi-factor authentication (MFA)

.

And with the use of

Microsoft Intune

, you also get to keep company data within approved apps and easily remove important information from stolen or lost devices.
Things to Consider Before Choosing Microsoft Business Premium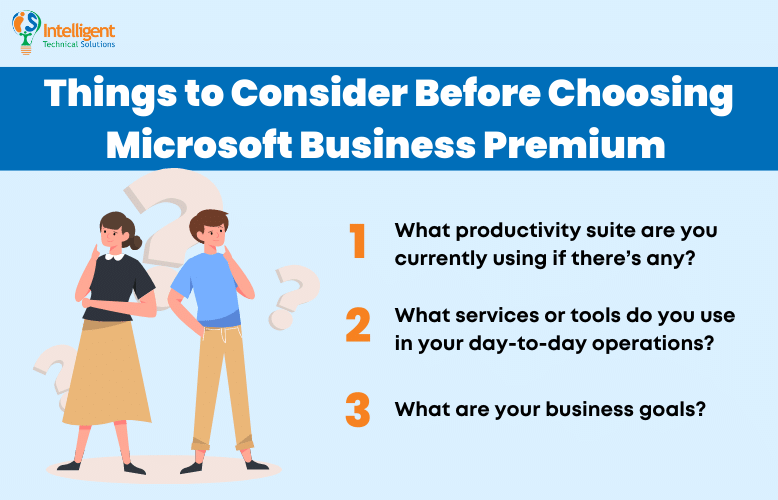 Microsoft 365 Business Premium has helped various organizations achieve more with innovative Office apps, intelligent cloud services, and world-class security. However, switching to another business subscription could be a huge adjustment. So, it is important to see your vantage point clearly. You can start by asking these questions:
1. What productivity suite are you currently using if there's any?
What does your current plan offer for basic office productivity? Do the apps included in the plan have the ability to scale as your business grows?
2. What services or tools do you use in your day-to-day operations?
Do your day-to-day operations include sending emails and editing spreadsheets separately, without much communication within the team? Do you want to move toward secure, real-time collaboration? To be agile and competitive, you need high-performance and secure business software to support your goals.
3. What are your business goals?
If you are looking to expand and have a larger, distributed workforce, a basic plan is not going to cut it. Businesses looking to grow, especially those that plan to work globally, will benefit significantly from the added security features in a Microsoft 365 Business Premium plan.
Need help setting up Microsoft 365 Business Premium?
With so many options and considerations, you need to factor in, settling on one plan may be quite challenging. The good thing is that Microsoft offers a wide variety of plans tailored to fit your business. Some allow you to customize the use of apps and services, while others even let you have the power to manage your files independently.
Microsoft 365 Business Premium provides productivity and security at an affordable price. As a recap, here are the benefits of subscribing to the plan:
Up-to-date apps

Bigger storage

Streamlined processes

Increased security
Here at ITS, we help hundreds of businesses make smart decisions about their technology needs. Learn more about this by comparing Microsoft Office 365 Business and Enterprise Plans.