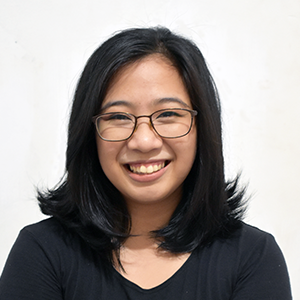 Should I Get Microsoft 365 with an MSP? (7 Key Benefits)
Getting a Microsoft 365 subscription isn't as straightforward as it may seem.
You need to juggle multiple factors, such as the overall cost, the setup, the maintenance, and the security configuration.
So, if you're looking for a way to avoid having to think about this, then it's worth looking into getting Microsoft 365 through your Managed IT Service Provider (MSP).
Here at Intelligent Technical Solutions, we've seen the way MSPs have lifted the burden of figuring out everything through trial and error.
In this post, we'll discuss the seven benefits of getting Microsoft 365 through your MSP, and how MSPs help organizations migrate to Microsoft 365 and manage their IT systems effectively, which are: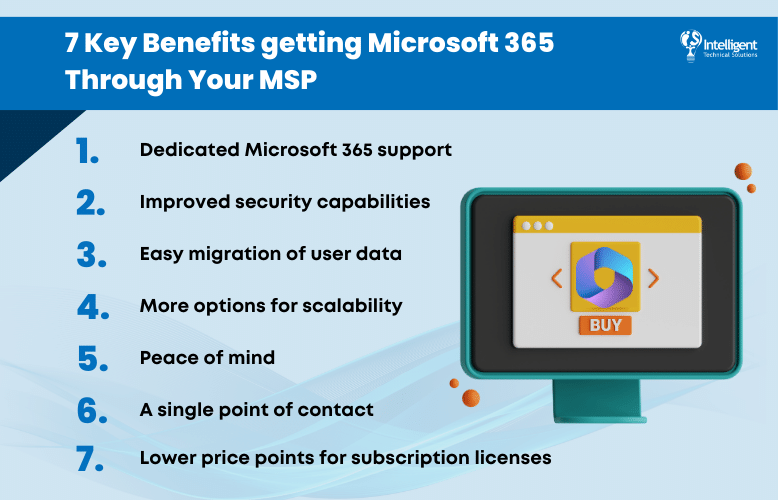 1. Dedicated Microsoft 365 support.
2. Improved security capabilities.
3. Easy migration of user data.
4. More options for scalability.
5. Peace of mind.
6. A single point of contact.
7. Lower price points for subscription licenses.
By the end of this post, you'll have a better understanding of how merging your Managed IT and Microsoft 365 providers under a single umbrella can help your business - and prevent headaches down the line.
1. Dedicated Microsoft 365 support
When you choose a Managed IT provider to support your Microsoft 365, you'll be getting dedicated support for all the other apps in the suite: Word, Excel, Power BI, and so on.
You can rest assured that setting up these applications will be as painless as possible.
Your MSP will also help make sure Microsoft 365 runs smoothly by providing ongoing maintenance and updates when they become available. And because all these services are tied together under one umbrella, MSPs can manage them seamlessly as well.
Read: "5 Advantages of Going with Your Managed Service Provider for Office 365"
2. Improved security capabilities
Microsoft 365 includes advanced security features that help protect your data and keep it safe from threats such as malware, ransomware, and phishing attacks. By partnering with your MSP, you're getting the right people to configure your network to fully utilize Microsoft 365.
Without the right people with the right skills managing your systems, the fully security suite of Microsoft 365 will be wasted.
Certain MSPs also provide unique security scripts that you can only get as a partner organization.
Read: "Why Choose a Microsoft Silver or Gold Partner?"
3. Easy migration of user data
Migration of user data is an issue that comes back to haunt you if not done properly.
Luckily, during a Microsoft 365 migration, an MSP can assist with several tasks, including:
Planning and preparation by identifying any potential roadblocks, and developing a plan for the migration.

Migrating all data such as emails, documents, and other files

User

onboarding

through setting up accounts, assigning licenses, and training your employees on how to use the new platform.

Customization and integration for the specific needs of your organization, and other systems and applications you use.
All these actions come with the expertise brought about by years of experience in the IT industry, ensuring you'll
4. More options for scalability
Microsoft 365 is designed to be flexible and scalable, so you can easily add or remove users as your business grows or changes.
However, MSPs ease the burden of planning for this scalability with their capacity to manage your license, onboard users efficiently, provide training and support, as well as customize and integrate Microsoft 365 with your other programs.
5. Peace of mind
When you get Microsoft 365 with a Managed Service Provider (MSP), you can rely on their technical expertise and support to help you set up and manage your subscription, troubleshoot any issues, and optimize your use of the tools. This can give you peace of mind knowing that you have a team of experts to turn to if you need help.
6. A single point of contact
If you're like most business owners, you probably have emails rushing in at all hours of the day, and if you want something done, you need it done fast.
That's why it's incredibly beneficial for one person to be responsible for all your IT needs.
Instead of going through a pipeline of people to handle Microsoft issues, with Microsoft 365 as part of their Managed IT Services offering, businesses enjoy one person to call when they need help or support with anything relating to their technology infrastructure or software needs.
With this single point of contact comes several major benefits, such as:
No more bouncing between different departments

No more waiting on hold while you try to get through (or getting passed around)

No more waiting for responses from various people
7. Lower price points for subscription licenses
MSPs may offer lower price points for Microsoft 365 subscriptions due to a combination of factors, including volume discounts, bundle discounts, or value-added services.
For example, Managed IT providers may be able to negotiate volume discounts with Microsoft for large numbers of licenses. This can allow them to offer lower prices to their customers.
They also have the option to offer discounts due to bundling Microsoft 365 with other services, such as data migration or training. Other services, such as customization and integration, in addition to Microsoft 365 subscriptions, are also priced lower than if they were purchased separately, which can help reduce the overall cost to the customer.
Generally, MSPs can offer lower prices due to economies of scale and other cost savings they have achieved through their business operations.
Ready to get Microsoft 365 with an MSP?

Overall, Managed IT and Microsoft 365 are powerful tools that - when combined - bring benefits businesses should consider. By getting Microsoft 365 through your MSP, you're ensured to get the most out of Microsoft 365.
As an MSP, we've often found ourselves tasked with this responsibility: managing our clients' Microsoft subscriptions and programs and ensuring they get their money's worth.
If you're ready to partner with an MSP for your business, schedule a meeting with our IT experts to discuss the cost of getting Microsoft 365.
However, if you'd like to continue your research about Microsoft 365, check out any of the following resources: