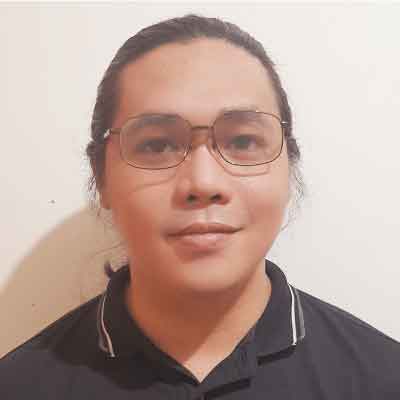 Should I Upgrade to Windows 11 Now?
Windows 11 has been out for almost a year, and Microsoft is in full swing to encourage users to upgrade. You're most likely contemplating whether to push through with it.
We understand where you're coming from. Upgrading your work computer's operating system (OS) is not as easy as upgrading the OS of your mobile phone. You must consider several factors, such as the new system requirements, app compatibility, updates in features, downtime, and many more.
At Intelligent Technical Solutions (ITS), we help businesses make smart decisions by providing valuable insights on IT changes, including OS upgrades. We help minimize the risks that businesses may experience during the process.
In this article, we'll share the changes in Windows 11 and the things that may affect your decision whether to update now or later. The following are the topics to be tackled:
What is Windows 11

Windows 11 System Requirements

Changes and Features

Other Deciding Factors
Before diving into the changes, let's look at what Windows 11 is.
What is Windows 11?

Released in October 2021, Windows 11 is Microsoft's latest operating system for PCs, laptops, and Windows-compatible devices. It's a free upgrade to anyone who owns the newest version of Windows 10 OS.
The new OS features exciting changes to the Windows shell, inspired by the canceled Windows 10X. Microsoft boasts its refreshed look and enhanced functions, which promise to help you focus better on activity and task management.
Windows 11 has one of the most significant changes in the history of Windows, such as revamped start menu and task bar, enhanced window view, and more. So far, the changes have garnered mixed feedback from many users.
Windows 11 System Requirements
Before upgrading to Windows 11, your hardware needs to have reasonable processing power to run the OS. This is why Microsoft set the following minimum specification standard for Windows 11:
CPU: 1 gigahertz (GHz) or faster with two or more cores on a compatible 64-bit processor or system on a Chip (SoC)

RAM: 4GB

Storage: 64GB or larger

System firmware: UEFI, Secure Boot capable

Graphics card: Compatible with DirectX 12 or later with WDDM 2.0 driver

Display: High definition (720p) display that is greater than 9" diagonally, 8 bits per color channel

Internet: Windows 11 Home edition requires internet connectivity and a Microsoft account complete device setup on first use.
If your hardware doesn't cut it, you'll be stuck using Windows 10 until Microsoft discontinues support on the OS on October 14, 2025.
If you bought your device last 2020, then there's a high probability that it can run the new OS. Most hardware released in the past two years falls within the minimum requirements for Windows 11.
If you're unsure about the specs of your hardware, you may want to download and use the Windows PC Health Check app. This application will scan your device to see if it can run Windows 11. What's great about this app is that it gives you a breakdown of each requirement. It will also tell you precisely what you need to upgrade in case your device isn't compatible.

The app is handy for users who are not tech-savvy and can't identify the difference between RAM and CPU. So, if you're the type of person, we suggest downloading it.
Changes and Features
We know that most of you have been using Windows 10 for some time, and you may have grown reliant on several of its features. We also understand that you may be worried that Microsoft may have removed or altered them in Windows 11. Though it wouldn't impair your capabilities, losing your favorite app may affect how you carry out your tasks.
The following are some of the changes Microsoft implemented to Windows 11 and the features you can look forward to.
Task Bar
What we love about the Windows taskbar is that it can be moved to different sides of the screen. Though the default location is awesome, there are times when we want to move it to other sections of the screen for a refreshed look. Sadly, Windows 11 removed this capability.
The new taskbar is now permanently located in one place - the bottom center. You read that right; the iconic Windows 11's taskbar has been moved a few inches away from its home. We admit that it looks great. However, we can't help but notice its similarity with Mac.
Though it's not a wrong move, we feel that Microsoft wasn't innovative in that department. Non-Mac users will have to get used to this new setup if they wish to upgrade to Windows 11.
Additionally, apps can no longer be pinned on the taskbar. This is bad news for users who want quick access to their favorite programs or applications.
Finally, the taskbar no longer houses the search bar; it is now located on the start menu.
Start Menu

Like the Task Bar, the Start Menu has also been moved to the center. But what we love about the new Start Menu is that it has a cleaner interface compared to Windows 10. Pinned apps and live tiles are gone and replaced with static icons in a grid.
Meanwhile, the app list is tucked away but remains easily accessible through the All Apps button. The app list was also expanded, with older programs like Windows Explorer and Notepad being included in the list.
On top of that, a new recommendation section was also added to the start menu. This new segment features recently used apps, files, and programs.
Action Center
The Action Center is an excellent feature of Windows 10. It showcases important notifications about our computers and accounts. It also offers quick access to some of the settings of our device. However, it can quickly get cluttered.
Windows 11 solved that problem by splitting the Action Center into two menus: Quick Settings and Notifications.
The Quick Settings menu includes the toggles at the bottom of the action center, plus other settings like volume, brightness, network connection, and more. Instead of opening different fly-outs, you can now easily navigate your settings in one menu.
Meanwhile, notifications now sit on top of the calendar instead of quick settings. This makes sense since notifications are better associated with the calendar than the settings. The downside is that the detailed clock was removed, and the calendar has no integration with anything.
Better Snap and Window View

Snap assist works like a charm in Windows 11. Not only does it run smoother, but it is also more intelligent than Windows 10. Snap layout allows you to easily manage and resize windows on your monitor, while snap group organizes the apps you use for more straightforward navigation. Users navigating through many apps for their job will find this feature helpful as it allows them to switch to different windows conveniently.
Resizing your windows is also more manageable in the new OS. Hovering your mouse over the window maximize button shows different layout options you can use. This ranges from a side-by-side layout to a four-app grid and more. This feature is helpful for remote employees who only work with a single monitor.
Integrated Teams
The pandemic and remote work setup brought rise to chat and video conferencing apps like Microsoft Teams. Microsoft saw this demand and decided to integrate the application into Windows 11, eliminating the need to download the app; users only need to log in to connect with their family, friends, and colleagues.
Android Apps Integration

Thanks to the successful collaboration of Microsoft, Amazon Appstore, and Intel, Windows 11 users can now use Android apps on their PCs without emulators. This is done through the integrated Android subsystem inside Windows 11. The feature allows you to focus on your work better since you are less likely to reach out to your phone.
Improved Security
Part of the system requirements of Windows 11 is the Trusted Platform Module 2.0 (TPM). TPM is a specialized processor that secures a computer via an integrated cryptographic key. It's like your computer's security alarm, which prevents hackers or malware from infiltrating your system. TPMs are found in many different devices. However, Windows 11 is among the first to truly utilize its capabilities.
Setup Process
Setting up Windows 10 and Windows 11 have stark differences. And we admit that the new OS is more demanding regarding this aspect. For example, Windows 11 requires your PC to connect to the internet, log in to your Microsoft Account, and create a PIN before it can prompt the setup process. All these processes are skippable in Windows 10.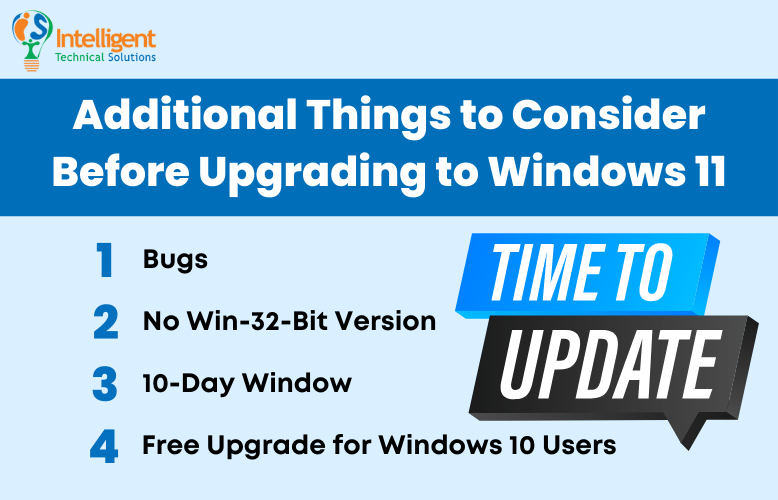 4 More Things to Consider Before Deciding
Other than what was mentioned above, consider the following items before deciding whether to upgrade now or later:
1. Bugs
Though Windows 11 has been out for a few months, the OS still experiences many bugs and shortcomings. It is no surprise since the software is still in its early stages. Like previous versions, Windows 11 will still undergo many updates before running as smoothly as Windows 10.
2. No Win 32-Bit Version
You won't be able to upgrade to Windows 11 if your PC still runs on a 32-bit system. If you want to upgrade your software, then you must do the same with your hardware.
3. 10-Day Window
Microsoft is giving its users a 10-day window to revert to Windows 10 if they aren't satisfied with the performance of Windows 11. This is a first in Windows history, as previous upgrades prevent users from returning to their former OS. Microsoft guarantees that all your files and data transferred during the upgrade will be kept.
4. Free Upgrade for Windows 10 Users
Microsoft is offering a free upgrade for Windows 11. However, it's only applicable to users with PCs on the most current version of Windows 10. In addition, your hardware must also meet the minimum specs to be eligible.
Are You Ready to Upgrade to Windows 11?
Microsoft brought many changes to the Windows 11 OS. There are a lot of exciting new features and enhancements that can help you focus more on your tasks. However, there are also a few updates that you may find off-putting.
If your hardware meets the minimum specs and you find the changes interesting, give it a try. Nothing beats firsthand experience in such circumstances. If you're not satisfied, you can always revert to Windows 10 but be sure to do it within the 10-day rollback period.
Meanwhile, choosing to postpone the update is also not a bad idea. Waiting for the OS to be refined before transitioning may benefit users who don't want to get bogged down by bugs and constant patches.
If you're still unsure whether to push through or not, we suggest creating a pros and cons list. This will help you better realize if the upgrade will be beneficial or a mere inconvenience at the moment.
Here at ITS, we are committed to helping you make smart decisions on your IT concerns by sharing our knowledge on technology and cybersecurity.
Read our article Why Windows Keeps Creating Updates, and Why You Need to Keep Up to know the reason behind the continuous creation of new OS and how it affects your business.