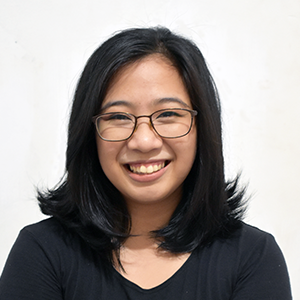 VoIP Systems Beneficial Features [Updated]
Editor's note: This post was originally published on August 25, 2016, and has been revised for clarity and comprehensiveness.
Are you dropping calls or missing out on leads?
VoIP can help.
VoIP (Voice over Internet Protocol) is a technology that allows you to make phone calls over the internet. It comes with various features that can improve the functionality and efficiency of your phone system.

The various VoIP features can help you streamline your communication processes and provide a more seamless experience for you and your customers.
Here at Intelligent Technical Solutions (ITS), we know how important it is to have clear lines of communication. Especially when handling urgent tickets, it's infinitely better to have a clear system with the following features:
1. Portable landline numbers
2. Call waiting & forwarding
3. Conference calling
4. Call blocking
5. Call recording
6. Call routing
7. Voicemail
8. Automatic call distribution
9. Interactive voice response (IVR)
10. Fax over IP
In this article, we'll take a closer look at each feature and the benefits of VoIP for your business. You can also find a useful checklist at the end, to guide you on your journey towards getting VoIP.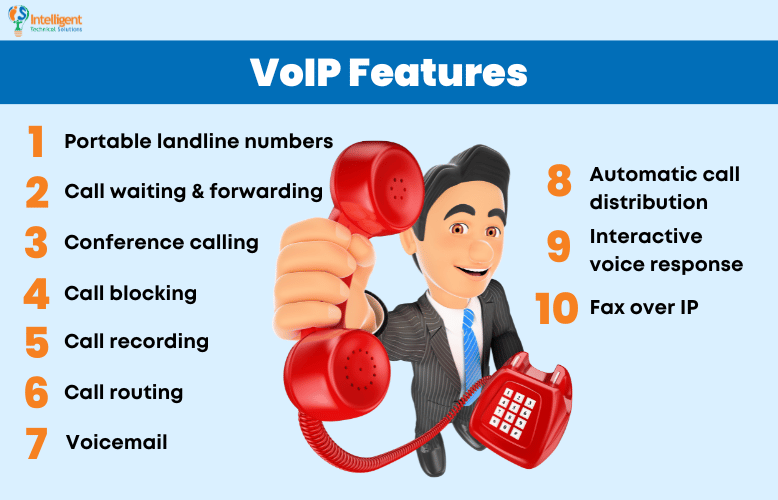 Read: "What is VoIP? (& Do You Need It?)"
What are the Features & Benefits of VoIP?
1. Portable landline numbers
The most used VoIP feature is flexible landline portability. Because it utilizes the internet to connect calls, VoIP systems allow users to have one landline number, anytime and anywhere there's internet.
Desk phones take up space on a desk and are generally inflexible equipment. Instead of desk phones, you can use your computer and smartphone as softphones. Softphones are devices that have VoIP software installed so that they can function as a landline.
Your numbers in a VoIP system look like regular phone numbers that your customers can use to call you. The software you've invested in makes this possible.
Read: "Types of VoIP Phones [& Recommended Models For Each One]"
A VoIP phone's flexibility is perfect if you have international team members who need landline numbers. Customer service representatives will get a lot of use out of this feature. This is also useful if your company has multiple buildings where employees shift between buildings.
2. Call waiting & forwarding
Call forwarding and waiting features are other critical features of VoIP systems. Granted, they're not unique to VoIP systems (since regular landline phones have these functions, too), but they have integrated them into their systems for maximum effectiveness and usability.

3. Conference calling

Creating a call with multiple participants is another strong feature of a VoIP system, as the interface is easier to use.
Some typical features of a VoIP conference call include the ability to join the call from a computer or mobile device, the ability to share documents or screen share during the call, and the ability to share a video call instead of a purely audio call.

4. Call blocking
A VoIP call blocking feature is a function that allows you to block unwanted calls from specific phone numbers or groups of numbers. It's useful if you are receiving spam or harassing calls or want to limit the number of calls you receive.
There are several ways that you can block calls using a VoIP service. Some services block calls directly from your phone, while others may require you to log in to your account online to manage your call blocking settings. You can also use a call blocking app or plugin to block calls on your VoIP phone.
It's important to note that call blocking may not be 100% effective, as some calls may still be able to get through if the caller is using a different phone number or a different type of phone service. However, call blocking can still be useful for reducing the number of unwanted calls you receive.
5. Call recording
This feature allows you to record phone calls and can be helpful for a variety of purposes, such as keeping a record of meaningful business conversations, or recording lectures or webinars.
It's important to note that laws governing the recording of telephone calls vary by jurisdiction. In some cases, it may be illegal to record a telephone call without the consent of all parties involved. It's a good idea to check the laws in your area before recording any calls.
6. Call routing

A VoIP call routing feature is a function that allows you to route calls to different phone numbers or devices based on specific criteria.
You can use this for directing calls to the correct department or team within an organization, routing calls to different phone numbers based on the time of day, or forwarding calls to a different phone number if you are unavailable.
7. Voicemail
With VoIP you can receive and manage voicemail messages from any device with an internet connection, and you don't have to worry about missing important calls if you cannot answer the phone.
8. Automatic call distribution
This feature allows incoming calls to be automatically routed to the next available agent, ensuring that calls are always answered promptly.

9. Interactive voice response (IVR)
An Interactive Voice Response (IVR) feature allows a computer to interact with humans through voice and DTMF (Dual-Tone Multi-Frequency) tones input via a keypad.
IVR systems are commonly used in customer service environments. You can route calls to the appropriate department or agent, provide information to callers, or allow callers to make selections or enter information using their telephone keypad.


For example, an IVR system might allow a caller to select from a menu of options (e.g., "press 1 for sales, press 2 for support") or enter information (e.g., their account number) to be transferred to the appropriate agent or department.
Your IT technicians can set up IVR systems using a VoIP service or a separate IVR platform. They can help improve the efficiency of customer service operations and provide callers with self-service information. However, IVR can also be frustrating for callers; it must be designed and implemented correctly.
It's essential to consider your customers' needs and ensure that your IVR system is easy to use and provides a good user experience.
10. Fax over IP
This feature allows you to send and receive faxes using your VoIP system, eliminating the need for a separate fax machine.
Want to Get VoIP for Your Business?
In conclusion, VoIP features are a valuable addition to any phone system. Whether you are a small business owner or a large corporation, VoIP features can help you manage and optimize your communication processes.
From call forwarding and conference calling to voicemail and fax over IP, these features can help you improve efficiency, productivity, and customer service.
While many different VoIP features are available, it is vital to choose the ones that best meet the needs of your business.
As a VoIP provider ourselves, we believe every business should have the time to carefully evaluate options and select the right features. This ensures your VoIP system is a valuable asset to your organization.
To continue learning about VoIP, and if you're ready to get it, download this checklist: Do You Need VoIP? But if you know you're ready for VoIP and want to find out the cost, check out: "How Much Does VoIP Cost? | Major Factors that Affect Its Price"
Related article: Why Switch to VoIP? A Complete Guide