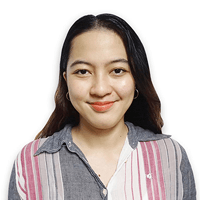 How Can an MSP Help Support Remote Work Setup?
A couple of years ago, companies were challenged to adapt suddenly when the pandemic forced everyone to stay home and minimize physical contact with other people. Due to the unexpected turn of events, close to 70% of full-time workers started working from home as a make-shift solution.
At present, this supposed temporary working arrangement has become part of the new normal as business owners lean into remote work. More employees are also seeking hybrid workplaces where they can have flexibility in when or where to work.
Here comes the problem. Because the workforce is now distributed, it's become harder for the IT department to monitor everyone's online activities. In turn, IT troubles and threats in cybersecurity shoot up.
As a Managed IT Service Provider (MSP), with a key focus on cybersecurity, we know the difficulties these issues bring to a business. That is why here at ITS, we've been helping hundreds of businesses survive and thrive by effectively managing their technology amid the several transitions from on-site to remote and now hybrid. In this article, we'll go over:
The three technology challenges of working remotely

The three ways an MSP can help support remote work setup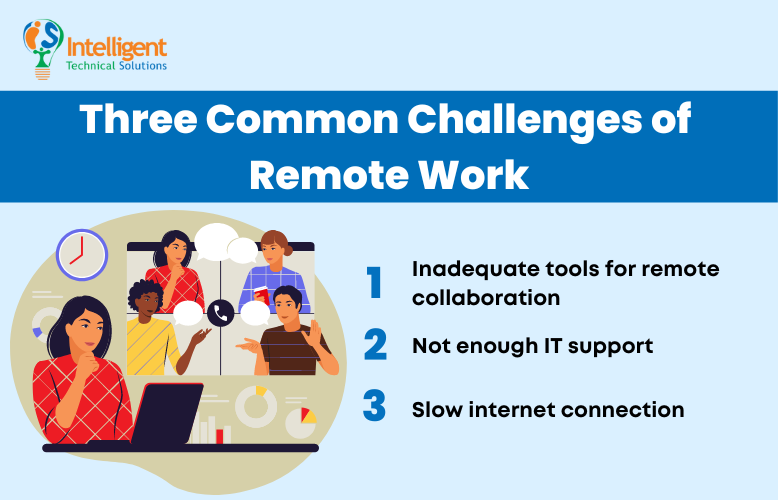 What are the three common challenges of remote work?
Remote work may have given employees more freedom and flexibility, but not without a few roadblocks. Here are the three most common challenges that you or your team may face–if you haven't yet–when working remotely:
1. Inadequate tools for remote collaboration
Communication and resource accessibility comes as the primary concern in remote working.
Since workers teams now work across different locations and time zones, there may be delays in response which can cause projects to get pushed back. In addition, access to business files may also be a hurdle for some.
Without proper communication and established online storage, remote collaboration may not run smoothly.
2. Not enough IT support
Often, companies have in-house IT staff that oversees the business network. But since the start of remote work, it has become a challenge for them to attend to all IT concerns quickly as before. And if they do so, the support standard may not match what employees are used to due to the lack of IT equipment at home. As a result, the network may be prone to cyberthreats that can harm your business.
3. Slow internet connection
Wi-Fi troubles were also common when more people started working through their home networks. For one, home networks or personal hotspots aren't as powerful as those in the office. Moreover, other people may be connected to the network, possibly consuming huge data, which slows down the internet connection even more.
Abrupt internet disconnection may also occur when working from home, causing system errors and file corruption.
How can an MSP help support a remote work setup?
Outsourcing IT may be the smartest option for businesses that can't keep up with the changes and physically don't have the capacity to support remote work setup. Here are the ways an MSP can help:
1. MSPs offer collaboration solutions

a. Cloud services
The demand for cloud-first strategies has surged during the peak of the pandemic. Since it was difficult for workers to obtain files offline from a physical data center, Cloud became the go-to solution for businesses.
With Cloud, work files are accessible anywhere at any time and on any device.
From a business standpoint, Cloud allows you to:
Control operational costs of having multiple physical servers

Increase the team's efficiency by deploying workloads
Read: Top 5 Reasons to Migrate Your Business To The Cloud Now
However, moving to Cloud isn't a one-and-done process and may require legitimate outside support. MSPs can and will make Cloud migrations easier. They guide businesses in selecting, implementing, and configuring applications and services that suit your business so you can fully utilize Cloud technology.
b. Communication tools
Without the right communication tools, remote workers may find it hard to talk and work with colleagues and customers. MSPs present you with tools that allow you to solve this issue, including the installation of hardware and software needed for easier collaboration.
Learn the best collaboration platforms to keep your team productive and engaged here.
2. MSPs provide 24/7 tech support

Remote work demands superior and round-the-clock IT support capabilities. Unlike working on-site, where IT staff are easily available, working from home may be challenging because of the location. And since the IT department is usually available only during working hours, if you encounter a problem late at night, you might have to wait until tomorrow to fix it.
There's a potential danger in that. Aside from the possibility of the problem worsening overnight, the waiting period may be an opportunity for hackers to infiltrate your network.
Partnering with an MSP can help increase the capacity of your in-house IT or fill the need for one. An MSP works 24/7 to identify inconsistencies in the network and fix them immediately. This allows for a quicker response time and less costly downtime for your business.
3. MSPs guarantee network security

With more businesses moving online, the need for robust cybersecurity has also increased. This is because home networks have less security and are more susceptible to malware and hackers than office networks.
When you access a work file from an unsecured connection, you might be exposing your business data to the world and putting your network at risk. And by the time the IT team identifies the breach, it may already be too late.
MSPs work more proactively rather than reactively. They help identify potential risks and configure security measures to prevent the breach from materializing.
Moreover, they provide ceaseless security and protection against these cybersecurity threats wherever you may be, which an in-house IT may fail at. They constantly monitor end-user devices and ensure that each one is up to the same security standards.
Do you need an MSP to support your remote work setup?
Remote work is here to stay, and the only thing you can do is to make sure your business is set up for whatever comes. As a recap, here are the possible challenges your business may face during the transition:
Inadequate tools for remote collaboration

Slow internet connection

Not enough IT support
And these are the ways an MSP can help support your remote work setup:
Offers collaboration solutions

Provides 24/7 tech support

Guarantees network security
As the leading MSP in six US cities, ITS commits to helping businesses thrive in the new normal by offering tailored technological solutions. Now that you have a grasp on how an MSP can support your remote work setup, you're ready for the next step. That is to know how much an MSP can cost you. Follow the link for more information.