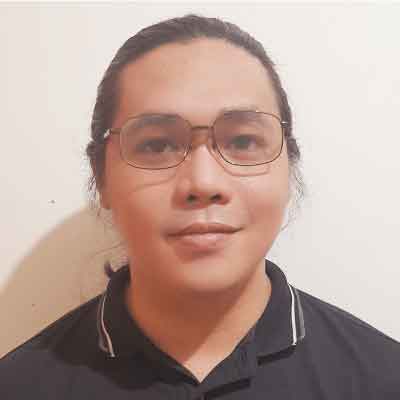 The Cybersecurity Challenges of Remote Work
If you're reading this right now, you likely have a large percentage of employees working remotely on a regular basis. It's probably big enough that you're worried about how it will impact your network security. Sadly, your fears are warranted.
Remote work can create gaps in your cybersecurity that could leave you vulnerable to threats. That's because your team will constantly have to leave the safety of your corporate security net to get their work done. In other words, they will access sensitive data on unsecure networks and devices, and cyber threat actors will exploit that.
Thankfully, there are things you can do to address these challenges.
Intelligent Technical Solutions (ITS) is an IT support company with years of experience securing the networks of businesses with a distributed workforce. In fact, our own teams are distributed across the country and abroad. In this article, we'll help you identify the main cybersecurity challenges of remote work and what you can do to address them.
Top 4 Cybersecurity Risks of Working from Home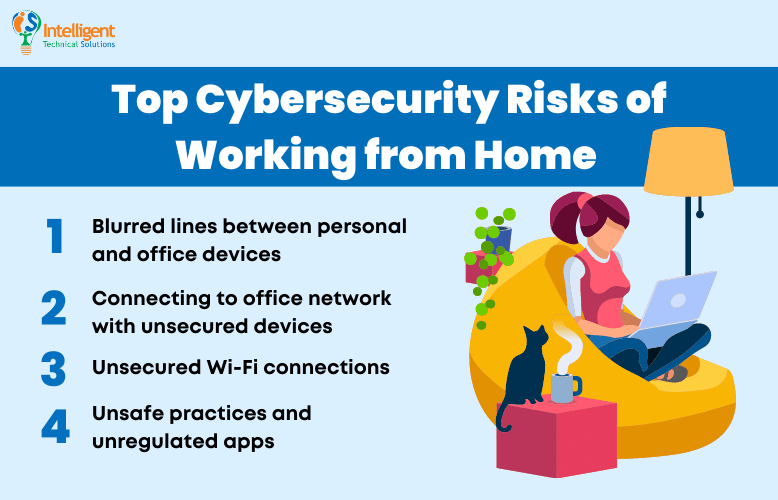 Before addressing the security gaps of remote work, it's best to understand what's causing the issues first to help you create a grounded action plan. Below are some of the biggest cybersecurity challenges posed by remote work:
1. Blurred Lines Between Personal and Office Devices
According to HP's study titled HP Wolf Security Blurred Lines & Blindspots Report, remote work has changed work styles and behaviors, creating new vulnerabilities for companies.
One of the findings from the report shows that 70% of office workers admit to using their work devices for personal tasks. That may not seem like a big deal, but let's try to put it in context with the following:
71% of employees surveyed say they access more company data, more frequently, from home now than they did pre-pandemic

The most common types of data being accessed include customer and operational data (43% each) and financial and HR records (23% each)

Almost one-third (30%) of those surveyed have also admitted to letting someone else use their work device
If alarm bells aren't ringing in your head as you read those stats, you need to check out our article on cybersecurity best practices for 2022. What we're trying to say is that your remote team could be using work devices that have access to your critical data for personal tasks. That means any of them could be browsing on an unsecure website and provide an entry point right to your data.
2. Connecting to Office Network with Unsecured Devices
Aside from remote workers misusing office computers, some potentially use unsecure devices to connect to your corporate network. The YouGov online survey within HP's report shows that 69% of office workers surveyed have used their personal laptops or personal printers/scanners for work activities. Those devices likely don't have the same security measures as those at your physical office.
3. Unsecured Wi-Fi Connections
The standard household Wi-Fi is worlds apart from the network you have at the office. For one, they're often much easier to break into. Second, they are likely unregulated, and there's very little your IT team can do about it. Your team using that unsecure connection to access your company's sensitive data is a security incident waiting to happen.
4. Unsafe Practices and Unregulated Apps
Away from watchful eyes and the rules imposed by the four walls of your physical office, it shouldn't be a surprise that unsafe practices can develop among your remote workers. In fact, according to the HP study, 27% of respondents admitted to using their work devices to play games. Moreover, 36% used their office computers to watch online streaming services. These are just some unsafe habits that may pop up from time to time, especially among younger staffers.
Another common unsafe practice is the use of unregulated file-sharing apps. Few people understand how to share files securely or why it's even necessary. Sadly, that could open you up to a costly breach.
Cybersecurity Solutions for a Distributed Workforce
Remote work can bring a lot of security challenges without the right solutions in place. Thankfully, there are some useful solutions that can make working remotely safer for your business and your team. Take a look at them below:
Virtual Private Network (VPN)
A VPN can help encrypt your data to prevent it from getting intercepted by threat actors. It adds a layer of security that can protect your network from unauthorized access.
Endpoint Protection
Endpoints refer to all devices (including computers and mobile devices) that connect to your network. They should be your first line of defense. It's vital to have robust endpoint protection for any device accessing your data.
Access Management Solutions
Having a policy that grants or restricts access to sensitive data is vital to ensuring that your distributed workforce is secure. Access management solutions like Microsoft's Conditional Access can help you set those controls to ensure that only authorized staffers can get to your data.
Cybersecurity Awareness Training
Phishing and social engineering attacks are more prevalent among distributed workforces. Effective cybersecurity awareness training can teach your team how to spot threats and better secure their devices while working remotely.
Read: Top 5 Cybersecurity Training Providers
Ready to Face the Cybersecurity Challenges of Remote Work?
Remote work has become a necessity in recent years. Unfortunately, it opens up security gaps within your network. Some of the top cybersecurity challenges include:
Blurred Lines Between Personal and Office Devices

Connecting to Office Network with Unsecured Devices

Unsecured Wi-Fi Connections

Unsafe Practices and Unregulated Apps
Thankfully, the right security solutions like a VPN, access management, endpoint protection, and security awareness training can help you address those challenges and secure your network.
ITS is an IT support company dedicated to helping businesses secure their remote work setups. Learn how to make remote work safe and effective for your business; check out our article: How Can an MSP Help Support Remote Work Setup?