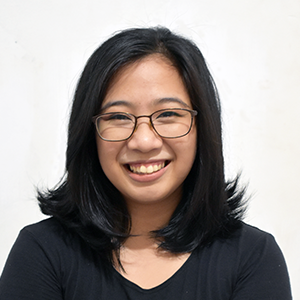 Balancing Work & Family: Julaizza's Journey Towards a Joyful Life
Julaizza - known as JM to her friends and family - is one of the most efficient Assistant Client Account Managers in ITS. Let's take a deeper look at who she is when the meetings are over.
The Woman Behind The Screen
Julaizza Araula, a Philippine-based mother of three, happily described herself as a sensitive, observant person, with an inclination towards being a go-getter.
"I don't really take no for an answer, most of the time," Julaizza said.
As a highly motivated individual, her persistence has helped turn many of her dreams into reality. When she wants something to get done, she sets out to get it done.
"But," she said, "I'm also patient." She takes her time to achieve her goals. With her sunny disposition and cheerful personality, she doesn't find it difficult to steadily put in effort towards a happy, fulfilling life.

Julaizza currently lives with her family in Dumaguete, Philippines, where she's stayed since her high school days. The relaxing environment, with multiple palm trees beside beautiful beaches and islands, makes it an ideal place for her to live a peaceful life.
"I value my peace more than anything else," she said. And this, in turn, influenced many of her hobbies and career choices.
In this idyllic city, Julaizza makes time to connect with her husband and three children when work hours are over. They have multiple hobbies they enjoy together as a family, such as watching TV shows, traveling, reading books, and playing video games.
"My son used to tell us he's the only one who has parents play Mobile Legends with him," she laughed. "My husband and I are into games too - I'm a tank user!"
But Julaizza makes it a point to keep her kids well-rounded by introducing games beyond their screens, such as Monopoly and Scrabble. She also encourages her daughter's love of books and likes to read fictional love stories with her. In fact, Julaizza's on the 3rd book of The Blood Brothers series by Rebecca Zanetti.

This love of fictional love stories translates into her enjoyment of Korean Dramas (K-Dramas). She jokingly said her "To Watch" and "Currently Watching" K-Drama lists were much too long to individually talk about, but still shared her enjoyment of shows such as Alchemy of Souls, Liberation Notes and The Blues.
But it's not just all about the fun hobbies. She said, "The most important thing is that my kids and I are able to talk." Julaizza values her conversations with her children and it's through constant feedback, especially from her eldest son, that she knows they're on the right track as a family.
Her love for her family shined through when she described some of their most memorable family moments.
"The most memorable thing that I do with my kids is to travel. While traveling, nothing is perfect. Something is always going to go wrong, and I see their true characters. I can see how they treat their aunts and cousins, and I get to observe their personalities."
A Day In a Life of a CAMigo
Her laid-back personal life may come as a surprise to those who mainly know Julaizza through her work at ITS. She is an Assistant Client Account Manager (CAM), internally known as a CAMigo, and is one of the most efficient team members. Marking tasks as "complete" in her to-do list gives her a sense of satisfaction, and it shows in how she works.

Each day, she focuses on supporting her partner CAM. Maintaining good relationships with ITS' clients is their mutual goal, and right now, she's working closely with ITS Phoenix and ITS Detroit CAMs.
Her usual day involves emailing and calling clients to help with their concerns. She provides clients with whatever they need - be that software or hardware quotes, coordinating approved orders, or following up tech concerns. Julaizza also chips in with creating presentations for SBRs (Standard Business Reports).
The skillset she uses to stay on-top of her to-do list was honed through multiple years of working as BPO industry manager. Julaizza then became a CAM for a Telemedicine company; when it closed down in 2019, she found herself with ITS and the rest is history.
The Next Step.
As fulfilled as she finds herself at ITS, where does Julaizza see herself in the future?
"Right now, I'm really focused on my family. I mean, I would still like to continue working at ITS," she laughed, "but my goals are centered around my family. We'd like to put up a business, and hopefully it'll happen by next year."
She also wants her kids to finish school and build their lives. "I always tell them that when you have your own jobs, try to maximize your time. Travel when you can, save up, and then buy a house, and invest."
And with her determination to see her family living the life of their dreams, her hopes are well on their way to becoming a reality.