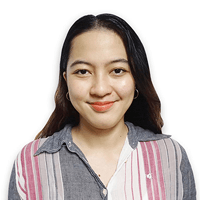 Improve Your Law Firm's Work Efficiency with Clio and NetDocuments
An organized work and file management system is vital in a law firm. Without it, your team will face chaos; meetings, schedules, paperwork, and court presentations will be in turmoil. There's a chance that your performance will drop a significant level and affect your firm's credibility. 
No business owner wants that to happen. Fortunately, there are modern tools that can help solve this problem, such as Clio and NetDocuments. 
Therefore, in this article, we will discuss the following: 
Clio and its features 

NetDocuments and its features  

Integrating Clio and NetDocuments 
As a Managed Service Provider (MSP) with years of experience helping law firms with their IT needs, Intelligent Technical Solutions (ITS) knows how good work and file management increases efficiency and boosts the overall productivity of a business. By sharing our knowledge and expertise in technology, you can help improve your workflow, reducing downtime and operational costs.
What is Clio?

Clio is a cloud-based legal practice management software that handles various law practice management tasks, including client intake, contact management, and calendaring. It enables you to track important deadlines, manage client cases and documents, bill clients, and accept payments on a central platform. 
It offers over 200 integrations with third-party providers and includes unlimited storage capacity for all subscribers. Moreover, Clio has a mobile app that allows you to work on your tasks while on the go–perfect for people who are always busy with client meetings but still need to keep posted with the latest work updates. 
Clio was designed to eliminate the hassle of separately acquiring software for document management, case management, and accounting. Instead, it streamlines the amount of technology that small firms need to manage their day-to-day activities. 
Best Features 
of Clio
The following are the benefits you will enjoy if you choose to subscribe to Clio's services: 
Ease in billing clients
Clio makes billing easy and convenient. Its billing features allow you to create invoices using templates and send them to clients electronically. It also offers flexible payment options to your clients and automatically applies interest to late payments. 
Overdue invoices are flagged for follow-up, helping you keep up with everything. 
Hassle-free appointment setting 
Clio eliminates the need for paper or PDF intake forms and tedious in-person consultations. To make an intake, simply share a link to your form via your website, email, or SMS. Once answered and returned, Clio, will save their contact and other essential information in your system. 
Unlimited cloud storage
As cloud-based software, Clio provides users unlimited data storage in the cloud. This means you can save and download all necessary documents, images, audio, and video files wherever and whenever you need them. 
The software's e-signature capability allows you to sign documents using your device. Say goodbye to the hassle of downloading, printing, or scanning, as signed documents are automatically and securely saved in the cloud. 
Read: Why Cloud Storage Needs Additional Security?
Up-to-date scheduling using a calendar
For easier updates on case milestones, client appointments, and deadlines based on court rules, Clio offers users a legal calendar that does more than just scheduling. 
It organizes your legal calendar by case and provides you with the necessary updates and deadlines at a glance. You can also send calendar invites and automated reminders to clients through text and receive confirmation of their attendance. 
Each user in your firm can create, share, and view calendars for firm-wide meetings, intake appointments, or case-specific dates.
What is NetDocuments?
NetDocuments is a general-purpose cloud-based document and email management system. 

The cloud-based software allows users to create, edit, store, locate, and collaborate on documents using any device. Users access NetDocuments primarily via a web browser, so no server is required. 
Because the software is made to fit a range of different industries (not just law firms), it's general enough to fit into several different kinds of businesses. 
Best Features of NetDocuments
The following are some of NetDocuments' features that most users found helpful: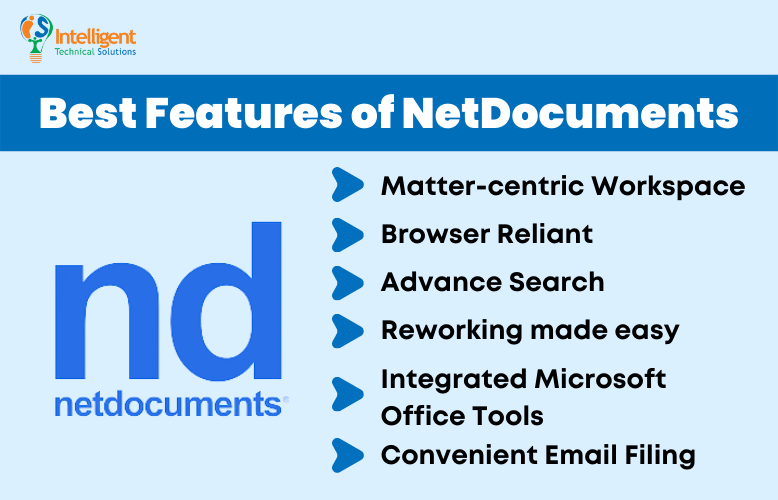 Matter-centric workspace
NetDocuments provides one view of all the documents, messages, and folders of a specific matter. It dynamically and automatically organizes all relevant documents and emails onto one simple page, an essential aspect from an information governance perspective.  
This means you no longer have to go through the painstaking task of manually sorting your files.
Browser reliant
There's no need to download or install the software on your device to use NetDocuments. All that's needed is a web browser and a stable internet connection. This means you no longer have to deal with the arduous task of setting up an app, and you have more space on your drive. 
Advanced search
Thanks to its advanced search capability, finding a specific document in NetDocuments has been easy. Instead of combing through your folders, you can use the search box to look for that missing file. The search box works like Google's search. All you need to do is type in a keyword, and all related files will be displayed on the results page. 
Reworking made easy
Instead of showing ten of your recently worked-on documents, NetDocuments expanded the number to 40. This eliminates the need to search through piles of folders to rework a document. 
The One Click Away capability also serves as quick access to files you're currently working on. All you need to do is bookmark the file, and a shortcut to it will be displayed on your homepage. 
Integrated Microsoft Office tools 
NetDocuments is integrated with Microsoft Office. You can read and edit almost all files in NetDocuments using your Microsoft Office applications. Once done, all you need to do is hit save, and all the changes will apply to the matter-centric workspace file. 
Convenient email filing 
This feature makes email organizing more convenient by providing suggestions for where to file them. The recommendations are based on the properties of the email, its content, and the filing patterns of all users linked to the email. Moreover, all users linked in the email will be notified once they have filed it. Everyone with access to that email would see when and where it had been filed.  
Integrating Clio and NetDocuments
Though they have different uses, Clio and NetDocuments can be combined. The integration allows you to view documents from NetDocuments and synchronize Client and Matter data from Clio to NetDocuments. 
This process allows you to work more efficiently as all the info you need on a Matter is filed in one place, including hearing dates, meetings, emails, documents, and billing. 
Moreover, Clio's Integration with NetDocuments allows you to do the following: 
Upload documents to NetDocuments and associate them with Matters in Clio.

Use your favorite programs to create, open, and save documents to NetDocuments or Clio from Word, Excel, PowerPoint, and Outlook

Powerful full-text searching of documents within NetDocuments

Optional on-premises document backup with NetDocuments' Local Document Service
Ready to level up your firm with Clio and NetDocuments?
Both Clio and NetDocuments are powerful tools that can help make your activities more manageable. Clio can help you handle various law practice management tasks, such as client intake, contact management, calendaring, and billing. Meanwhile, NetDocuments can help you sort out your files and emails. 
Though they have different uses, both automation systems can be integrated for a more efficient and convenient way of handling matters. The integration allows you to squeeze all vital information into one place for easy access and data retrieval.
Here at ITS, we help hundreds of businesses better manage their operations by providing relevant solutions to their problems. To learn more about the potential benefits of automating your processes, read How Workflow Automation Makes your Business Processes More Efficient.