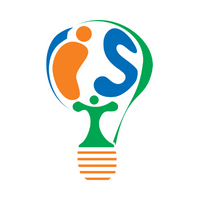 Microsoft Office 365 for Large Enterprises
Despite the virtualization boom, many large business entities have been slow to consider Cloud migration. Large enterprises often have preexisting data centers in place and their physical infrastructure is often customized with their own policies and preferences.
However, professionals in organizations of this magnitude are coming to realize just how much of a chore it is to monitor and maintain a physical data center for a large and growing workforce. Between system updates, basic maintenance, and security monitoring, managing a physical data center is a full-time job in and of itself.

As virtualization and Cloud computing continues to revolutionize the business space, many large enterprises are beginning to see the innovation and business value offered by migrating operations to the Cloud. As the Cloud market continues to evolve, there are now countless options available for the large-scale enterprise – options designed to give their IT departments some well-deserved relief.
Why Microsoft Office 365 is the Way to Go?
As enthusiastic advocates for Microsoft Office 365, we thought it was a great time to explore some key information that will help uncover the benefits of O365 for large companies. Take a look at the breakdown below to understand how Office 365 can provide your company with what it needs and more using a strategic Cloud model.
The Customizable One-Stop Shop: All the Apps You Need, Exactly How You Like Them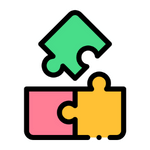 One of the biggest reasons why Office 365 for large enterprises is so beneficial is because of the flexibility and endless opportunity it provides. The great thing about Office 365 is it allows senior managers to make technology decisions that consider the individuals using it.
Large companies simply can't settle for a one-size-fits-all approach to application deployment and set-up – their workforces are simply too large and too diverse. Every member of the team has their own skills, habits, and ways of working – and the company's IT needs to offer solutions customized for every team member, at every level.
Office 365 has dynamic user controls that allow for peak customization and countless ways to optimize. All the business apps that your team relies on are stored in one, conveniently accessible spot. Even better? Each team member can customize their 'virtual headquarters' so that the applications they use most are at their fingertips, fully optimized.
Productivity Powerhouse: Anytime, Anywhere Network Access for Your Team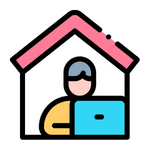 Now, it's not enough to have all your apps centralized for your team – they need to be able to access them whenever and from wherever they need them. The new world of work is defined by breaking free from the confines of the traditional desk. Remote and on-the-go work are not simply luxuries anymore – your team requires the ability to access work data from anywhere and on any device, without technical difficulties.
Cloud computing has made this possible and Office 365 provides the perfect and familiar platform required to ensure your business network is always available to your team when it is required. Microsoft has an extensive amount of market experience and has developed the security and accessibility tools necessary to ensure business data is consistently available and secure. This offers huge production value and allows for a consistent connection between your team and the resources they need.
Further, this has a huge impact on your bottom line. Instead of having to invest in special hardware like company laptops or smartphones that are set up to store sensitive company data with expensive licenses, your team can simply access what they need from the secure Office 365 platform. Team members have access only to what they need and can access it securely no matter what device they may be using.
This makes it easy for your company to reduce hardware investments and embrace more cost-effective options like the BYOD trend. This way, your costs stay low and your team stays productive while using whichever end-point they prefer. After all, customization is the name of the game with Office 365 for large companies.
Communication Station: Optimized Team Connection & Voice Options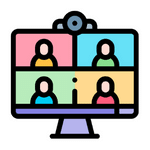 Let's face it – larger entities often have massive workforces. So, it's critical that these large groups of people and departments are able to communicate effectively and operate efficiently with one another. Technology is unsurprisingly a huge part of that.
The communication tools in Office 365 are designed to offer consistent, instantaneous connection and seamless integration. This means that whether you're emailing in Outlook, video-calling on Skype for Business, or using the instant messaging features on any of the Office 365 apps, you're able to connect with the team members you need – whenever and however works best for you.
It's not just limited to that either. Office 365 Enterprise customers are able to reap even more communications benefits than their SMB counterparts. For an affordable and fixed per-user, monthly rate, companies can take advantage of full voice capabilities through the Skype For Business server that is built into the Office 365 platform.
Skype For Business improves IP capabilities for your team by enhancing your existing phone systems using VoIP. Even better? Users get fully hosted voicemail in the Cloud and still get to choose their preferred end-point – meaning the service can be extended to mobile devices as well. Simply put, in an age of high-priority communication, Office 365 allows large companies to take advantage of high-quality and efficiently centralized telecommunications, for an affordable monthly rate.
Limitless Potential: Unlimited Storage & Strategic Scalability
When it comes to large company networks, data storage is a huge responsibility. Chances are between company documents, spreadsheets, and email logs, your internal network produces endless data that needs to be stored securely. Physical data centers are often designed with storage limitations and IT professionals are constantly working to balance storage loads to ensure you don't run out of digital space. Further, trying to keep these data stores secure and backed up can be a huge task.
There may be certain types of data that large enterprises want to keep stored separately or in-house, why not lighten the load by storing more routine and less sensitive data in the Cloud? Office 365 for large enterprises allows businesses to take advantage of unlimited storage, meaning the majority of your data build-up – documents, emails, etc. – can be securely stored in your company Cloud. This offers huge scalability potential as well. Knowing you have an unlimited warehouse for data on the Office 365 platform means your data storage solutions will grow alongside your business as needed.
Streamlined Administration & Maintenance: From Updates to License Management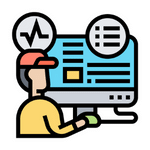 When it comes to running a large-scale enterprise, team members from all departments and at all levels will have different software requests. When using physical software, trying to cater to the needs and preferences of each team member would be nearly impossible. And trying to do this while staying budget positive and tracking updates and licensing schedules? Forget it.
Office 365 allows enterprises to set up software allotments by the user for a low and fixed monthly rate. This means you have a predictable cost, per user and since the licenses operate on a monthly basis, license management is easy. Users can be added or removed as needed.
In fact, Office 365 is so well-equipped for large-scale enterprises, it enables a firm to register upwards of 50,000 to use the Cloud software platform. This moves network management away from a physical data center, optimizes software maintenance, automates software updates, and allows for each software user to customize their own user experience.
How Can Your Enterprise Take Full Advantage of Office 365? Train Your Team to Be Internal Ambassadors
The moral of the story is that Microsoft Office 365 is not just a tool for SMBs – far from it, in fact. While Office 365 may offer SMBs tools to help them grow, it truly is designed to be a powerhouse for large enterprises like MetLife in the US or The NEC Group in the UK – both of whom are happy O365 customers.
Office 365 offers a new model for large firms where they can use traditional and familiar software while taking advantage of the impossible-to-ignore customization and optimization benefits in the Cloud. However, you may be asking yourself – how does an entity your size successfully roll out Office 365 deployment?

Getting your team on board is critical – in fact, you should look to your team to be the ambassadors of the roll-out. These ambassadors should be diverse – senior training is key and employees should be trained as ambassadors using a 50/50 model.
Half of the training should be focused on the technical and operational side of the applications. Your ambassadors should explore the apps and find out their best features and tools. However, the other half of the training should be focused on how to manage people and help them connect with the platform. Technology will be a huge factor in moving your company ahead, but ultimately, it's the people on your team who will need to adapt in order to drive things forward.
Have your ambassadors focus on what they're using specific apps for and what the benefits are in the average workday. That's what will open people's eyes and lead to a successful adoption and roll-out. Focus on how Office 365 can be a game-changer for each department in your enterprise. Once each team member is using Office 365 to work smarter, not harder, your company will be taking full advantage of the Office 365 platform.
Start Your Transition to Office 365
When it comes to taking the Office 365 plunge, there are countless resources available to help with the training of your ambassadors and the overall adoption of the platform at your firm. Microsoft has a great collection of resources available through Microsoft Fast Track. When implementing Office 365, drawing on these experienced-based resources will be endlessly helpful.
Furthermore, look to your internal IT department or consult an external IT consultant for guidance and consultation. IT professionals love Microsoft Office 365 because it allows them to do what they love: seamlessly add value to enterprises like yours, using strategic technology solutions. Insights and guidance from an industry professional could make all the difference in your Office 365 roll-out.
At the end of the day, Office 365 for large enterprises really is the common-sense yet cutting-edge choice. The Office 365 platform underpins corporate strategies of communication, connection, and product profitability. Using the Office 365 platform will allow you to consistently access and deliver the right information, to the right device, at the right time. What are you waiting for?