The History Of Chicago, Illinois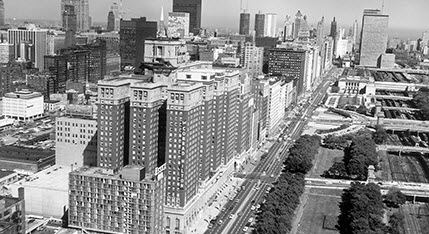 The city of Chicago can trace its origins back to 1779, when the first non-indigenous settler, an African American originally from the Caribbean named Jean Baptiste Point du Sable settled in an area at the mouth of the Chicago River. Even though the first Europeans to travel through the area did so in 1673, they did not settle there.
Later on, in 1803, Fort Dearborn was established by the American government at the time; the fort was however destroyed during the war of 1912. In 1916 the fort was rebuilt, setting the scene for the development of a small settlement around it. The fort was demolished in 1837; the settlements around it however continued to grow.
The Emergence Of A City
Chicago became a city in the year 1837, with a population of 4,000 residents, a few years after it was incorporated as a town in 1833. The city's strategic location worked in its favor, establishing it as a major trading and transit center as the country expanded westwards.
This growth was driven by the completion of the Illinois and Michigan canal which connected the Mississippi river and the Great lakes in 1848. However, the rapid development of the local railroad system, driven by the settlement of some of the nation's top railroad companies quickly rendered the canal useless.
The city continues to be a major transit hub to date, handling close to half of the nation's rail freight while still being one of the country's busiest centers in terms of air transport.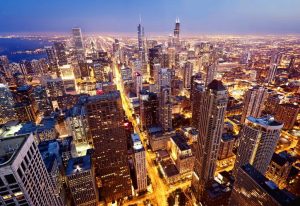 The Great Fire
Throughout its existence the city of Chicago has had to bounce back from a few major incidences, with the most notable one being the great fire of 1871. The deadly fire, said to have started in a cow barn, razed down most of the city, which was built of wood, and killed more than 200 residents.
To celebrate its comeback from the fire tragedy just two decades later, the city of Chicago hosted the World's Columbian Exposition of 1893. By hosting the Century of Progress Exposition in 1933 and 1934, the city further displayed its resilient nature even in the face of the great depression.
Notable Achievements
The city of Chicago is credited with being a home of creativity and ingenuity. It was the first city to have a steel framed skyscraper, the Home Insurance Building which was constructed back in 1884. The first self sustaining nuclear chain reaction was also conducted at the University of Chicago in 1942.