An Overview Of The History Of Los Angeles, CA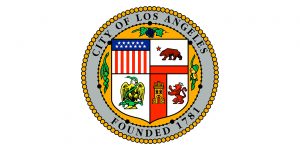 In the year 1781 Los Angeles as we know it today was first founded. It was first named "Our Lady the Queen of Angels of Porcincula". To begin with, this city was only made up of a few families, yet by 1800, the population had grown to 315. In 1822, the Plaza Catholic Church was erected, while more and more families continued to settle in Los Angeles. In the year 1847 Los Angeles was captured by U.S. forces.
In 1848, gold was discovered in California, and many Americans made the move to reside in Los Angeles along with the neighboring areas. By 1850, Los Angeles was incorporated. In 1851, Los Angeles established its first newspaper, and by 1870, the overall population had grown to 5,614 people. In the winter of 1861 through to 1862, Los Angeles experienced severe floods. Directly after the floods, the area experienced 2 years of drought. The area managed to recover from these natural disasters.
In the early part of the 20th century, Los Angeles continued to thrive and by the 1920s this city overtook San Francisco in size. In 1939, the population had grown to over 1.5 million people. In the year 1923, the Biltmore Hotel was built along with the erection of the famous Hollywood sign. In 1927, the hotel known as the Hollywood Roosevelt was built, and in 1928 the first City Hall was built. In 1939, the Union Station was built.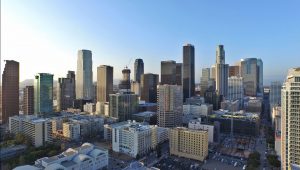 However, similar to everywhere else in the world, Los Angeles did not escape the Great Depression in the 1930s. Between the time-frame of 1935 and 1939, many "Okies" decide to flee from the "dust bowl" and made a move to the Los Angeles region. After World War II Los Angeles boomed once again. However, not everything went smoothly in Los Angeles over the 20th century. In 1943, riots known as the Zoot Suit riots began, where the Mexicans came under attack.
There were a number of famous buildings that were built in Los Angeles over the late part of the 20th century and the early part of the 21st century. Some of these buildings include the Watts Towers, built by Simon Rodia in 1954, the Theme Building in 1961, and the US Bank Tower in 1989. In 1990 the very first rail-line was opened.
In the 21st century, Los Angeles is still a thriving city. In 2002, the Cathedral of Our Lady of the Angels was opened. The Walt Disney Concert Hall was built in 2003 and in 2015, Los Angeles was the host for the Special Olympics Summer Games. In the year 2017, the overall population in Los Angeles was 4 million.