A Brief Look At The History Of Las Vegas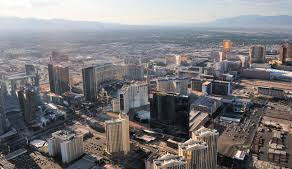 Today, the city of Las Vegas is known for its flashy casinos, bright lights, and rich nightlife. Looking back, however, it hasn't always been that way. Like any good story, the history of Las Vegas involves quite a few twists and turns. Together, all of the events of the past have made this city the one-of-a-kind place that it is today.
The Las Vegas Valley is located right in the heart of the Mohave Desert, which has some of the harshest weather conditions on the planet. In such a dry climate, water is one of the most important commodities. That is partly why the city is located where it is today. When it was first settled, fresh water was being piped into the area from wells, providing a reliable water source.
The city itself was founded on May 15, 1905, when a parcel of land that was owned by the railroads was auctioned off to eager buyers. The land was located where two railroads intersected, which made it possible for the city to grow quite quickly.
In 1931, construction began on the Hoover dam. This drew a lot of workers to the area, most of whom were male. With a population made up primarily of men, there was a need for entertainment. It was at this time that gambling was legalized by the Nevada State Legislature. A number of casinos quickly opened in the Las Vegas area, drawing in workers from the dam.
When the dam was completed, the city of Las Vegas was one of the first customers to take advantage of the new power source, using it to light up the city. Fremont Street even earned the nickname Glitter Gulch because of all of the glittering lights.
Over the years, the city continued to grow and change. In the 1940s, the Las Vegas Army Airfield was established in the area. Tourists visiting Lake Mead and other nearby attractions discovered how much fun it was to spend time in the city, leading to even more growth.
As the city grew, developers built even more casinos, many of which featured elaborate themed designs. The more exciting the casinos became, the more tourism increased until eventually, the city became the thriving center of nightlife that it is today.
The city of Las Vegas has come along way from its humble origins in the early 1900s. Over the years, it has transformed into one of the most popular tourist destinations in the world, drawing in visitors from every part of the planet.