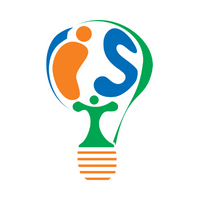 Why Your Law Firm Should Hire an MSP?
A law firm's day-to-day operations involve receiving and safekeeping confidential information about clients and their matters. One small error in your defense can cause severe impact in your cases and your client's lives. Moreover, it can cause irreversible damage to the reputation of your company. Which is why it's important for a law firm to deploy a robust IT infrastructure.
This is where Managed Services Provider (MSP) comes in. An MSP can help in storing and protecting your data from different cyberthreats. On top of that, they can help make your technology work for you so that your team can perform tasks more efficiently.
Here at Intelligent Technical Solutions (ITS), we help law firms solve tech setbacks with enterprise-grade solutions. We are committed to helping organizations like yours make the best of your technology by sharing our knowledge and expertise in IT.
In this article, we'll discuss what benefits a law firm can get from hiring an MSP. The following are the topics that we'll cover:
Why do law firms need an MSP?

What are the qualities a law firm must look for when searching for an MSP?

When NOT to hire an MSP
Why Do Law Firms Need an MSP?
From protecting your network to helping improve your process using modern software and technology, MSPs can do many wonders to you and make your job easier. The following are some reasons why you should get an MSP to manage the tech side of your law firm:
1. MSPs Can Increase Your Protection from Cyberthreats

Since you store sensitive data in your network, it's imperative to have your system locked up tight. One small crack in your defense, and you can expect hackers to flow in like water through a dam. Once in, they'll take all the data they can take and sell them on the dark web or use for ransomware.
MSPs can help prevent such threats by deploying a suite of robust cyber defense in your network. Programs like antivirus software, firewall, and Multi-Factor Authentication (MFA), are some of the defense measures they can immediately deploy to boost your security.
In addition, MSPs will proactively monitor your network. This is to ensure that your system and hardware are in tip-top shape and that no hackers can infiltrate your defenses.
2. MSPs Can Minimize Downtime
In the legal field, adhering to deadlines is crucial, so downtime is never welcome for law firms. MSPs can help minimize the chances of downtime by deploying effective backup solutions and proactively checking the status of your network and hardware.
Proactively checking your network and hardware prevents downtime by diagnosing and detecting potential issues that may arise. It prompts you to act before that mishap happens, preventing significant problems from ever occurring.
Meanwhile, backup solutions help your team swiftly return to operations after an attack or data loss incident. This is done by constantly saving a copy of your files in cloud storage or offsite network and downloading them when needed.
3. MSPs Can Help Increase Your Productivity

Slow internet speed, server breakdown, or other IT issues can occur anytime. If this happens, your productivity will undoubtedly be affected. MSPs can minimize such dilemmas by adopting redundancies, security measures, and disaster plans that prevent issues or threats impacting productivity.
Moreover, MSPs can increase your network performance, leading to productivity and uptime. This is done by optimizing your connectivity, constantly updating your software, and checking your network for malicious programs.
4. MSPs Offer Predictable IT Billing Costs
Hiring an MSP instead of constantly calling for a tech-repair guy will save you money. With MSPs, most of your repairs are covered under a service level agreement. This means no surprises when your bill arrives. Your IT expense would be the same monthly unless a service outside your agreement was conducted.
5. MSPs Provide Specialized Support

You will no longer have to contact numerous IT or repair services to work on your tech. Your hired MSP will take care of all your tech issues, and you can reach out to them 24/7. What's great about having a dedicated team working on your network is that they know the ins and outs. Meaning they can work on it fast and effectively.
Moreover, a group of tech experts has better chances of swiftly resolving your issues than one or two IT personnel.
6. MSPs Can Supply Standardized Equipment
Having varying brands and models of computers can lead to syncing difficulties. MSPs can help prevent this by providing standardized equipment. Their connection with original equipment manufacturers (OEMs) allows them to provide a uniform model and brand of hardware.
What are the Qualities You Need to Look for in Choosing an MSP?
Choosing the right MSP for your firm is not as simple as grabbing a bag of chips in a supermarket aisle. There are things you must consider first before making your decision. The following are some of the qualities you must look for when hiring an MSP.
Technical expertise

Industry expertise

Leverages advanced technologies and processes

Transparency

Flexibility and scalability

Proactiveness

Availability
Asking for references from other law firms is also something you need to do. References play a crucial role in identifying the competence of your prospect MSP. On top of that, you should also ask if they have any experience working with a legal firm. An experienced MSP will be able to provide better insights and make better judgments than those that don't.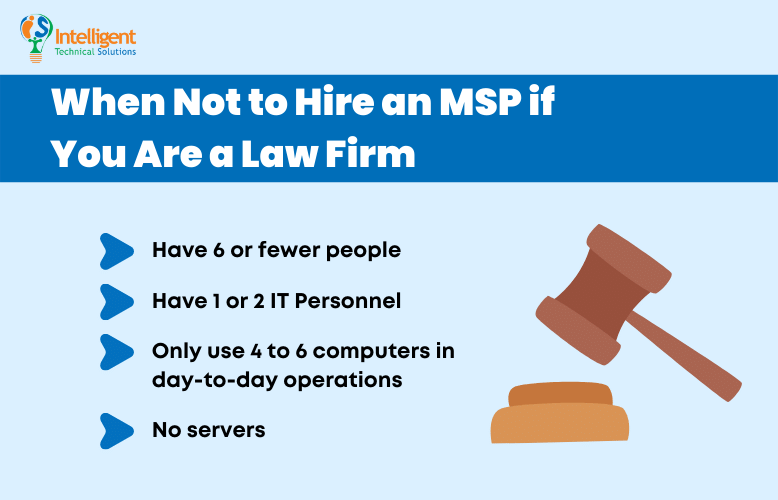 When NOT to Hire an MSP
Some law firms will benefit from having an MSP, but some won't. If your firm falls under the following categories, you may want to hold off before signing on the dotted line:
You're a small firm with 6 or fewer employees

You're a small firm with one or two IT personnel

You only use 4 to 6 computers in your day-to-day operations

You don't have servers
Very small businesses typically have simple IT needs, so hiring an MSP may be overkill. Furthermore, the cost of hiring an MSP may be too much for your budget.
Are You Ready to Hire an MSP for Your Law Firm?
Fortified protection from cyber threats, increased productivity, minimized downtime, and predictable billing are some of the many reasons your law firm needs to get an MSP's services. MSPs can serve as great partners to your law firm. They'll take care of the heavy lifting of your tech needs so you can focus on what matters most: helping people.
At ITS, we help law firms with network and security, among other things. We're committed to helping you make the most of your technology by sharing our knowledge and expertise in IT.
Looking into hiring the services of an MSP? Read our article How Much Does Managed IT Cost? (5 Price Factors) to find out what components affect the pricing of MSPs.