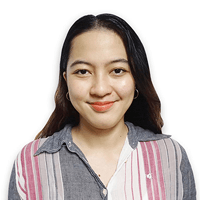 What is System Integration? (& the Role of an MSSP in the Process)
As a business owner, it's only natural to want the best for your business. That's why every time a new software drops, you immediately check if it'll benefit you, hoping to improve your processes and grow the business further.
However, hopping on the latest technology trend does not always guarantee smooth-sailing operations. If you keep acquiring new tech and letting these multiple pieces of software run at once, there could be complications and gaps due to duplicating processes.
This is where proper system integration comes into play.

In a nutshell, system integration means taking complex information systems and connecting them into a single network to streamline business processes. This way, organizations can become more productive with reduced time.
As a Managed IT Service Provider (MSP), ITS understands how important system integration is to make business processes more efficient. In fact, many of our internal tools leverage these kinds of integration to help manage client information better.
For this article, we've reached out to Rob Schenk, the Chief Experience Officer at ITS, to share his expertise on the subject matter. We'll go over the following:
What is system integration?

What are the common types of system integration?

What are the benefits of system integration?

What are the considerations when integrating systems?
After reading, you'll know how system integration can help improve your business productivity and quality of operations.
What is System Integration?
When talking about software solutions, system integration is the process of associating various IT systems for seamless functionality, providing more streamlined workflows and increased security levels.
Think of it as having your social media apps connected to one account. So, when you post something on one app, it goes out across all platforms instead of posting them individually. System integration works the same way – and saves you time and effort.
To help you visualize better, Schenk mentioned an example of system integration in the line of business applications integrating with external systems. "One illustration would be an existing Human Resources (HR) system integrating with Office365 to lessen redundancy when signing in," he says.
This works by using a Single Sign On (SSO) solution. It means that instead of using different credentials every time you access your accounts, you will only log in once using your Office 365 identity that is already secured.
The unified system gives you easy access to various applications that your company uses–secured with two-factor authentication (2FA) to ensure network protection.
System integration also helps with overall security in cases of access removal, particularly with former employees. Instead of having to go through each system to remove the user, you can simply delete or disable the SSO account for that user. That easily keeps them out of the entire system.
What are the common types of system integration?
One of the common methods of system integration is through API or Application Programming Interface. API allows you to pull data from various systems and put them into a central repository. From there, the data ties into the Active Directory (AD) and the Windows system, which is how users log in to the network.
The archive keeps the names in the HR system, publishes them to the AD system, and then, by extension, taps into the phone and email system. Basically, API simplifies the communication across the organization.
Another method is Webhooks. It also links applications but isn't really code-based. Instead, Webhooks is a more event-based and application-specific method that requires programming modules triggered by some third-party systems and services. The management is then alerted if a specific event occurs or if any change is made.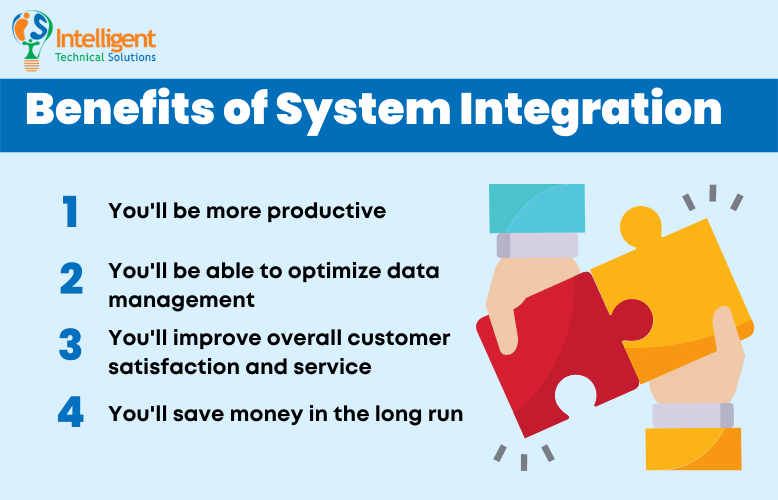 What are the benefits of system integration?
Technology, when used properly, can make life easier. And that applies to integrating your systems well. These are just a few advantages of system integration to your business:
1. You'll be more productive.
You will be able to get more work done, be more efficient with your processes, and improve internal and external communications.
It will allow you to have a common format across the organization and give your management a better perspective of the overall performance. If you have a common framework, you're going to potentially reduce some expenses by combining these systems together versus having different silos of information.
3. You'll improve overall customer satisfaction and service.
Systems integration will allow your customer service to provide faster support because they don't have to go through multiple procedures and systems to get answers to their questions.
4. You'll save money in the long run.
When you decide to integrate systems, expect that you are also increasing some complexity, especially for several system upgrades. It can be expensive in the initial rollout, but you'd eventually save more on the management and maintenance side in due course.
What are the considerations when integrating systems?
Along with the benefits are some considerations. Schenk shared one important factor to consider when integrating systems: be careful when choosing your application vendors.
"A lot of security incidents are coming in through third-party applications, so you want to be careful when evaluating," Schenk says.

You're only as secure as your weakest link. Therefore, if one of the applications you're stitching together does not, for example, support 2FA, you might risk a security incident. For that reason, it is critical to have some baseline standard of what applications and systems you would want to allow into your ecosystem.
You can create a list of the security features you'd want your systems to have and use it when filtering service providers to make sure that they are the right ones for your business.
Need help with your system integration?
System integration provides your business with a centralized system based on a scalable and secure architecture. Going back to the benefits mentioned earlier, it allows you to be more productive, optimize data management, improve customer service, and be cost-efficient.
Now that you have an idea of the importance of system integration hiring an MSP may be the smartest next step to help you jump-start the process.
At ITS, we want our team members and clients to be more productive and efficient. Based on experience, we've benefited greatly from integrating our systems across the board, and we've been extending this knowledge to help companies leverage that.
If you want to know how we can help, fill out our form for a free network assessment.