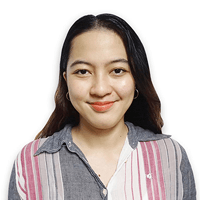 Selling Point: How Working from Home Worked for Zarina Cañedo
For Zarina, working from home has been a favorable situation for her and her little family as she was able to do her job efficiently while taking care of what matters to her the most.
Who is Zarina and what does she do?
Zarina Cañedo is a Sales Admin Assistant at ITS who has been with the company for nearly a year. Although relatively new to the position, she was able to quickly adjust, especially after going through a merger transition four months into the job.
"I started with the San Francisco office in August of 2021 as an Account Admin Assistant at Intivix," she starts. "But when the merger happened, our tasks were realigned, and my title changed to Sales Admin Assistant."
"Most of my tasks revolve around the entire process of creating quotes. So, from tickets, opportunities, requesting vendor quotes, seeking assistance from other team members if the need arises, asking for approvals, and then finally sending the quote to the client."

Zarina has been a consistent top performer on her team and was recognized a couple of times by her manager during weekly team meetings.
"Every Friday, we have this all-hands meeting with the San Francisco team, where they recognize the best performing members for that week." she shares. "And ever since I joined the team, it has been my goal to have my name included on that list. Thankfully, they were able to see the value of my work."
According to Zarina, she can finish an average of 8-10 quotes within a week.
Outside ITS: Her training ground, her motivation, and rest days
No one would have guessed what degree Zarina took before taking on an IT job.

"I actually graduated Cum Laude with a degree in Nursing back in college." Zarina shares.
"To be honest, at first, I was scared to work here because I don't have any IT background. With my Nursing degree, I have no idea what revolves around an IT job. But since we've been provided with sufficient training, I overcame the fear and felt confident to pursue this career path."
She also mentions one tip she can give those who want to work in IT but have no technology background.
"Training and guides are there for you to read and understand. You only need to be diligent in self-studying the workings around your job role, and you're good to go."
When asked if she has plans to pursue Nursing in the future, Zarina answers with no hint of dissatisfaction.
"My husband has been telling me to do so, but I don't think I can–at least not anytime soon."

Aside from the health risks of a Nursing job amid the pandemic, her decision to stay and work at home springs from her desire to take care of her three-year-old daughter. If she's being honest, remote work has benefited her greatly since she gets to see her daughter daily.
"My husband works on-site, so there has to be someone at home to watch over our child. And in all honesty, it has been so fulfilling for me."
That is why although she works a rather unusual schedule, following the Pacific Standard Time (PST), she doesn't find it challenging to stay awake and do her tasks.
"In my case, I work with my daughter beside me, so it's been easy for me to push myself to work every day… To think that someone depends on you, that you have to work to give her a good life... It's been my biggest motivation."
What do rest days mean for Zarina? Well, for others, this may be an opportunity to do something for themselves. But to her, weekends are best spent with her daughter.
"My rest days only mean more quality time with my daughter. Since I only get to dedicate a few hours of my time to her during weekdays, I make sure to allot my entire day to her only. So, we play together or watch Netflix. Actually, we recently finished watching Stranger Things."
Moving forward: Staying with ITS
"When you work in Sales, resourcefulness is one important skill you should have."
Zarina says when asked about her strength at work.
"Whether it be to assist them in getting quotes or responding to a ticket, being resourceful allows me to meet the needs of my Account Manager in a timely manner."
This skill also bleeds into one of the core values of ITS, which is to be a creator. And Zarina seems to agree.
"If I were to choose where I relate to the most among the three core values of the company, I think it would have to be that–being a creator," she says. "When you are a creator, it helps you resolve an issue in the best and fastest way possible."
Lastly, if there's one item Zarina has learned from working with ITS, it is that:
"I was able to understand myself more. I realized that I'd rather work hard on a job, even though it's tough at times, as long as I can see my family. You know, it's sad to earn money and come home to an empty room." she trails off. "This opportunity to work from home while earning enough to support my family has really been a blessing to me, and I want to keep doing it for the months or years to come."