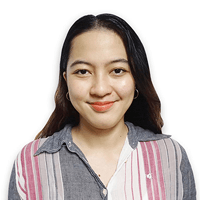 Managed IT Cost in Tempe (How Much Will You Spend in 2023?)
To keep your IT infrastructure in tip-top shape, you must be willing and ready to spend money on new technologies and people who can help utilize them.
A Managed IT Service Provider (MSP) offers you both the tools and the people. When you partner with an MSP, they will implement new and suitable technologies in your system that can streamline processes, cut operational costs, improve turnaround time, and significantly lessen downtime.
But how much should you really spend on Managed IT Services?
As a Managed Security Service Provider (MSSP), Intelligent Technical Solutions (ITS) has helped hundreds of businesses bolster their cybersecurity by leveraging technology. In this article, we'll go over the important numbers and help you understand why Managed IT Services cost that way, as well as what factors affect these prices.
Managed IT Cost in Tempe vs. Other Locations

The cost of Managed IT in Tempe has risen in the past two years due to inflation and IT equipment shortage. However, it isn't as different as you'd expect from other locations in the country. Most prices, especially for services from MSPs with multiple locations in different states, remain the same. It all depends on the support you need.
The average cost of Managed IT is around $2,000 to $3,000 ($24,000 to $36,000 annually) and usually covers up to twenty users in your organization. Managed IT is also usually priced per user; businesses often pay between $125 and $250 per user per month. On top of that, a one-time onboarding fee may be an additional cost.
These bills go up or down depending on:
The company you're partnering with
The five price factors of Managed IT (more on this below)
Usually, small mom-and-pop MSPs have a more flexible pricing structure. These businesses often offer lower prices at the cost of having less robust IT services. Meanwhile, larger tried-and-tested MSPs have a less flexible pricing structure but will often provide more services than smaller MSPs can.
5 Price Factors of Managed IT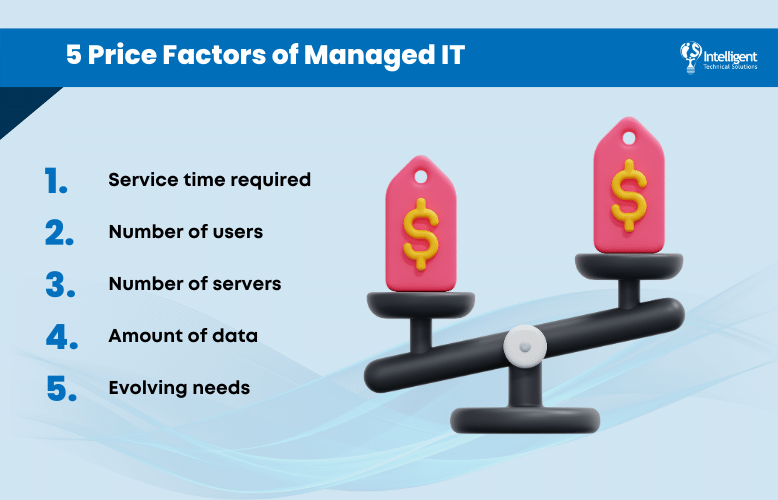 Prices in Tempe may go higher or lower depending on these factors and attributes:
Service time required

Number of users

Number of servers

Amount of data

Evolving needs
We'll dive into each one below:
1.
Service Time Required 
Service time is the time it takes for your MSP to fix a problem or concern in your IT infrastructure.
There are many types of MSPs that offer different support. As a business owner, you need to figure out the amount of service time required for your company by answering the following questions: 
How big is your IT network (number of users, workstations, servers)? 

Do you need proactive maintenance and support? 

Do you need to have after-hours and weekend support? 

Is your business' IT system running around the clock? 

Do your usual IT problems take a long time to fix?  

Do you have recurring IT issues, or are they usually a one-time problem?  
 The price range for service time:  
Service time can be billed hourly or be a recurring cost. If you've hired a break-fix company instead of an MSP, you're most likely on an hourly rate. The price ranges from $150 to $250 per hour but can go up or down depending on the company you've hired.  
Managed IT service providers will include service time in the plan that you have with them. Plans can range from $50 to $150 per user per month, with other fees depending on what your IT infrastructure needs. 
Make sure you check how much time your MSP allocates for service in your plan and evaluate if that is enough for your needs.
2. Number of Users
More users mean more devices to manage, which means a higher price point. To have an idea of the cost, you should do an inventory of how many workstations you want your MSP to manage. 
The price range for each user:  
The price range for each user depends on what you'll have managed. Perhaps you want to set up a VoIP (Voice Online Internet Protocol) or upgrade your workstations. You might even want to install business internet instead and have mobile device management.  
You can expect to spend $50 to $400 per user. Coordinate with your MSP if your fees are one-time payments or if they'll recur each month for transparency.
3. N

umber of Servers 
Having more servers will cause the price to go up the same way an increase in the number of users does.
To add, you will have to figure out if you want your MSP to simply manage the server or include other essential features for data security, such as different kinds of backups. If you don't have a server, your MSP will recommend you get one, which will also cost you money.
The price range for a server:  
You can expect to spend as low as $5,000 to over $20,000 to set up everything you need for one server. As usual, the cost of a server can go up or down depending on the type of equipment you choose to invest in.  
MSPs usually provide a much lower upfront price for servers, with the pay-off of having a monthly fee for the time that you use the server.  For example, at ITS, our cloud servers start at $185 per month, while a Backup and Data Recovery (BDR) server will start at $200 per month. Other MSPs will also have price ranges between $200 and $500.  
4. Amount of Data 
When looking into the pricing of an MSP, you also need to review how much data you want your MSP to manage and back up. Like users and servers, more data requires more equipment, which then requires more management and a higher fee. 
The price range for data storage:  
You can expect to spend anywhere between $5 per month (for directly bought cloud storage with no maintenance) and $500 (for maintained data storage with backups). Your price will also vary depending on the company you're coordinating with.  
5. Evolving Needs 
After taking the previous four factors into consideration, you will also need to review what kind of service you need from your MSP.
Will you be working with them to improve your network's security?
Are you going to ask them to set up your entire IT infrastructure?
Will you need cloud services or VoIP services?  
And after you decide which services you want from your MSP, there is also an onboarding process your company needs to undergo (especially if you've asked for Managed IT).  
Then once everything is set up, you will need to consider technological upgrades. The cyber landscape continually evolves, and you will need to replace your computer or server with newer technology to adapt.
Additionally, you will need to adhere to changes in government regulations like CMMC or Cybersecurity Maturity Model Certification. Recently, the CMMC released more stringent guidelines to follow for businesses. In the future, you can expect and prepare for several modifications to ensure up-to-date cybersecurity.
The price range for services and upgrades:   
The price range for services will vary wildly. You can expect to spend anywhere between $50 and $1000 per month. The numbers will depend on the size of your company and the services you need. These costs can, of course, go up if your company has many users or specific, intensive service needs.
Ready to Find the Cost of Managed IT for Y

our

B

usiness?

Take the abovementioned considerations and determine what kind of support you will need for your Tempe-based business before inquiring for quotes. Of course, different companies offer different price ranges but reading through these factors will help you estimate your IT budget.
Here at ITS, we help hundreds of businesses understand and leverage their technology to achieve their goals. Schedule a meeting with us to learn how we can start your cybersecurity journey. But if you need more time to decide, the following content might help you with your research: