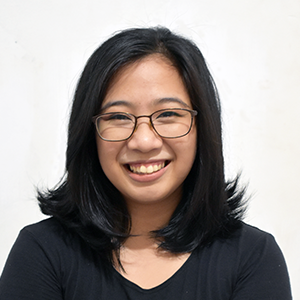 A Closer Look at ITS Cybersecurity Partner Ed Griffin
You may know Edward Griffin as a key ITS Partner, but who is he behind the scenes? Let's take a deeper look at who he is when the cameras are off.
The Man Behind the Screen
Edward Griffin, more commonly known as Ed, is a cheerful ITS Partner based in San Francisco. He describes himself as a loyal, steadfast person and places his family as his highest priority.
"I typically don't want to showboat or draw attention to myself," Ed said. "I want to get work done right, and then leave work behind. That way, I can focus on my personal life, on my family."

Ed has one son with his wife and proudly shared he's known his wife since senior high school. Together, they've survived a long-distance relationship in his rocky 20s, and Ed happily attributes their successful relationship to his wife.
"She's the strong one among the two of us. I'm even-tempered, but I'm also a fail-fast type of guy. If I don't like how something's going, I'll be quick to say let's do this other thing. She'll be the steadying influence, and I appreciate that about her."
"We try to make sure we account for each other's weaknesses and meet in the middle as best we can, you know? It seems to be working!" Ed laughed.
When asked if he has any hobbies he's focusing on, Ed talked about his love for skiing and motorcycling. He loves taking a day off and decompressing on a long motorcycle ride up Northern California. Twisties, banked sweepers, rapid elevation changes. More, please!
Journey into Technology
Like many people in technology, Ed had an innate curiosity about computers and tech from the beginning.
"I had an interest in figuring out how things worked. I was a kid in the 1970s; the extent of our home computing was a pong game, right? Atari Pong or something. Opportunities came later. But even back then, I was interested in learning how computers work."
However, the journey into tech wasn't a straightforward one.
"I thought I was going to be a doctor," Ed explained. "I studied life sciences! But then I made the – perhaps fortunate – decision to do some volunteer work within the hospital setting."
Medical practitioners? Much respect. But the business of medicine? Not a passion.
His behind-the-scenes look at medicine allowed him to steer his career back into technology, eventually leading him to Intivix – a company that partnered with ITS to form ITS San Francisco.
A Day in the Life of an ITS Partner
So, what does he do on a day-to-day basis? According to Ed, he doesn't have a strictly defined schedule.
"I'm a little bit of a jack of all trades to some extent," he said, "and wear whatever hat is needed at the moment."
He's most well-known for his work in cybersecurity, and Ed pointed out that he didn't start out with the intention of working on cybersecurity projects. "My background is in enterprise systems architecture and server performance benchmarking. A bit of programming on the side."
But by following the opportunities and discovering security and compliance (the things he finds joy in), he is now – in his words – the security and compliance guy.
Ed also does work for both ITS and ITS' clients. "Internally," he said, "I've been helping to drive ITS' internal compliance efforts. I'm also trying to help raise cybersecurity awareness and knowledge in our internal teams. So that's a big part of what I'm doing today."
When asked about his experience working with ITS clients, Ed mentioned that he works with great companies. He helps these companies as their first point of contact: whether as a Client Account Manager (CAM) or Virtual Chief Information Officer (VCIO), he's there to offer assistance.
"For the San Francisco team, I am still part of the local leadership for teammates. So, if there are tactical or strategic things that need to be done, I'll engage," Ed added.
He then mentioned it's a challenge in the day-to-day workflow, with a varied workload. "So, at the beginning of the month, I'll put on the account manager hat. I have to deal with invoicing. The day will be spent looking through tickets, ticket histories, making sure that the rates are correct, agreements are applied correctly, and just reconciling any discrepancies right before it goes out to clients."
"Then more interesting stuff happens."

Ed's current project, for example, is creating deployment guides for several new security deployment tools. He finds it fun being a manager while still being an individual contributor.
"I like to get my hands deep into technology and learn new things," he said with a smile.
Ed pointed out that he enjoys work with practical impact the most.
"I love interfacing with clients and working directly with them, advising them, but also helping to realize their ideas and their vision," Ed said.
He finds the most fulfillment when helping companies achieve their goals, and laughingly said he knows it's pretty cliché – yet it's still the truth.
"I love being able to go in there," Ed said, "be their technical consultant, their trusted advisor. I work hard to develop credibility and trust. When I'm able to deliver on a business objective, a desire, that feeling is awesome, right? And it's lasting."
He also talked about his experience working in the tech field and at ITS.
"It's been a wonderful ride; the people I've met have been awesome." Ed smiled. "It's been fantastic, and I enjoy working with my colleagues. I love how everyone's just willing to get in and help if help's needed."
Where Will He Go from Here?
"I plan to win the lottery," Ed said with a straight face, then laughed. "But in all honesty, I'm focusing on my health."
Ed shared his plans for exploring nature. "I live in a part of San Francisco that's got some hills to it. There are also some hills where the community has created stairways into the hillside and paved the stairs with tile. It's really gorgeous stuff."
"But yeah, I would love to just continue to focus on health that, you know, just get back into a nice exercise regimen."
Aside from his health, he's looking forward to seeing his son go through new experiences in his life.
At the end of the day, he's happy to take a slower approach to life and devote the next few years to his family, his work, and his health.