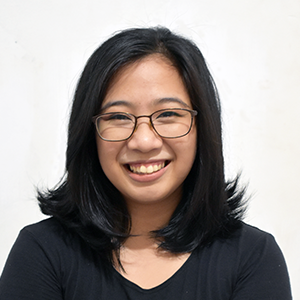 How to Review a Statement of Work (SOW) from an MSP (5 Easy Steps)
So you're ready to commit to a managed services provider (MSP) - what now?
Your MSP will first present a Statement of Work (SOW). This formal document outlines the specific services, deliverables, timelines, and other essential details related to a project or engagement between the MSP and its client.
Because it's a crucial part of your MSP partnership, you deserve to know exactly how to evaluate your SOW. With over 20 years of experience writing, implementing, and revising SOWs, here at Intelligent Technical Solutions (ITS), we know it requires careful attention to detail and a clear understanding of your organization's needs and expectations.
In this blog post, we've outlined the key elements of an SOW and listed the five steps you should follow to effectively review one from an MSP.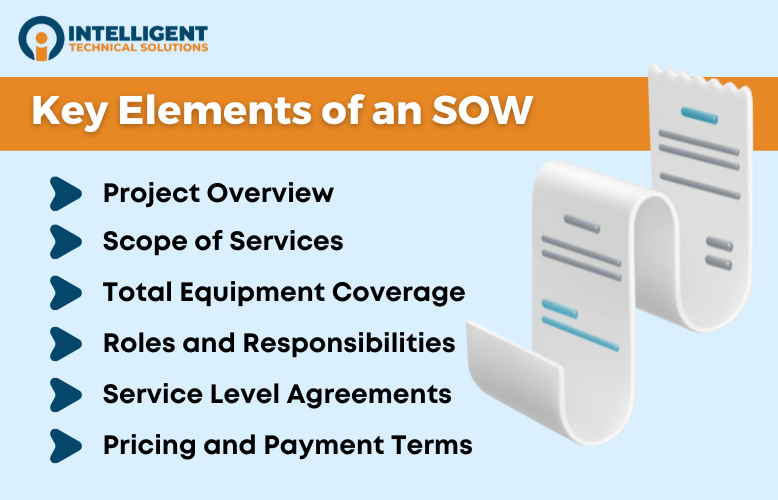 Key Elements of an SOW
Some of the key elements typically found in an SOW from an MSP include:
Project Overview

Scope of Services

Total Equipment Coverage

Roles and Responsibilities

Service Level Agreements (SLAs)

Pricing and Payment Terms
Other SOWs may include timeline expectations and milestones, legal terms and conditions, and revision histories.
SOWs are used to establish a shared understanding - after all, according to Todd Whitley (an ITS Executive), miscommunication is the number one source of dissatisfied clients.
5 Steps to Review an SOW
1. Understand Your IT Needs

Before reviewing the SOW, ensure you clearly understand your organization's needs and the services you expect from the MSP. This will help you assess whether the SOW aligns with your objectives.
2. Review the SOW

After you receive your SOW, it's time to go over it with a fine-toothed comb. Here are specific parts of the SOW you should review:
Scope of Services and Coverage
Start by examining the scope of work outlined in the SOW. Ensure it clearly defines the services the MSP will provide, including the specific equipment covered in the agreement. Whether you have a managed IT plan or a VoIP set-up agreement, verify that the scope of work covers all the areas you require assistance with.
Service Level Agreements (SLAs)
Next, look for SLAs within the SOW that outline the performance standards and metrics the MSP will adhere to. Review these SLAs to ensure they align with your expectations and needs. Pay attention to response times, uptime guarantees, and any penalties or remedies for failure to meet SLAs.
Read: "What SLAs Should Your Business Look for in a Managed IT Provider"
Responsibilities and Roles
Once you clearly understand the tasks your MSP will do, review the SOW to understand the roles and responsibilities of both your organization and the MSP.
Ensure that the document clearly defines who is responsible for what tasks, including any dependencies or prerequisites required from your side. This is especially important if you're getting co-managed IT services.
Next, look for the project timeline and milestones outlined in the SOW. Some companies have a separate document you can request for.
Verify that they align with your organization's expectations and any critical deadlines you have.
Pricing and Payment Terms
One of the most essential parts of the SOW is the pricing and payment section. Scrutinize the pricing structure presented in the SOW, including any cost breakdowns, payment terms, and invoicing schedules. Check for every inclusion and verify all your services are included in the pricing.
After pricing, you'll probably see a list of legal terms and conditions. Review the legal and compliance aspects of the SOW, such as data protection, confidentiality, and intellectual property rights. Ensure that the MSP's obligations align with your organization's policies and any applicable legal requirements.
Termination and Dispute Resolutions
Lastly, look for termination and dispute guidelines. Most MSPs include this in the terms and conditions, but it's important enough to get a separate reminder.
Read: "Top 8 Reasons Companies Leave Their MSP"
3. Consult with Company Decision-makers

After checking the SOW, the next step is sharing the SOW with other company decision-makers. Ask the heads of your legal, finance, and IT departments for their input to ensure that the SOW meets all requirements and aligns with the overall organizational strategy.
4. Clarify Questions with the MSP

Once you have all the comments and questions from your team, bring up all your concerns with the MSP. It's crucial to clearly understand all aspects of the SOW before moving forward.
A great MSP will carefully answer all your questions. If they start to hem and haw, think twice about the partnership. If they can't communicate appropriately before the final signing, you have a sneak peek at the future of your communication with the MSP.
5. Sign and Request a Copy of the SOW

You've done your due diligence - all that's left is to sign and request a copy of the SOW. Keep the document in a safe place, with a backup on file. The ball is now in the MSP's court to meet the agreement and keep you happy.
Ready to Partner with a Managed Services Provider?
Reviewing an SOW is crucial to ensure that the MSP engagement meets your organization's needs and expectations. Take your time, be thorough, and involve the right people to make an informed decision.
A thorough review of the SOW sets the stage for a successful collaboration, providing a solid foundation for a productive and mutually beneficial relationship with your managed services provider.
But an SOW review isn't the only step you should take for a successful IT partnership. So, as an MSP dedicated to our client's tech success, we've prepared the following resources to help you with your decision:
You can also schedule a meeting with our IT experts to find out if we're the best fit for your organization.