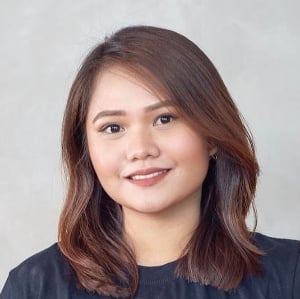 Co-Managed vs. Fully Managed: Choosing the Right IT Service Model
With the impact of the Covid-19 pandemic, the last few years have brought major challenges for businesses of all sizes.
Enterprises scrambled to meet the demands of today's digital economy, with many needing to adapt to remote work and downsizing, change how products and services are delivered, and address cybersecurity issues quickly. The pandemic placed pressure on IT departments - and the need for external expertise, particularly from MSPs (managed service providers), has never been more vital.

Although engaging an MSP can be costly, they help avoid serious tech issues and help businesses save more money in the long run.
You don't have to relinquish all the managerial and operational control with an MSP, too. You can select exactly which areas you want to be managed externally and which ones to keep working on in-house. With an MSP, your business can be flexible with any change.
The question remains, however, whether to let an MSP handle all the work for you--or collaborate with them for a hybrid co-managed IT service model. ITS, an MSP serving the Chicago, Detroit, Las Vegas, Los Angeles, Phoenix, and San Francisco areas, has years of experience advising businesses on their managed IT needs. In this article, we will discuss the following:
The difference between fully managed and co-managed IT

When to choose co-managed IT

When to choose fully managed IT



Fully Managed IT vs. Co-Managed IT
So, what's the difference between the two?
With fully managed IT, an MSP manages and deploys all areas of IT, from helpdesk to security, and takes care of the overall IT infrastructure, maintenance requirements, and system performance. It's the highest level of support from an MSP. With this service model:
Your in-house staff won't need to handle additional responsibility or acquire additional training

You don't need to hire full-time in-house staff

You get the full support of a highly trained IT team and the expertise of a chief information officer
In a co-managed IT arrangement, on the other hand, you will be offloading parts of the IT infrastructure to your MSP while maintaining control of other pieces. For instance:
You can assign your MSP to oversee daily IT support so that you can offload your staff to work on high-level strategic projects, or

You can let your on-site team work on the day-to-day IT needs of your business and let your MSP fill in the gaps with their value-adding and specialized IT professionals
The idea is to create a partnership wherein your MSP can supplement and enhance your existing IT team.
Related article: Co-Managed IT: A Complete Guide for Businesses
When to Choose Fully Managed IT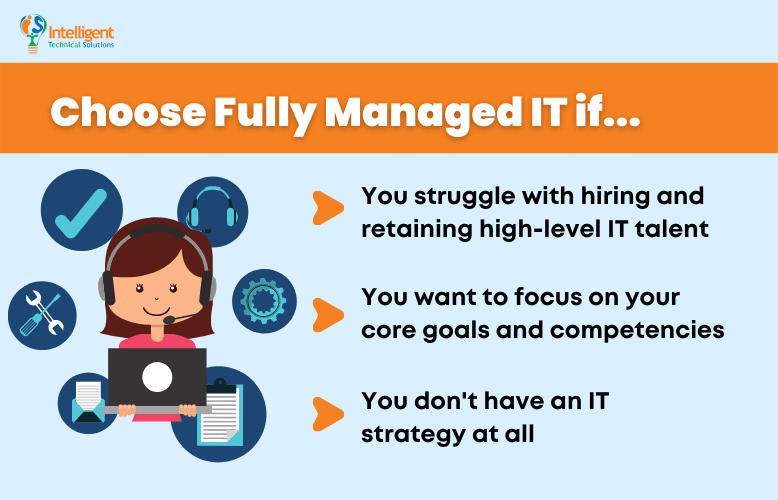 Now that you understand the difference between the two service models, when should you choose fully managed IT for your business?
1. If you struggle with hiring and retaining high-level IT talent
A fully managed IT service is ideal for businesses that struggle with hiring and retaining IT staff and cannot draw upon high-level IT knowledge internally.
Not only do you avoid the trouble of hiring off your plate, but you'll also enjoy access to the talent you need - when you need it.

2. If you want to focus on your core goals and competencies
Let an MSP fully manage your IT infrastructure if you want to spend more time increasing your brand value rather than spending many hours brainstorming how to improve your web security. Outsourcing everything means you don't have to worry about managing an on-site data center, maintaining your hardware, or looking out for potential network issues.
3. If you don't have an IT strategy at all
Creating an IT strategy, especially for mid-market businesses, can be a challenge. If you don't have one and are not sure where to start, then getting a fully managed IT service will give you the most comprehensive support. MSPs have the high-level knowledge to provide recommendations for not only faster business growth, but also long-term success.
When to Choose Co-Managed IT
If the scenarios mentioned above do not apply to you, perhaps you should consider a co-managed IT. Choose this model if: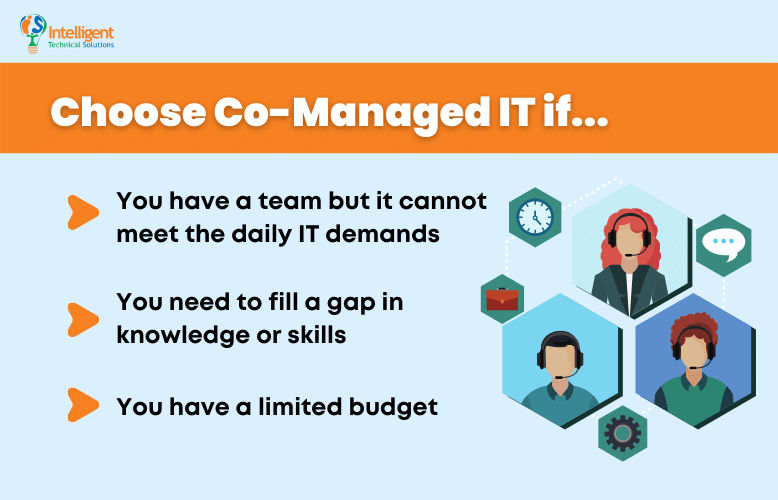 1. If you have a team but it cannot meet the daily IT demands
A co-managed IT service model is ideal for businesses with a small IT team that cannot meet daily IT demands or those with a decent in-house staff but lack the bandwidth to monitor security breaches constantly. Finding and hiring additional manpower is an option, but this can be costly and time-consuming. A co-managed IT arrangement can feel like a "relief valve" by supporting your IT team, cutting operational costs, and retaining your current staff.
A co-managed service also ensures that you cover all your bases in terms of security. "If you have a company and you have, say, a hundred employees and only one person managing [your IT needs],… that's a vulnerability," says Dan Izydorek, Chief Revenue Officer at ITS. "Doing co-managed protects the company in case that person moves on to another job or decides to retire."
2. If you need to fill a gap in knowledge or skills
Technology changes quickly, and keeping up with this constant evolution can be challenging. This can lead to a knowledge or skills gap in IT teams.
With a co-managed arrangement, you get access to experience and knowledge that can supplement your internal staff, especially when there is a spike in demand, according to Izydorek. "[Businesses] are using us because we have more knowledge. We have more people with different expertise levels, and we have more tools."

3. If you have a limited budget
Hiring an entire in-house team can be pretty expensive; apart from paying for salary, you also incur costs from employee benefits, onboarding, training, hiring, and so on. On the other hand, getting a fully managed IT provider can be costly, too. Co-managed IT service offers the perfect middle ground between the two.
"If a company shrinks a lot or grows a lot, we can fluctuate with them, and their monthly agreement with us can adjust as needed," says Izydorek.

Ready to Decide Between Fully Managed and Co-Managed IT?
As we approach a post-pandemic world, it will be critical for businesses to evaluate whether to subscribe to a fully managed or co-managed IT arrangement. It's a big business decision that has the potential to ensure your business is stronger and well-prepared to take on what lies ahead.
Go for a fully managed IT if your business struggles with retaining IT talent, wants to focus on core goals, or doesn't have an IT strategy at all. Choose co-managed if you can retain IT talent, but the team cannot meet the daily IT demands, you have to fill a gap in knowledge or skills, or you have a limited budget.
So, have you decided between the two - and are you ready to take the next step? Continue your research by reading through "How Much Does Co-managed IT Cost? [Important Price Factors]" or "How Much Does Managed IT Cost? (5 Price Factors)".