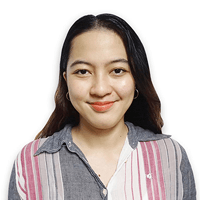 Disaster Recovery vs. Business Continuity vs. Incident Response Plans
When starting a business, one of the main considerations is developing a plan that accounts for the possibility of a security breach occurring within the organization. Since breaches are not uncommon in the cyberworld's complex operations, you will need a contingency plan during worst-case scenarios.
Unfortunately, many businesses don't have comprehensive IT plans set up or don't really know how each plan works for them. While others often get overwhelmed with all the acronyms and technological terms and end up with no plan at all.
This security gap is an imminent danger to one's business.
ITS has been helping hundreds of businesses bolster their cybersecurity for nearly twenty years. One effective way to strengthen the network defenses is by helping them develop a strategic IT plan, or in this case, plans.
You usually hear the terms Business Continuity Plan and Disaster Recovery Plan; most of the time, they go together. But there is a distinction between the two, as well as an Incident Response Plan.
Here, you'll learn the differences and importance of each plan and understand why you need all three.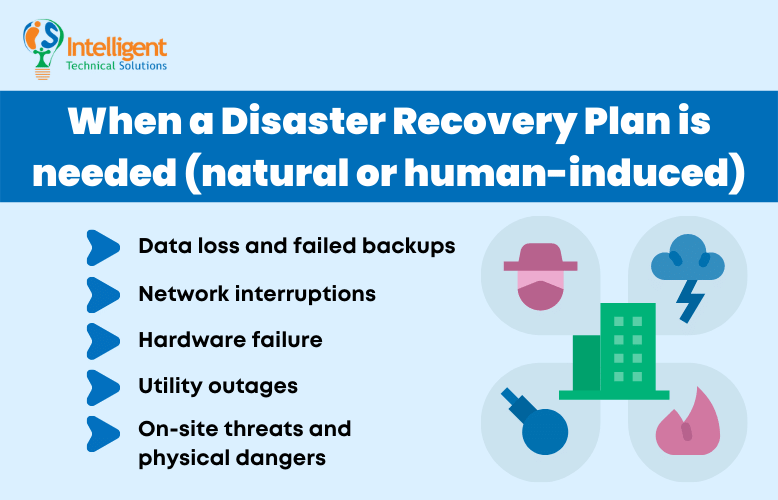 What is a Disaster Recovery Plan?
A Disaster Recovery (DR) plan is a set of policies and procedures created by an organization that enables the recovery or continuation of vital IT infrastructure and systems following a natural or human-induced disaster, such as:
Network interruptions

Hardware failure

Utility outages

On-site threats and physical dangers
We reached out to Jeff Farr, Intelligent Technical Solutions Security Consultant, to give a brief distinction of the three plans. Farr has extensive experience running MSPs with his 30 years in the IT industry.
"Disaster Recovery is when you need to recover your technology... It has to do with the IT portion during the aftermath of a disaster." he says.
For example, fire comes in and burns down a huge part of an office building, taking out the server room where all data is stored. The DR plan is to immediately start setting up servers in the Cloud before everything gets out of hand.
However, just getting the servers back up does not mean the business will continue–that is why a DR should go hand in hand with a Business Continuity Plan.
What is a Business Continuity Plan?
The Business Continuity (BC) plan is a system for dealing with both internal and external threats. So, given that your IT team had already resolved the technical issues, the problem now is where would the employees work?
"It may be that the employees don't have desks, or all the office computers are burned to the floor. The problem may also be how they would get into the building because the fire department wouldn't let them in." Farr explains.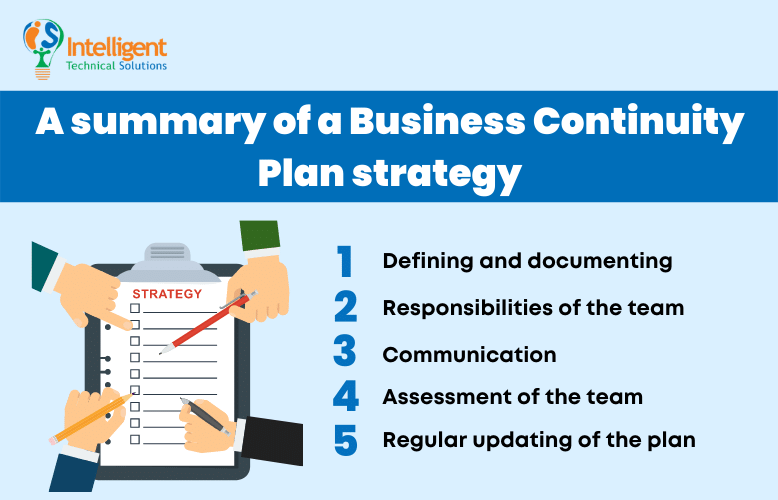 A BC plan is a vital component in resolving the effects of a company disaster and addressing loss. It lays down the operational procedures of how the business can keep running amid certain limitations. The plan strategy can be summarized as follows:
Defining and documenting the type of incident that occurred

Responsibilities of the team during the incident

Communication

Assessment of the team

Regular updating of the plan
What is an Incident Response Plan?
"Incident Response or IR is a cybersecurity term that denotes a security incident within the organization. It means something has happened. Maybe an unauthorized individual got into the network, or a malicious virus or ransomware infiltrated your connection," Farr says.
The incident could be a major one, such as all the computers getting hacked, or a localized one where only one computer isn't working. Case in point, you have an incident, and you need a predefined plan of what you must do.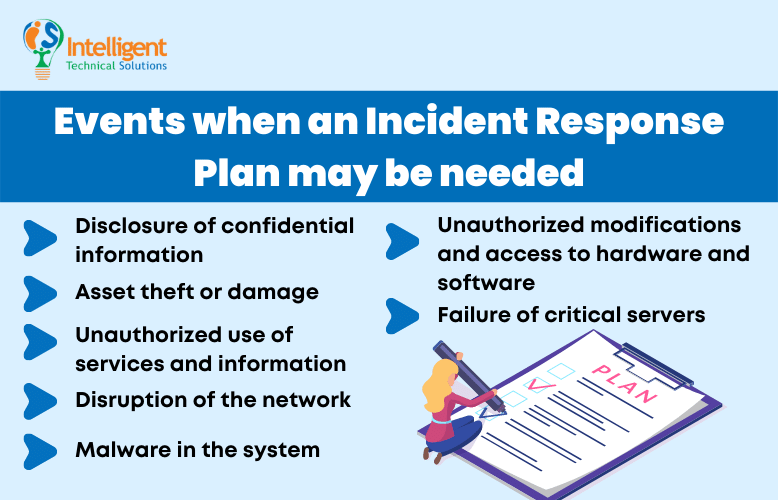 When a cyberattack or breach occurs, the Incident Response (IR) plan is a document that must guide the team through the recovery processes. It will be extremely beneficial if a company is equipped with complete information about the response procedures to any cyber incident. Such events may be:
Disclosure of confidential information

Asset theft or damage

Unauthorized use of services and information

Unauthorized modifications and access to organizational hardware and software

Disruption of the network
To carry out the IR as planned, an incident response team comprised of the team manager, security analysts, legal advisors, and public relations officers must be formed. They will be in charge of carrying out the plan.
Do you need to have all three plans?
The quick answer to that is, as Farr says, 100% YES.
But since it could get confusing for some, Farr gives a simple explanation of how you can separate the three:
Business Continuity is the way to get your business back up and running after something, a disaster or accident, happened.

Disaster Recovery is the process of IT people trying to get technology back up and running.

Incident Response is in the cybersecurity world where an IR team is trying to respond to the cybersecurity of a situation, and the trouble that comes after.
Farr adds, "I don't think you can have a Disaster Recovery Plan vs. Business Continuity Plan vs. Incident Response Plan without exaggerating the importance of all three. Always keep in mind that your IR should coincide and work with your DR and BC. They need to be coordinated without stepping on each other."
Need help setting up Disaster Recovery, Business Continuity, and Incident Response Plans?
While the objectives of the three plans differ, the goal is the same: to protect companies when it comes to the safety of their operations. So having all three of them is essential to be prepared.
But as a Managed IT Service Provider, ITS understands that building an extensive DR, BC, and IR plan demands great effort and resources. Just thinking about all the things that need to be done, not to mention the maintenance, may be quite overwhelming for your organization.
That is where the expertise of a Managed IT comes in.
If you need help setting up your IT plans, fill out this form for a free cybersecurity assessment, and we'll get you the assistance you need as soon as possible!