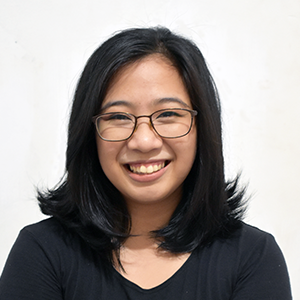 5 Problems When Changing Managed IT Providers (& How to Avoid Them)
Change is a constant companion for businesses. That's why it's crucial to adapt quickly and get your business IT running at an optimal pace again. Some companies fail due to a lack of foresight or understanding about what can happen during a significant change, like switching IT providers.
Unfortunately, changing MSPs can be a headache.
As a Managed Security Service Provider (MSSP) with years of experience in the business, Intelligent Technical Solutions (ITS) knows how important it is to have a smooth transition between IT providers. So, we've listed the top six problems when changing MSPs. These are:
1. Business operation disruptions
2. Early contract termination
3. Lack of communication
4. Turnover of equipment & data
5. Adjustment with new IT professionals
Problems Encountered When Changing Managed IT Providers
By the end of this article, you'll know exactly why these issues happen and how to avoid them when leaving your IT partnership.
1. Business operation disruptions

During the offboarding process, inefficient Managed IT may cause downtime, especially if you've procured different IT equipment from your MSP. Even if their support does work for the short term, you should ensure you have IT staff or another MSP on standby to provide ongoing support for your team and IT equipment.
2. Disconnection fee for early contract termination

Managed IT is a long-term partnership, and you might find yourself in a position where you have to end your contract prematurely. Common reasons for early termination of contracts are:
The dissolution of the company

A merger with another business with

in-house IT

A mismatch of services needed or customer support
Depending on the terms of your Service-level Agreement (SLA), you may have to pay a disconnection fee.
You can find any stipulation for early disconnection in your contract; you can also ask your IT provider about the details. It's always best to check with your IT service provider and ask about these conditions; you might get lucky and find the disconnection fee easily waived.
3. Communication issues

Communication issues are another common problem when changing IT providers. When offboarding, some MSPs may falter in their consistent communication and be unable to meet your IT needs or successfully offboard you.
One way to ensure good communication is by having regular meetings with representatives from both companies to discuss any problems or concerns as they arise. An open dialogue can prevent misunderstandings and ensure everything runs smoothly throughout offboarding.
It's even better if you already have other IT professionals, whether in-house or third-party, to coordinate with the provider you're leaving. They'll be able to ensure a consistent flow of communication regarding the offboarding process.
4. Lengthy turnover of equipment and data

Sometimes it takes a while for your IT company to get everything back to you. Being aware that it can often take a month or two for an MSP to finish exiting your IT network will help you when you're coordinating with your new IT provider.
In addition to these issues, there's always the question of whether the new provider can access data stored by older providers—and how long it'll take them to do so. This can cause significant disruption during transition periods because some applications require manual intervention before they're ready for use with another service provider's system.
Read: "Buying Your Own Equipment vs. Buying from an MSP (Pros & Cons)"
5. Adjustment with new IT professionals

When you're changing IT providers, it may take a while to adjust to the new style of the other company completely. Most transitions are painless if you can evaluate the new company properly, but this is still a common issue when changing MSPs.
How Can You Avoid Issues When Changing IT Providers?
If you're considering a new IT provider but are worried about the process of leaving your current company, then following these steps will make the transition hassle-free: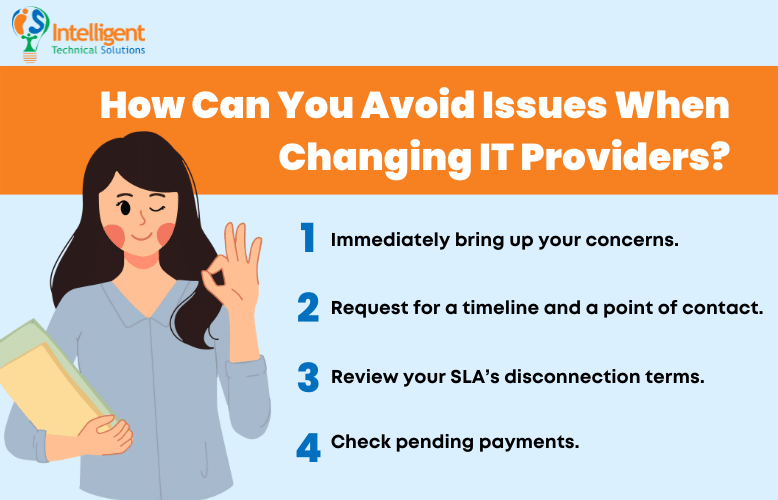 1. Immediately bring up your concerns.
The moment you're considering shifting IT providers, contact your MSP. This will give them ample time to fix your concerns or prepare for offboarding. It won't catch them off-guard if you decide to push through with changing providers.
2. Request for a timeline and a point of contact.
Having concrete dates and a contact person will make the offboarding process easier. Clear expectations regarding disconnection dates and equipment turnover signify a well-planned offboarding. Your point of contact will also be highly beneficial for updates and possible questions.
3. Review your SLA's disconnection terms.
If you have a copy of your SLA, reviewing disconnection terms will help you manage your budget and timeline for a new IT partnership. You'll also see if the reason for your early contract termination qualifies for waiving the disconnection fee.
4. Check pending payments.
Do you have any servers, workstations, or firewalls you bought through your MSP? Are you still paying for them? Or do you have any pending balances with the company?
If you still have financial obligations to your MSP, consider the remaining balance before pushing through with disconnection.
Ready to Change Managed IT Service Providers (MSPs)?
Jumping from one MSP to another can be a long, tiring process. With possible business operation disruptions, early contract termination fees, communication challenges, equipment and data turnover, and adjusting to a new company, it's no wonder some businesses stick to their current MSP — despite less than stellar service.
But all companies deserve — and, in the current day and age, need — excellent IT.
That's why ITS, as an IT service provider, aims to provide businesses with quick, hassle-free services. We've guided multiple companies toward having the best possible IT partnership.
To get more information about switching MSPs, watch ITS Director of Operations Peter Swarowski talk about this topic in the video titled Everything You Need to Know About Switching IT Providers