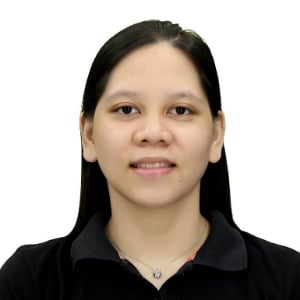 Remote and Onsite Work Considerations
The way we work has changed dramatically over the past few years due to the pandemic. In one fell swoop, many of us rapidly transitioned to remote work configurations. As things have eased up recently, people are slowly migrating back to the office. Now, the workforce is comprised of a mix of remote and onsite workers, with their setup being dependent on the nature of their work.
The IT industry leads other industries with high levels of remote work adoption, according to FlexJobs, an online job site, and that's been the case even before the pandemic. Onsite work also offers many benefits, including faster learning among peers and a tighter knit culture. This sparks debate as to which method is more effective for team members' effectiveness.
To better understand the matter, we sat down with Peter Swarowski, Director of Operations at Intelligent Technical Solutions (ITS). He manages our expert teams of technicians who work both remotely and onsite and he offers his insights into the considerations for each of these work setups.
As every business operates differently, we'll discuss the work setup of our technicians here at ITS and the pros and cons of each. Gaining an understanding of this will help you decide which is a better fit for your business.
What kind of work setup do ITS technicians utilize?
Here at ITS, our technicians have different setups depending on where they're physically located. Team members in major metropolitan cities, such as Las Vegas, Olympia, or Reno, report to the office periodically. Some work tasks do require onsite work, which happens on a scheduled basis.
"Many of our engineers work productively from a home environment," Peter said. And if they are in a physical location that has a local ITS office, they have their own workspaces configured there and have the option to work onsite, allowing for a hybrid work setup.
On top of working closely with technicians that have different work setups, Peter himself is an IT expert that has experience with remote and onsite work, so we asked him about the pros and cons of each.
Pros and Cons of Remote Work
Pros of Remote Work
The pros of remote work include:
Working from home removes the need to suffer through long and grueling commutes, offers team members more time to spend on things that matter more, such as family, friends, and self-care.
Regarding productivity and efficiency, Peter stated, "We can provide faster response and service if we can do it remotely." This can be more efficient than driving from client site to client site, enabling more tickets to be resolved remotely.
Healthier work experience.
Long commutes can negatively affect a person's health by being a great source of stress. Just think about the long lines and traffic jams you must navigate on most days. Long commutes can also reduce the amount of sleep you get, as you need to get up earlier to make it to the office on time.
Cons of Remote Work
Limited access to resources
Not everyone has a home workstation that is up to par with the ones at the office. Team members may lack specific tools and resources, especially high-tech and expensive ones, which may affect the quality of their work.
Struggles with collaboration
IT work requires heavy collaboration with different teams, which is difficult to achieve in a remote setup. You can't just turn to your side and ask a colleague about an issue or bounce ideas off each other.
Lack of social interaction
The social aspect of work is just as important as anything else. Little to no face-to-face interactions with people outside the home can make people feel lonely and isolated.
Pros and Cons of Onsite Work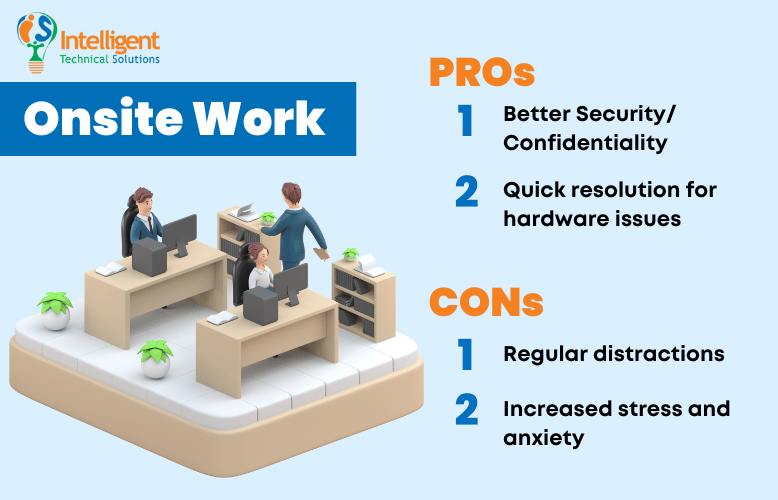 Pros of Onsite Work
The pros of onsite work include:
Better Security/Confidentiality
Exchanging messages and data over home internet connections and public Wi-Fi isn't secure. Even if you mandate workers to install firewalls or anti-virus applications, there's still the possibility of someone slipping up, especially considering that human error is the main cause of security breaches.
Quick resolution for hardware issues
Certain IT issues can only be solved physically, and when you've got no one onsite, it will take time for that to happen. That's potentially a lot of downtime for your workers as you wait for the person who can resolve the problem.
Cons of Onsite Work
The cons, on the other hand, are:
A lot can happen at the office, from chitchatting colleagues, small accidents, and other unexpected events, which can be major causes of distraction. Home environments are just as busy, but you potentially have more control over what happens at home than at the office.
Increased stress and anxiety
Before you arrive at the office, you could already be under a lot of stress due to your commute. Once you've arrived, you feel the anxiety of working in a fast-paced and competitive work environment. Both these can heavily affect your mental health, resulting in poor service and work.
Enjoy a Hybrid Work Setup at ITS!
Each work setup has its own Pros and Cons, which are:
Pros

Cons

Remote Work

Better work-life balance

Increased productivity

Healthier work experience

Limited access to resources

Struggles with collaboration

Lack of social aspect

Onsite Work

Better security and confidentiality

Quick resolution for hardware issues

Regular distractions

Increased stress and anxiety
At the end of the day, it's up to you to decide which would fit better for your business. You could be the type that is more productive in the comforts of your own home or one that needs to interact with colleagues for motivation.
Here at ITS, our engineers, as well as other positions, mostly work remotely. However, there are some who utilize a hybrid setup, enabling them to enjoy the pros of both remote and onsite work. Please head to our Careers Page and see if there's a position available for you!