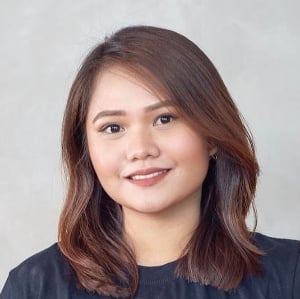 What is the Hiring Process at ITS?
When you're looking for a new role or career, the application process can be frustrating—especially if you feel like you're navigating the steps alone or if you simply don't know what to expect.
At Intelligent Technical Solutions (ITS), we understand. We don't want you to feel overwhelmed when starting your career journey with us. All applicants, whether applying for an entry-level or an executive position, deserve to have a great experience. We want you to know exactly what to expect when planning to join us; so we are providing you complete transparency to our hiring process, starting from your initial assessment to your offer to join our team.
That's why in this article, we sat down with our HR Recruitment Lead, Chesca Dela Cruz, to discuss and break down the steps of our hiring process. Each step is thorough and purposeful, ensuring that you have a complete understanding of who we are, what we do, why we do it, and what we expect from you. Our recruitment team painstakingly designed it to ensure that we are a true mutual fit, ensuring a long partnership with ITS as you grow and develop your career with us.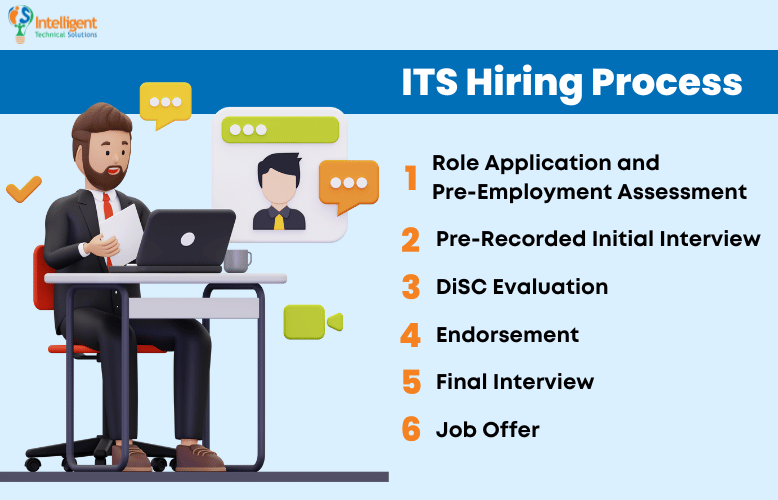 The Hiring Process at Intelligent Technical Solutions
Read on to better understand our process and what goes on in each step!
Step 1: Role Application and Pre-Employment Assessment

The hiring process starts as soon as you begin the first assessment relative to the role you are applying for. Applicants go through different assessments depending on the position.
Sales Positions
If you're applying for a Sales position, such as a Solutions Consultant or Outside Sales Representative, you will go through assessments that:
Determine your sales effectiveness, execution, and potential

Evaluate your communication styles critical to success in sales

Measure your problem-solving skills, critical thinking, and learning ability
Tech Positions
If you're applying for a Tech position (e.g., IT Technician, IT Support Specialist, Tech Support Agent), you'll go through assessments that:
Gauge your technical abilities in a real-world scenario

Determine your typing speed and accuracy

Determine your skills level in grammar and math, as well as attention to detail and learning ability

Measure your problem-solving skills, critical thinking, and learning ability

Analyze your key information processing functions, including attention, working memory, and reasoning
Other Positions
If you're applying for a non-Sales or non-Tech position, such as a Content Writer or Instructional Designer, you will go through assessments that:
Determine your typing speed and accuracy

Determine your skills level in grammar and math, as well as attention to detail and learning ability

Measure your problem-solving skills, critical thinking, and learning ability

Analyze your key information processing functions, including attention, working memory, and reasoning
Why do you have to go through all these assessments? It's to:

Ensure a mutual fit for you and ITS

Objectively measure your skills and abilities

Help us quickly identify qualified candidates from a large applicant pool

Guide ITS in finding candidates like you, regardless of your background
All in all, we want to set up all our new hires for success. We want to make sure that you are in the right place when you join ITS. These aptitude tests are one component that gives us a good measure of your overall competency, motivation, learning style, and strengths.
Related Reading: 4 Reasons ITS Uses Assessments (& How They Help You Too)
Step 2: Pre-Recorded Initial Interview

Once you pass the assessments, you will receive an email with a link to a pre-recorded interview. We use a tool that helps us screen video responses quickly.
This will be a one-way interview where you'll record yourself answering some questions (roughly ten or so), which, depending on the role applied for, would include tech focused, culture-related, and scenario-based questions. This gives a sense of your communication style and takes 15 minutes or so to complete.
Sure, it can be awkward talking to a screen for some, not to mention you don't get any immediate and direct feedback on your answers. It may be a unique experience, but it offers the following benefits:
You don't have to take time out from your current work because

you can choose

where

and

when

to do the interview

(within the deadline, of course)

You complete

the hiring process faster

because there's no need for our recruitment team to arrange each interview face-to-face (scheduling can be challenging sometimes!)
Step 3: DiSC Evaluation

Along with skills assessments, we use DiSC to understand your communication style based on your typical everyday behavior. "The DiSC process captures the communication style, strengths, and motivations of an individual," Dela Cruz says.
DiSC is an acronym that stands for the main personality profiles described in the DiSC model:
Dominance

– candidates with "D" personalities tend to be confident and focus on accomplishing results

Influence

– "I" personality types tend to be more open and focus on persuading or influencing others

Steadiness

– applicants with "S" personalities are dependable and focus on sincerity and cooperation

Conscientiousness

- "C" personality types focus on competency, expertise, quality, and accuracy
Your profile has the potential to determine whether your strengths and weaknesses can help you succeed in the specific position you're applying for. It can also help hiring managers answer questions like: "Would this person with a high D/I/S/C score be a great leader or member of the team we are creating?"
Step 4: Endorsement

Once you're done with the basic competency and supplementary assessments, our recruitment team will start evaluating your results. Those who pass the initial screening will have their results evaluated by the hiring manager, and then you'll be scheduled for a final interview.
Step 5: Final Interview


Top candidates will go on to have a virtual interview with the hiring manager and related team members. Generally lasting 30 minutes, this final interview is for us to get to know you better and for you to learn more about the team and imagine yourself in the role.
When coming in for the final interview, please come prepared. Here are some tips from people who were once in your position and are now working at ITS:
Read about ITS.

Our website is full of information about our company. Take some time to review it; who knows, you might find some interesting bits of information that make for great conversation starters.

Prepare for behavioral questions.

Note that your future manager may ask you questions about how you approached certain challenges in the past; this will give them an idea of how you might react to similar situations in the future.

Ask anything!

We'd love to hear your questions about the role, our people, and our culture. After all, as much as you're the focus of the conversation, it's also about what we can offer you.
Depending on the role you're applying for, the hiring manager may ask you to do a final test to gauge how your skills will apply to the actual job. Content writers, for example, may be asked to write a blog that will be published on our Learning Center (paid, of course, whether or not you get the position!)
Step 6: Job Offer
If the team decides that you're the best candidate for the position, we will reach out to you via email and follow-up call with a unique link to our HR system. We leverage a workforce management platform that lets you review your offer online.
The job offer will include your role details, work schedule, compensation, benefits, and required legal agreements, to name a few.
You'll have a reasonable amount of time to consider the offer. If you have any clarifications about the offer, please reach out to us and we're happy to answer your questions.
Congratulations! You're now part of a team that will inspire you and challenges you to even greater heights with a clear path to career success. We're thrilled to work with you in a true partnership!
Ready to Kickstart a Fulfilling Career with ITS?
The whole process typically takes two weeks, sometimes a bit longer, depending on the position you're applying for. It may be a thorough process, but once you get through all the steps and finally secure that role with ITS, we promise it will be worth it!
Our hiring process is purposeful. ITS cares deeply about our teams and the people who make them up, and having a transparent, comprehensive hiring process shows just how much we do.
If you are ready to explore a role with ITS that allows you to do meaningful and impactful work in the world of IT, browse our Careers page to see which openings may be suitable for you!