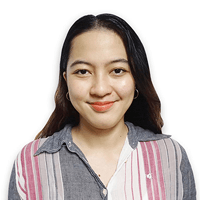 What is SOC 2 Compliance, and What Does It Mean for Businesses?
You wouldn't want to risk having your network compromised by a single mistake. That is why, as a business owner, you implement security measures to ensure that no threat gets past you and that all vulnerabilities are covered. You probably even outsourced an IT professional to make sure that you're protected 24/7.
All these precautions are vital to establishing a robust IT infrastructure. It helps you meet the level of security required by specific compliance standards, including Service Organization Control compliance or SOC.
As a Managed IT Service Provider (MSP) with a key focus on cybersecurity, ITS helps hundreds of businesses stay on top of the latest cybersecurity processes and compliance standards like Service Organization Control (SOC).
In this article, we'll go over the following questions:
Why are compliance standards important?

What is SOC 2?

What are the five trust principles of SOC 2?

What is the SOC 2 audit process?
Why are compliance standards important?

Compliance is critical for many reasons beyond security; it can affect your business reputation, integrity, and client trust. You may be doing well on your own cybersecurity-wise, but not following compliance standards will impact your business growth and longevity.
However, compliance mandates are never a simple process. So, it is crucial to understand the game plan.
What is SOC 2?
SOC is an auditing procedure developed by the American Institute of CPAs (AICPA) for service organizations. It is most relevant to businesses in the financial services industry. It protects organizations' interests and clients' privacy.
There are two types of SOC reports:
Type I

describes a vendor's systems and whether their design is suitable to meet relevant trust principles

Type II

, which we are talking about today, details the operational effectiveness of those systems over the audit period
SOC 2 compliance isn't a requirement for most businesses, but its role in securing data cannot be overstated. If you are a technology-based service organization that stores customer data in the cloud, you will need to consider getting a SOC 2 audit.
Unlike most compliance standards, SOC 2 is not a certification. Jeff Farr, a Security Consultant at ITS, says, "SOC 2 is simply an attestation, an opinion rendered by a CPA."
It is a document proof done by a CPA stating that your organization meets the industry security standards–mainly on how organizations should manage customer data–outlined in the official SOC 2 guidelines by the AICPA.
What

are the five trust principles of SOC 2?
The SOC 2 compliance standard is based on the following Trust Services Criteria: security, availability, processing integrity, confidentiality, and privacy. AICPA does not require you to become compliant with all five TSCs. You can start with just Security, go for all five TSC at once, or perform as many as you can afford.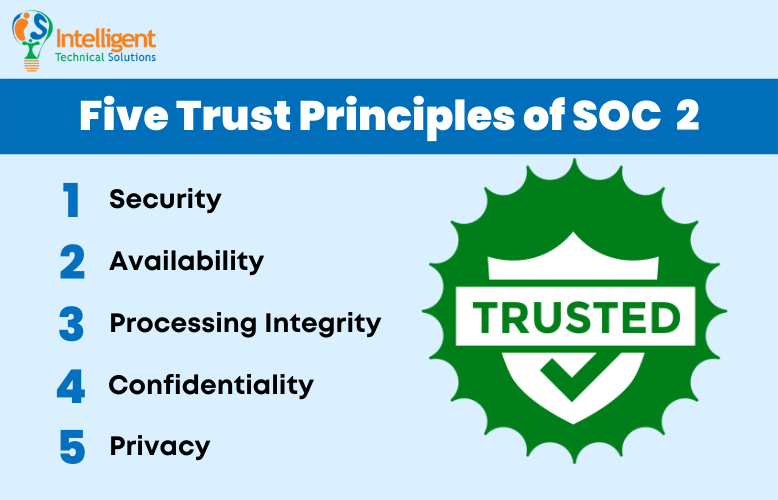 Note that these five criteria may be helpful as a guide, but it does not exactly prescribe what you or any organization should do when it comes to your network. You are responsible for selecting and implementing control measures that cover each principle.
1. Security
The security principle ensures that the information and system are protected against unauthorized access, unauthorized information disclosure, and systems damage that could compromise the network.
It should include protection of:
Information during collection or creation, processing, transmission, and storage

Systems that use electronic information to process, transmit, transfer, and store information
2. Availability
Availability refers to the accessibility of information, products, or services provided to the customers as stipulated by a contract or service level agreement (SLA).
The availability objective does not set a minimum acceptable performance level; it does not address system functionality or usability. However, it does address whether systems include controls to support accessibility for operation, monitoring, and maintenance.
3. Processing integrity
Processing integrity refers to the completeness, validity, accuracy, timeliness, and authorization of system processing. It addresses whether systems achieve the aim or purpose for which they exist and whether they perform their intended functions free from any error or manipulation.
However, processing integrity does not necessarily imply data integrity.
If data contains errors prior to entering the system, detecting them is not usually the responsibility of the processing entity.
To avoid such cases, monitoring of data processing, coupled with quality assurance procedures, can help ensure processing integrity.
4. Confidentiality
Confidentiality addresses the organization's ability to protect confidential information from its collection or creation through its final disposition. These types of information may include data intended only for company personnel, business plans, intellectual property, internal price lists, and other sensitive financial information.
To do that, you must implement encryption, firewalls, and rigorous access control across your business network.
5. Privacy
The privacy criteria may be comparable to confidentiality, but it is not the same. Although confidentiality applies to various types of sensitive information, privacy applies only to personal information.
AICPA organized this category to cover communication, consent, and collection of personal information and verification of whether appropriate parties have access to that information and what can be done with it. 
What is the SOC 2 audit process?
SOC 2 audit is different for every company since everyone has different security measures, but here is a typical series of steps when processing the audit:
Step 1: Choose your report type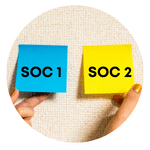 Select between Type I (SOC 1) or Type II (SOC 2) based on your budget and level of urgency.
SOC 1 audits are relatively easier and can be done in under a month. On the other hand, SOC 2 takes up to a year because of the extensive experiments on your information systems.
Step 2: Define the scope
First decide if you will pursue SOC 2 at a company level or only for a specific service

Determine the period your audit will cover. Farr suggests allotting at least six months to a year for SOC 2 audits.

Finally, select the Trust Service criteria you'd like to audit for. It can be for one of the five or all.
Step 3: Conduct gap analysis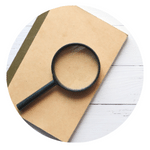 Once you have all your systems, controls, and documents in place, you now need to compare where you stand with what SOC 2 compliance requires through a process called gap analysis.
Gap analysis allows you to identify areas where your system falls short in protecting customer data. That way, you can immediately create a remediation plan to bring them in line before your formal SOC 2 audit.
Step 4: Complete a readiness assessment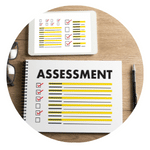 As part of your preparation, you can bring in a SOC auditor to answer any questions or concerns prior to the actual audit. Think of it as a mock audit.
During the readiness assessment, the auditing firm will perform its own gap analysis and give you some recommendations. They'll also explain the requirements of the Trust Services Criteria you've selected. 
Step 5: Select an auditor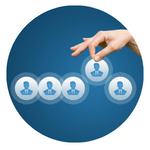 When you've completed steps 1 to 4, it's time to select your auditing firm or personnel. Here are some factors to consider when choosing one:
Level of Experience

- Find someone who has extensive experience in doing SOC audits for companies in your industry and of a similar size.

Length of Engagement

- Discuss the timing of the auditor's on-site evaluation.

Process

- Understand their process and their means of communication beforehand.

Personality

- Look for someone you can communicate and work well with, as with any partnership.
Step 6: Begin the formal audit process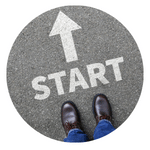 Here's the general process:
The auditing firm will ask several security questions

about company policies, processes, IT infrastructure, and controls.

The auditors will gather evidence and documentation about your controls.

On average, they review up to 85 unique controls.

The auditors will evaluate each process

and consult with the business owner.

Patience will be your greatest virtue in the process, as you can

expect multiple follow-ups from the auditors

asking you for additional documents or evidence.

Finally, you will receive a written SOC 2 report outlining the results

; if you get an unqualified opinion, it means you passed. If not, use your SOC 2 report as an instruction manual for closing the gaps, then try again.
Ready to meet your SOC 2 compliance goals?
Albeit non-requirement and non-certified, compliance with SOC 2 can provide your business with improved information security practices so your organization can defend itself better against cyber attacks.
More importantly, it gives you a competitive edge since customers would much likely prefer to work with service providers that can prove they have solid information security practices, especially for IT and cloud services.
Here at ITS, we help hundreds of clients make smart decisions regarding compliance, so they can focus more on growing their businesses. Read Can an MSP Help You with Regulatory Compliance? to learn more about how an MSP can help you pass your industry's regulatory standards.