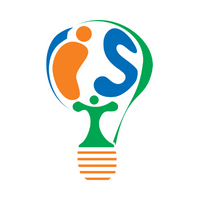 Protect Your Business from the Dangers of Spam SMS
Spam SMS is more than an annoying text message. It's a sign that someone outside your team is targeting your organization for their benefit.
Their compelling messages are like dark mists that disguise their actual goal: to infiltrate your network and steal valuable data. Fall for their schemes, and you can kiss your business and hard-earned reputation goodbye.
Here At Intelligent Technical Solutions (ITS), we help hundreds of businesses protect themselves from hackers by deploying multi-layered cyber security measures on their networks. In this article, we share our knowledge on cybersecurity to help you better protect your business from cybercriminals.
The following are what we'll discuss in this article:
What is Spam SMS?

How do you identify a Scam Text?

Where and how did spammers get my number?

What to do When You Receive a Spam Text
After a complete read-through, you and your team will have a better understanding of how hackers use Spam SMS to attack your business and what you need to do to stop them. First, let's identify what Spam SMS is.
What is Spam SMS?
Just like regular spam, spam SMS is used for promotional purposes. Businesses employ it to introduce commodities, give away coupons, and market whatever they want to sell to the public. 
It is communicated to randomly chosen or automatically generated numbers using a five to the six-digit short code or a regular phone number issued by a local telecommunications provider. 
How Do You Identify a Scam Text?
As stated earlier, spam SMS is also used by cybercriminals in their schemes. They are often hard to identify as they look almost exactly like a regular spam text sent out by legitimate businesses. But no matter how hard they try to mask their message, there are ways to identify them.
Here are some telltale signs that you are dealing with a scam text and not just a regular spam SMS.
Their messages include unverified links.

These links lead to bogus websites trying to steal your username and password when you try to log in. It may also be a download link for malware or virus which can infiltrate your mobile phone and collect valuable data from your business.

Errors in grammar and spelling.

Businesses would always make their communication sound professional as it represents their team. If the message doesn't look professional, then there's a high chance that you're faced with a scam text.

Irrelevant message. Cybercriminals use different tactics in persuading their prey to open and read their messages. They often send you irrelevant messages like "You won a car" or "Your package is on its way." even though you did not order anything or joined a lottery.
Where and How Did Spammers Get My Number?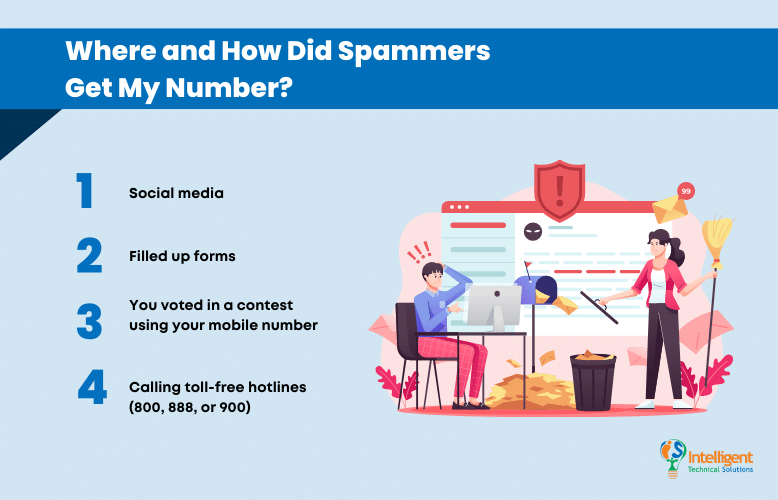 Here are some of the ways spammers got a hold of your digits:
Social media - If you have listed your numbers on one of your social media profiles, then there's a good chance that spammers have already gotten a hold of it. Most information posted on the internet can be publicly viewed, so be careful what you share on the web.
Filled up forms - If you've ever filled up a form, whether it be for a subscription service, a credit check, or a survey, then you were most probably asked to provide your mobile number. The form admin can pass your number to a third-party data provider who can sell it to anyone.
You voted in a contest using your mobile number - We're not saying that voting for your favorite contestant is bad. But understand that doing so will automatically save your digits on the service provider's system.
Calling toll-free hotlines (800, 888, or 900) - Your mobile number is collected by an Automatic Number Identification (ANI) system whenever you call these numbers. ANI can also match the number you used with other digital data linked to you.
If your business has weak cyber security, a hacker can easily access your company's details and get your employees' data, including their mobile numbers. These data types can quickly be sold on the dark web or directly to spammers at a low price.
Unusual incidents, such as a lost or stolen mobile phone, can also serve as a culprit.
What to do When You Receive a Spam Text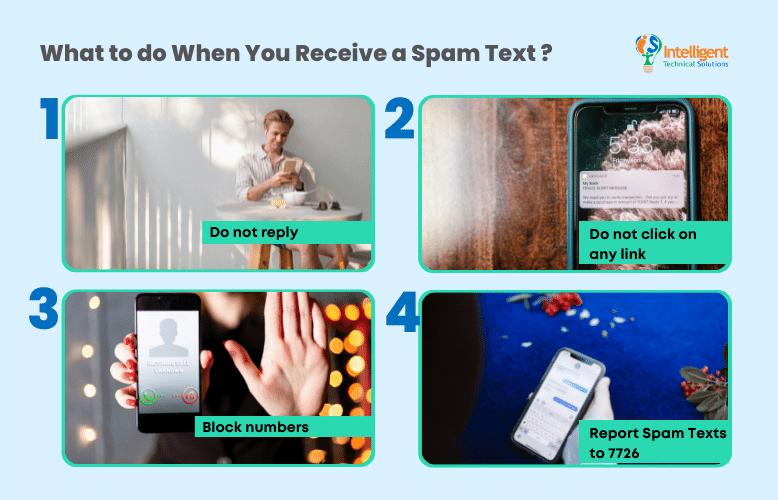 We all wish that preventing spam SMS from hounding our mobile phones is as easy as replying 'stop'. But the truth is, it's not. Here are some of the steps you can take up whenever you receive a spam SMS.
Do not reply
We know you'd like to express your nuisance for the inconvenience they have caused; we've been there. But please, don't do so as replying will only confirm that your number is currently in use. It will just make you an even bigger target for spammers, or worse, scammers.
Do not click on any link
We cannot stress how important this measure is. Unverified links may contain malware that can be installed on your device without you even knowing it. It can also lead to a false website claiming to be the actual page of a service you're using. Once you provide your details, a scammer can steal it and use it for their benefit.
Block numbers
This comes in handy if you're receiving multiple spam texts from the same number. The good news is almost all smartphones in the market can block numbers, and it's easy to do. Of course, doing so depends on your mobile's make and model.
How to block numbers on Android
Open the Phone app

Tap the three-dot icon and select Settings

Tap the Block numbers option

Type in the mobile number you wish to block or search it from your contact list by tapping the Contacts button
How to block numbers on iPhone
Open the Message app

Select the message of the spammer

Once opened, tap the phone number and select the I icon

Tap the phone number again and choose block this caller
It's essential to take note that this step will only cut off messages from the number you've blocked. Spammers may still reach you if they use a different number. Nonetheless, this is still a great way to silence them.
Report Spam Texts to 7726
Backed by the GSM Association (a global association of wireless carriers), 7726 is a service that collects data about SMS spam complaints from participating telco providers.
It allows mobile operators to get an insight into what they should do to prevent spam SMS. It also helps track and terminate numbers used for spamming and develop preventative policies and procedures to protect its customers.
All you must do to report a spam message is to forward it to 7726. Your telecommunications provider will reply, asking for the number the spam message originated. Once given, your service provider will prompt an investigation to prevent others from receiving spam messages from the same source.
The good thing about this service is that it functions as a collaborative effort between consumers and service providers to fend off spammers and scammers.
Want to Maintain a Spam-Free Inbox?

Since our business mobile phone is a major contact point for our clients and partners, we must ensure that all messages coming in and out are strictly business-related. Personal messages and unsolicited texts like spam should be out of the window.
But if spammers already target your business mobile, we suggest taking defensive measures. Use the filtering capabilities of your devices and report spam messages to 7726 or to your service provider. Always be careful with where and whom you share your business mobile number with, as spammers and scammers are always looking for potential prey.
Also, consider enhancing your business' cyber security. Doing so will not just prevent hackers from farming data from your system, but it will also protect your business against dangerous digital threats.
Here at Intelligent Technical Solutions (ITS), we've helped hundreds of businesses safeguard their data and privacy from any form of digital threats or annoyance like spam messages. Learn how you can better defend your business from cyber-attacks by watching our video entitled 15 Ways to Protect Your Business from a Cyber Attack.