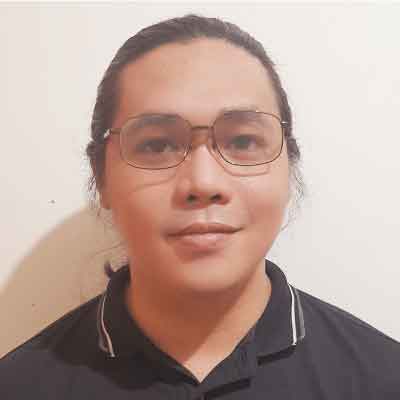 Long-Term or Short-Term Managed IT Support Contract: Which is Better?
Deciding for how long you will get locked into a contract is anxiety-inducing. It tends to bring up some tricky dilemmas, which could lead to a flood of "what ifs." What if the service provider doesn't deliver? What if another company offers a better deal? What if you get stuck with a company you don't get along with?
It's a major decision no matter what agreement you sign. However, it's especially hard when the consequences of a bad contract have far-reaching impacts on your business, like when you sign with an IT support provider. They have access to your entire network and are often tasked with protecting it. Signing with a managed service provider (MSP) that doesn't deliver could spell years' worth of productivity going down the drain, or much worse – a data breach.
Determining your contract length with an MSP is just as crucial as choosing which company you'll partner with.
At ITS, we're dedicated to helping businesses make smart decisions regarding their technology. That's why in this article, we'll share our insights on the pros and cons of choosing a long-term or short-term MSP contract. After reading, you'll be able to find the right contract length for your specific business needs.
Short-Term IT Support Contracts
A short-term MSP contract offers flexibility and low commitment, which might make it seem like an easier choice. Unfortunately, a lot of IT support companies are slowly shifting away from short one-year contracts in favor of three-year and five-year terms.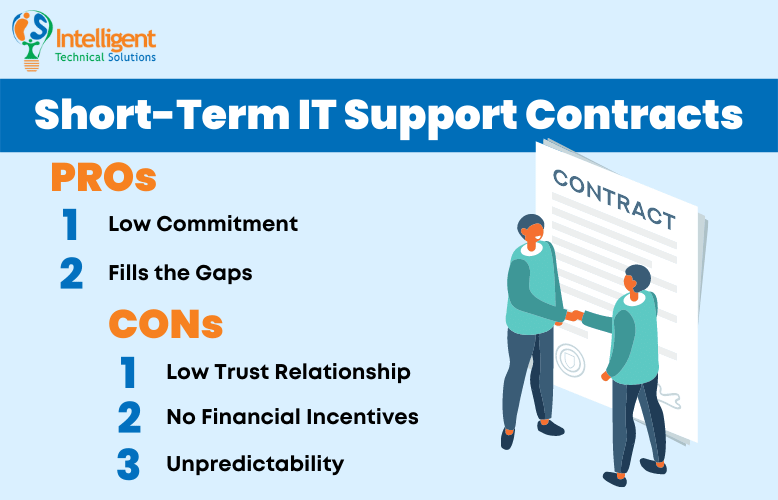 That's because while short agreements have their advantages, you can't maximize its benefits unless you fit a specific niche. Unless you're a company that needs IT support for only a brief period of time, short-term contracts might not make a lot of sense.
Take a look at the pros and cons of short-term MSP contracts:
Pros of Short-Term MSP Contracts:
Low Commitment
Deciding on an MSP is a big decision. Many would find it daunting to sign a long-term agreement, especially when that means you're letting a third-party take over your network. You might want to test the waters and see if managed services are a good fit for your company. Short-term contracts allow you to do just that.
It enables you to see if the provider or the service agreement has your company's best interest at heart. Or, it can give you an easy out if things go awry. The low commitment is a plus when you are unsure and just want to dip your toes in. However, do keep in mind it also means the IT company might have the same level of commitment toward your business.
Fills the Gaps
Major IT projects can take a long time. Unfortunately, that will open up some gaps in your network. Your IT team might not have adequate manpower to provide day-to-day support as they take on those projects. A short-term contract with an MSP can help fill in those gaps temporarily for as long as you need them to, without the long-term commitment.
Cons of Short-Term MSP Contracts:
Low Trust Relationship
A short-term contract doesn't inspire a lot of trust. That could lead to an unproductive relationship with your service provider. You may be less inclined to listen to suggestions and solutions offered by an MSP than you would if there was mutual trust between you.
Additionally, trust goes both ways. In an ideal world, an MSP will deliver the same level of service across all clients. However, the reality is harsher. Some may be less inclined to go above and beyond and devote resources to your business if they believe you will just drop them for another provider.
No Financial Incentives
Long-term contracts are hard to sell. For that reason, many MSPs will try to sweeten the deal by adding financial incentives that give you more bang for your buck. On the other hand, short-term contracts are easier as it requires less commitment. Unfortunately, that also means you will likely pay full price for all services rendered.
Unpredictability
Just as you have an easy out with short-term contracts, an MSP has one too. That means they can choose not to renew the contract for their own reasons. It could set you back to the drawing board, forcing you to restart the arduous process of finding another provider.
Long-Term IT Support Contracts
Signing a long-term agreement with an MSP can yield a lot of benefits that can give you a leg up over your competitors. However, that's only true if you find a reliable service provider. Otherwise, you will end up stuck with a company that doesn't deliver the results you had hoped for. The only way to get out of a contract like that is if they breach the contract.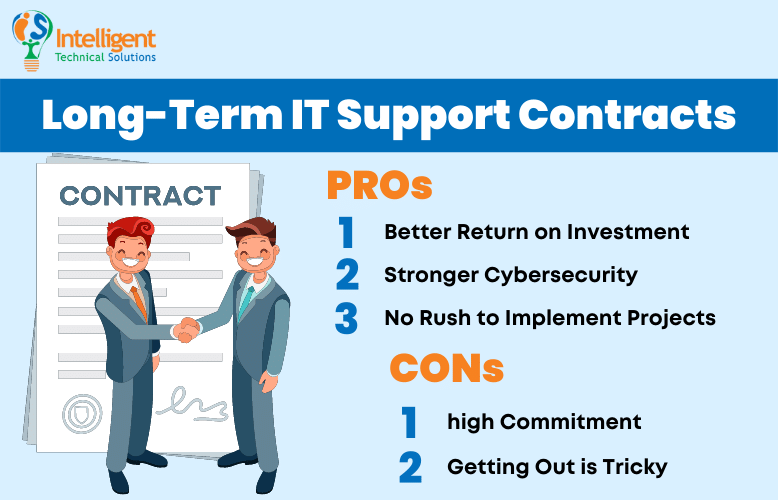 However, if you do find a trustworthy provider, you can count on a long, fruitful relationship that helps you maximize your technology. Take a look at some of the benefits of signing into a long-term contract with a reliable MSP:
Pros of Long-Term MSP Contracts:
Better Return on Investment (ROI)
Longer contracts offer better value. That's because it allows your contracted MSP to learn more about your business, operations, teams, and infrastructure. It will improve the potential for innovation, allow for faster implementation of new technologies and bring better strategies to keep you ahead of the curve.
In addition, long-term contracts are designed to give you the most value for your money, whether that means extra services, better prices, or even a dedicated Virtual Chief Information Officer (vCIO). That's because engaging in a long-term agreement signifies your trust and commitment, and most MSPs will try to reciprocate that.
Stronger Cybersecurity
Familiarity with your systems will help MSPs deliver more comprehensive cybersecurity. They will know the weaknesses, the ins, and outs of your network, as well as all the critical infrastructure and software you use day to day. That knowledge will help them tailor their security solutions to fit your unique needs.
No Rush to Implement Projects
By nature, projects like digital transformations and server migrations are disruptive tasks. They require you to go step by step if you want to get things right. A tall order if you're on a short-term contract with your IT support company. A limited timeline will almost always force missteps that could end up causing massive disruption across your organization.
However, a long-term contract with a reliable MSP means you don't need to rush through the process, avoiding costly mistakes. They can help you craft a successful long-term plan that minimizes disruption and makes for a relatively smoother transition.
Cons of Long-Term MSP Contracts
High Commitment
It goes without saying that signing into a long-term agreement requires a huge commitment on your part. It can discourage a lot of small to midsize businesses like yours. That's because you will have to make sure that you're partnering with an MSP that's not only capable but also one you can trust. The only way to find the right one is to do your homework and ask the right questions when meeting with service providers.
Getting Out is Tricky
A long-term contract with an IT company that doesn't deliver can be tricky. Especially when you consider that the only way you can get out of the agreement is if they breach the contract or if both parties mutually agree to part ways.
If things aren't going well, reach out to your service provider and state your problems outright. In many cases, that will solve the problem. It will inform the MSP that things aren't going well and they need to step it up.
However, there are times when agreeing to a mutual split is the best option. For times like those, it's still better to communicate with the IT company.
Ready to Commit to Your IT Support Contract?
When deciding whether to choose a long-term or short-term contract with an MSP, it's vital to take a look at what role you need them to play for your company. For example, if you need IT support while your IT team is busy with big projects, or if you just want to test the waters, a short-term contract might work best. However, if you want to invest in the future, and want to maximize your technology, then a long-term contract will net you the best ROI.
At ITS, we are dedicated to helping businesses make smart decisions regarding technology by sharing our insights. Learn more about how you can choose the right MSP. Check out our article titled: How To Choose a Managed IT Service Provider: 4 Things To Look For.