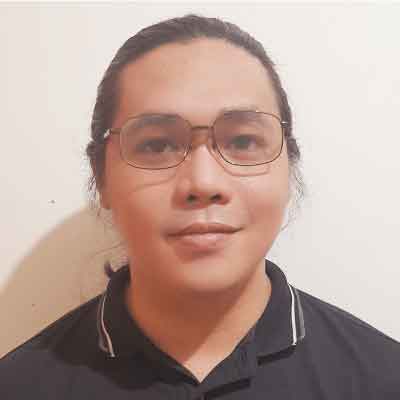 5 Best Managed Security Service Providers (MSSPs) in Las Vegas
The world's largest hacker convention takes place annually in Las Vegas. It's a gathering where organizers warn attendees that anything that can be hacked will get hacked. While that's not an indication that Vegas is a hotbed for cybercrime, it does help put things in perspective. Cybercriminals gather by the thousands to learn how to penetrate your defenses. Are you prepared for them?
Unfortunately, many can't meet the cost of building their own advanced cybersecurity systems, while others just don't have the expertise to do it themselves.
Thankfully, managed security services providers (MSSPs) can bridge that gap and bring enterprise-grade cybersecurity services at relatively lower buy-in costs. The tough part is finding the right one for your business because not all managed cybersecurity providers are built the same.
Intelligent Technical Solutions (ITS) is an IT support company that offers businesses comprehensive managed services with advanced cybersecurity. In this article, we'll help you find the best MSSPs in Las Vegas. And while it's tempting to say just partner with us, we've excluded ITS from this list for complete objectivity.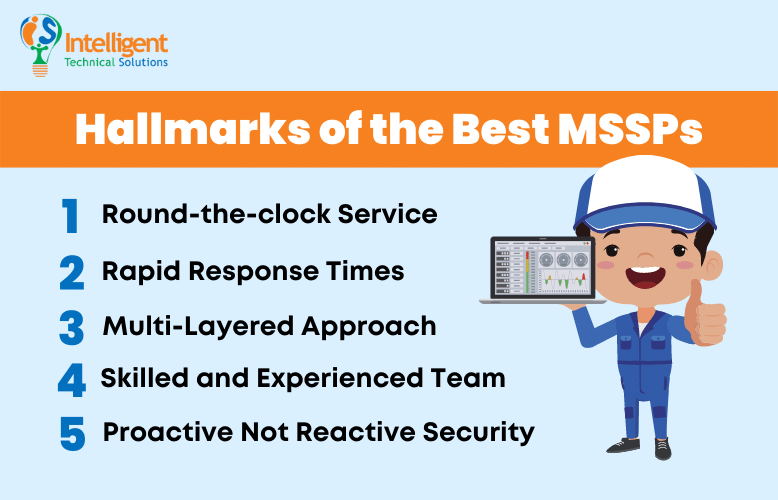 5 Hallmarks of the Best MSSPs
Before we go into the list, there are a few key things that all good MSSPs should have. We've chosen the top MSSPs in Las Vegas based on the following:
1. Round-the-Clock Service
You might be a 9-to-5 business, but security incidents can happen at any time. In fact, most threat actors prefer to move when their team is not in the office. A reliable MSSP should be available 24/7, 365 days a year, to respond to any incident.
2. Rapid Response Times
During a security incident, every second counts. The longer it takes someone to respond and contain a threat, the more damage it can do to your business. Your MSSP should be able to respond to you within an hour or sooner in case of an emergency.
3. Multi-Layered Approach
Reliable MSSPs always take a multi-layered approach to cybersecurity. A good security service provider covers all of your attack surfaces. The best ones put additional layers of security on top of that. You can think of it as how you would protect a castle. Building a wall around it is good, but adding a moat, a gate, and some guards will make it drastically better.
4. Skilled and Experienced Team
A reputable MSSP must have experienced and certified technicians to serve their clients. They should also have specialized knowledge regarding cybersecurity and an extensive threat intelligence network so they can deliver the advanced solutions you need. Having that level of expertise working for you is indispensable when it comes to securing your technology.
5. Proactive Not Reactive Security
Prevention is better than cure. The saying has been around since the 1500s and still holds true in the digital age. Avoiding a cyber attack altogether will protect you from a costly operation to mitigate and recover from one. The best MSSPs know that well and will try their best to set up your security to prevent incidents.
Top 5 MSSPs in Las Vegas
Check out some of the best MSSPs serving Las Vegas:
1. Orbis Solutions, Inc.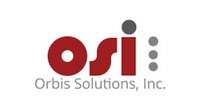 Orbis Solutions Inc. is an IT support company that provides a holistic approach to cybersecurity. Their multifaceted approach focuses on cybersecurity protection, detection, and response, including email security, data protection, and endpoint protection. They can also help clients meet their compliance goals.
Location: 8022 S. Rainbow Blvd., Suite 209, Las Vegas, NV 89139
2. CyberClan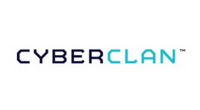 CyberClan is an MSSP headquartered in Las Vegas. They provide first-class incident response & breach response services, cyber extortion, ransomware, eDiscovery, tailored risk management consultancy services, and managed security services. The company has experience working with various industries, including those categorized as critical infrastructures, like government agencies, aerospace, energy, education, healthcare, and more.
Location: 1810 E Sahara Ave., Las Vegas, NV 89104
3. Nexustek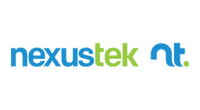 NexusTek offers a managed detection and response plan that protects your business, discerns security threats, and responds to cyberattacks. The company's Security Operations Center proactively monitors your IT systems 24/7/365 and performs Security Information Event Management (SIEM) to detect and analyze malware activity. They have comprehensive plans that feature unlimited event log correlation and aggregation monitoring per user to uncover threat patterns and vulnerabilities.
Location: 5580 S Fort Apache Rd. Suite 100, Las Vegas, NV 89148
4. Axiom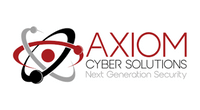 Axiom Cyber Solutions offers a Managed Cybersecurity Solution, which includes next-generation firewall/intrusion detection & prevention (IDS/IPS), managed antivirus, managed network monitoring, and managed patch management, all for a relatively affordable subscription. They utilize Artificial Intelligence and Machine Learning to parse the latest threats and predict future ones. The company also touts that its advanced plan is the perfect solution to combat DDoS and ransomware attacks.
Location: 10100 W. Charleston Blvd., Suite 130, Las Vegas, NV 89135
5. Vanguard Integrity Professionals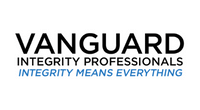 Vanguard Integrity Professionals was founded in 1986 to help customers safeguard mission-critical applications and data. It is the largest independent provider of enterprise security software for addressing complex security and regulatory compliance challenges. The company touts that they continuously drive innovation in security software and technology to stay ahead of evolving regulatory requirements in an ever-changing threat landscape.
Location: 6625 S. Eastern Ave., Suite 100, Las Vegas, NV 89119
Ready to Choose the Best MSSP in Las Vegas?
Finding an MSSP that can meet your needs is vital if you want to protect your business from cyber threats. That's because they will need to prevent security incidents or help you recover from them in a timely manner.
Thankfully, there are some reliable providers serving Las Vegas who are ready to meet your expectations, such as:
Orbis Solutions, Inc.

CyberClan

Nexustek

Axiom

Vanguard Integrity Professionals
As an MSSP serving clients across the country for over a decade, ITS knows just how important it is to find a good fit. You deserve a security partner you can trust and can meet all your needs. If you'd like to learn more about our managed IT services and what sets ITS apart as an MSSP in Las Vegas, visit our Managed IT page.