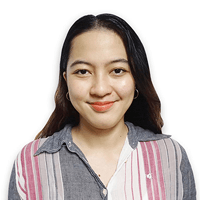 How Does Microsoft Email Encryption Benefit Your Business?
Putting locks around your office keeps unauthorized people out. You can do that with your email as well.
For the past couple of years, emails and messaging apps have replaced boardroom meetings and coffee chats as the go-to communication channels for professionals and businesses.
As more companies transition to remote working arrangements, the number of emails sent and received each day continues to increase. Statista estimated over 306 billion emails were sent and received each day in 2020, the first year of the new normal. Email also remains the top choice of individuals and businesses in communicating with colleagues, clients, and third-party partners.

The unfaltering popularity of this digital tool naturally makes it vulnerable to cyberattacks.
In fact, more than 91% of cyberattacks start with phishing emails, which can lead to security repercussions and financial losses for businesses.
One way to reduce exposure to email-based threats is to employ email encryption.
There's a wide selection of email clients and third-party add-in email encryption solutions that you can choose from, depending on your needs and priorities. Today, we're going to talk about Microsoft Email Encryption.
Here at ITS, we help businesses bolster their network defenses by implementing encryption solutions to ensure all messages and sensitive data are secure. In this article, you'll learn about:
What is email encryption,

the types of email encryption Microsoft offers,

as well as the benefits of using Microsoft Encryption to protect your email.
What is email encryption?
One of ITS' Project Technicians, Mic Messersmith, describes encryption as "a way to make messages unreadable for security purposes."
"It works by having the sent email go through a specific server where it is kept secure until the receiver gets a notification to open it. While in transit, the message is hidden from third-party agents. So, if ever anyone tries to intercept the email, perhaps try to open and read it, they will not be able to do so. They will only get a bunch of unintelligible codes." Messersmith explained.
Apart from mitigating cyberthreats, your business may need to use encryption if you are emailing anything that requires utmost confidentiality, such as Protected Health Information (PHI), Personally Identifiable Information (PII), HIPAA information, and credit card details, or anything protected by governmental or institutional regulations.
What are your Microsoft Email Encryption options?
If your business is a Microsoft 365 subscriber, Outlook gives you three email encryption options that come with your existing plan. We'll touch on each one briefly below:
OME
Office Message Encryption (OME) allows you to send and receive encrypted emails to people inside or outside your organization. This means that your messages remain encrypted even if the recipients use other email service providers like Gmail or Yahoo! Mail.
Recipients are given a one-time password to view the encrypted email, which appears as an HTML attachment that can be viewed in any browser.
S/MIME
Applying Secure/Multipurpose Internet Mail Extensions (S/MIME) encryption requires both the sender and recipient to have the same email application.
It involves the use of unique digital certificates that allow users to encrypt emails and digitally sign messages. The digital signature is used to verify the sender's identity, while the message encryption secures the emails so that the intended recipients can only read them.
IRM
Information Rights Management (IRM) offers online and offline protection to users. This type of encryption restricts unauthorized people from printing, copying, and forwarding emails and attachments that contain sensitive or confidential information.
Why choose Microsoft Email Encryption?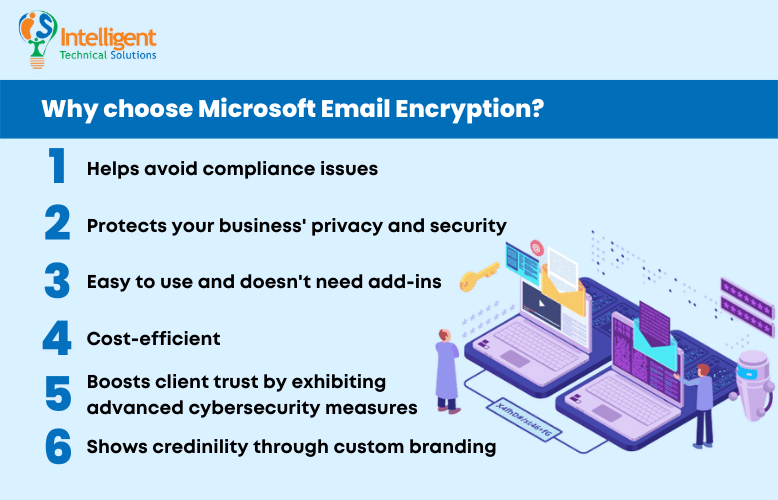 There are a lot of benefits of having secure communication across your organization but here are specific reasons you should choose Microsoft for your email encryption:

1. Helps avoid compliance issues
In some locations and industries, email encryption is required by the government to protect consumers' information that can be accessed through emails. Many regulatory bodies and laws like the Consumer Financial Protection Bureau and HIPAA have strict and constantly changing compliance guidelines. Failure to follow these may result in data breaches, which can cost your business fines or lawsuits.
If your business is in the finance, education, legal, and healthcare sectors, using email encryption such as OME is highly recommended. Emails that include credit card and bank details, IDs, confidential business data, and legal documents are also better best encrypted before sending.
2. Protects your business' privacy and security
Outlook's encryption options cover essential aspects of cybersecurity: confidentiality and integrity.
When using any of Microsoft's encryption technologies, only the intended recipient can read encrypted emails, which helps prevent the disclosure of confidential information to unauthorized parties.
Email encryption also protects the integrity of the messages while they are in transit. The security measure helps avoid intentional and unintentional tampering with emails that can result in compromised messages.

3. Easy to use and doesn't need add-ins
Microsoft 365 email encryption doesn't require you to install certificates or set up add-ins to encrypt messages on Outlook. The recipient can also read the encrypted messages using other email clients.
To use OME, you only need subscriptions to any of the following Microsoft 365 plans:

Microsoft 365 Personal or Family

Microsoft 365 E3 or E5

Microsoft 365 Business Premium
You also don't have to install multiple programs to encrypt emails. The process can be done on one platform, making email encryption easy to do and manage.
Other Microsoft encryption options, however, require certificates and third-party add-ins.

4. Cost-efficient
Email encryption is part of Microsoft's business subscriptions, so you don't have to get additional software or subscription service to safeguard your emails.

5. Boosts client trust by exhibiting advanced cybersecurity measures
While Outlook has strong built-in security measures by default, these may not be enough to prevent more sophisticated cyber-attacks and heightened threats.
With more companies shifting to remote working, exposure to cyber risks has become greater due to companies' unpreparedness to handle the new work setup and some employees' little knowledge of cybersecurity measures. Cyberattackers are taking advantage of these weaknesses and continuously build more sophisticated algorithms that are hard to detect by traditional antivirus engines.
Putting up layers of security not only helps you protect your business from cyber threats but also shows your clients that you take cybersecurity seriously. By adopting measures beyond the bare minimum, you can demonstrate to clients that their data are safe with you.

6. Shows credibility through custom branding
Microsoft email encryption allows users to customize and apply branding elements to encrypted emails. You can add your business logo and use personalized background, colors, and button texts, making your encrypted emails more recognizable and credible for the recipients.
Need help setting up Microsoft Email Encryption?
Emails have always been the number one target of cyber attackers when looking for ways to infiltrate your network. If you haven't yet, make sure to secure all the gateways for them to access your data now by setting up Microsoft Email Encryption. As a recap, here are the benefits of having one:
It helps you avoid compliance issues

It protects

your business's privacy and security

It is e

asy to use and doesn't need add-ins

It is cost-efficient

It boosts client trust by exhibiting advanced cybersecurity measures

It shows credibility through custom branding
As a Managed IT Service Provider (MSP), ITS can help you set up your Microsoft Email Encryption, manage compliance, and simplify user management. Schedule a free network assessment with us today to start.