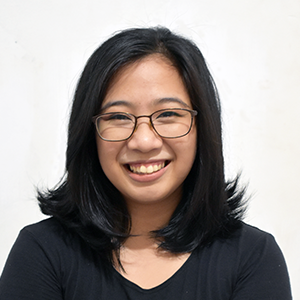 How Do MSPs Stay Secure in 2022? (& Ways to Verify Their Security)
Entrusting your company's data into the hands of another business is a risky venture. What if you chose the wrong one?
As a Managed IT provider focusing on providing advanced Cybersecurity solutions, we've encountered multiple business owners who aren't sure if an MSP is a safe option.
So in this article, Peter Swarowski - ITS' Director of Operations - talks frankly about the risks MSPs face and if they're still a good option for IT support in 2022. He specifically explains:
What are the security risks MSPs face?

How do MSPs protect themselves?

How do you know if an MSP is reliable?
By understanding where MSPs are coming from, you'll be able to decide if getting IT services from MSPs is a safe option for your business.
What Are the Security Risks MSPs Face?

Retailers, manufacturers, financial institutions, and B2B companies are seeing an uptick in cyber threats. It's now undeniable that hackers are turning their sight towards MSPs and other vendors. By hacking into an MSP's network, hackers have many targets under one umbrella.
Some of the security risks MSPs face daily are:
… and more.
And while technology is making great strides in cybersecurity, hackers are progressing at the same pace. It's a constant race between security providers and criminals. There are even Ransomware as a Software (RaaS) services out there, where criminals have sophisticated organized institutions that help them become better hackers.
Security providers only have to mess up once, while criminals can keep throwing out attacks until something sticks.
And due to the high-risk nature of IT support providers, Swarowski pointed out that any MSP who goes up to you and says they're 100% secure is making an impossible claim.
"The only way to make that claim is if you use no technology. If you run your business with technology, you have risk," he said.
Unfortunately, it's almost impossible to sell anything without using technology. Almost everything relies on tech, from sales records to credit card transactions to online marketing and team communication.
It's no longer about a 100% "no-breach" rate. It's about doing everything within your power to keep the risk of a data leak as low as possible.
MSPs, in particular, market themselves as professionals who can do that.
What are The Ways MSPs Protect Themselves?
Swarowski, despite honestly saying no MSP can provide a 100% security guarantee, still believes that MSPs are reliable - because of their expertise in meticulously designing secure processes.
"Cybersecurity," he said, "is more of a journey than a destination. You always have to reassess, reevaluate, and try to make things better."
"Cybersecurity doesn't have an end goal. It's an ongoing process because the risks and the threat landscape are always evolving and changing."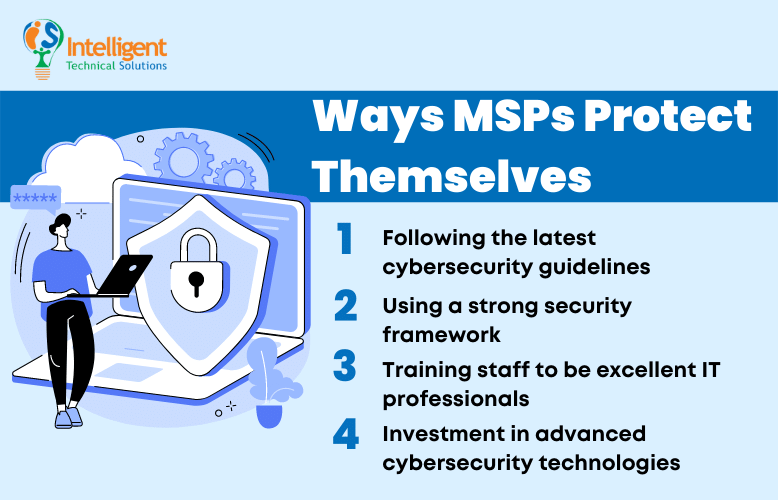 And the strength of an MSP's security comes from:
1. Following the latest cybersecurity guidelines
Some institutions evaluate the tech landscape and design cybersecurity guidelines for security providers National Institute of Standards and Technology (NIST) and the Department of Homeland Security (DHS). The US Government also proactively passes laws and releases memorandums such as the FISMA Federal Information Security Modernization Act (FISMA) of 2014 and Presidential Policy Directives (PPD) 21 & 41.
Managed IT Service Providers to keep themselves up-to-date with these guidelines and implement them in their IT network.
2. Using a strong security framework
Aside from guidelines, there are also structured plans developed by cybersecurity. In these frameworks are plans for:
Identifying gaps in your security.

Protecting your network.

Detecting incoming threats.

Responding to attacks.

Recovering your data.
Read: What is an Incident Response Plan?
If you want to know more about an MSP's specific tools to implement these frameworks, you'll need to ask them directly - as most MSPs don't advertise their step-by-step process.
3. Training staff to be excellent IT professionals
Humans are the most significant cybersecurity threats and easily make the most mistakes in the security process. MSPs are aware of this and take steps to keep their staff from making these mistakes with constant cybersecurity training courses.
4. Investment in advanced cybersecurity technologies
MSPs have systems in place that feed them news about new cybersecurity opportunities. Tech such as new data encryption tools and endpoint security programs are on the radar of MSPs, and some MSPs have departments dedicated to developing unique cybersecurity tools.
How Do You Check if an MSP is Reliable?
If a company claims they've got you covered, you should ask:
How do you have me covered? Can you share the process with me?

Are you aware of the latest security concerns?

Do you adhere to any cyber security frameworks?

Do you have someone dedicated to your cybersecurity? Who is that person? What is their role, and how much time do they spend on it?
Read: 20 Questions to Ask When Choosing the Best Managed IT (MSP) in 2021
But Swarowski warns businesses to get proof of what an MSP says.
"Companies tooting their horn of what a good job they're doing with cybersecurity are probably not super serious about it. Whereas those who spend the time and money and invest in it will have certifications to show you. Maybe they have their SOC II certification, and they're prepared to speak about those things," Swarowski said.
Need to find a Secure Managed IT Service Provider?
MSPs are constantly under fire from hackers and cybercriminals, which means they have to rise to the challenge or break under pressure.
By constantly staying on top of tech updates, following strong security guidelines and frameworks, and consistently training staff, an MSP can keep all its clients secure.
But not all MSPs are created equal. As an MSP ourselves, we know some MSPs are built better than others. We also believe clients should know enough about MSPs to choose the best partnership for their business.
So, as tempting as it is to shout, "Partner with us!" you should read 6 Qualities to Look for in a Managed Service Provider before making your decision. After all, security isn't your only concern when choosing an MSP.