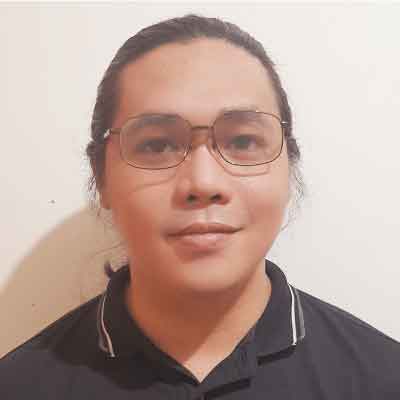 What to Expect on Closing Day
After weeks and months of negotiations and signing documents, your partnership with Intelligent Technical Solutions (ITS) is almost finalized. However, after dealing with the stress of ironing out the deal comes another major stressor: letting your team and your clients know about the changes to come to your company. That's how many of our partners felt before closing day.
Thankfully, you don't have to do everything alone. Joining ITS means you now have a bigger team to support and elevate you, and that starts on the closing visit, or as we like to call it – the Welcome Visit.
In this article, we'll detail what happens on closing day, what we will do on our Welcome Visit, and how you can help make the transition smoother.
What Happens on Closing Day?
Typically, the closing day happens when all transactions are completed successfully. That means all the paperwork has been signed, the due diligence has been done, and the deal is closed.
Once that is over, Adam Kerrigan, our Mergers & Acquisitions (M&A) Director, describes what comes next. He was the CEO of EndevTec prior to partnering with ITS in 2018, so he has gone through the same process. And since he guides incoming partners on their journey, that makes him one of the best candidates to guide you in sharing the news to your team and clients in preparing for the Welcome Visit, part of which means a team of ITS representatives travels to your location to meet with your team for the first time.
Adam usually advises new partners to hold a meeting in private with their employees to disclose the news before the ITS team arrives. "We ask them to do that privately because that's when their team is comfortable. They know each other in that forum. The "strangers" from ITS haven't arrived yet. So, in private, they can have an emotional response and process it," he explains.
It's a stressful position. But don't worry; before that private meeting happens, Adam will coach you on how to communicate the partnership and best answer questions that might pop up. Your people will have many questions and it's helpful to know how to lead in this new situation.
What Happens During the Welcome Visit?
The Welcome Visit is an event that will help your team deal with the transition and help us properly welcome everyone into ITS. It allows us to set a foundation on which we'll build our shared culture and build relationships as we move forward as one team. The agenda for the event is as follows:
Arrival at Your Location

The ITS team traveling to your city is usually a team of six to eight people consisting of ITS leadership and integration specialists. Depending on specifics, we may arrive the day before close, or early closing morning.
Closing Call

Commonly happening first thing in the morning, the closing call, marks the completion of the transaction. Often less than 20 minutes, the call brings all parties together to complete and authorize the transaction. Once complete, Adam and Tom Andrulis, ITS CEO, like to jump on a quick call to congratulate the new partners, as it's now official!
Private Meeting

You'll meet privately with your team to share the news – your organization is joining a larger team. It's an important time to articulate your "why" as this becomes the first asked question. It can be helpful to focus and share the reasons for partnering which benefit most your people such as career advancement opportunities, expanded benefits and compensation options, increased competitive advantage, new and exciting challenges to tackle together, and more.
ITS Team Arrives

Whether at your office or a co-working space, we'll gather the visiting ITS team with your team (some of whom may have flown in themselves to attend the event) for the shared announcement. The meeting, led by Adam, begins with introductions, and we will open up the conversation by stating our shared "why." You (for a second time) and ITS CEO Tom Andrulis will explain to the team why you made the decision to partner up and why you chose ITS, and why ITS chose you.
ITS Mission and Core Values

Tom will then proceed to share our mission and core values with everyone. That gives us the opportunity to let everyone know what we are about and what they can expect from joining our team.
Open Up for Q&A

We encourage questions. It's the best way to address people's anxiety. Adam will share the most commonly asked questions, such as, "do I have a job," "what happens to my compensation," and "what happens now?" According to Adam, a helpful exercise during these Q&A sessions is to go around the room and ask people to share their biggest concerns or fears regarding the partnership. It may be a touchy subject for some, but verbalizing those fears allows the group to connect on a human level..
HR Onboarding
Importantly, we then proceed with HR onboarding to complete the process of welcoming everyone into ITS, where people will sign up for benefits options, verify their pay rate, and more
Inform Clients

Commonly, Matt Phillips, our Director of Business Impact, will go with you and start visiting your clients to inform them of what's happening. It's a vital step because word is going to spread very fast, and it's important that we manage that communication. That will prevent any misunderstandings and keep clients' worries at bay.
Related Reading: What Will Be My Role at ITS?
4 Tips for a Smooth Welcome Visit
While every Welcome Visit is unique, we found the ones which worked best are those where the owners did the following: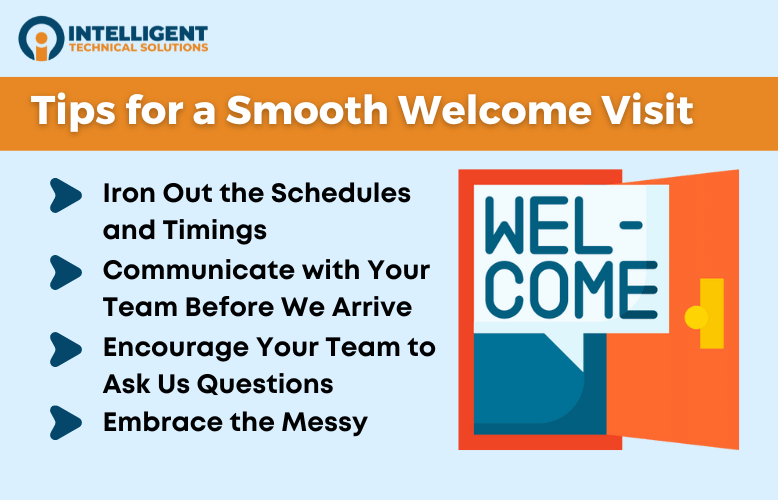 1. Iron Out the Schedules and Timings
Ensuring as many members of your team as possible attend ensures the best delivery of the message, in person. Whether traveling by car or airplane, the meeting is best done face-to-face, and secondarily, by virtual meeting. Beyond this, scheduling client work to delay onsite visits into the late afternoon is preferred. Working with Adam to coordinate this is a good step to success. Obviously, emergencies happen, so whether employee or clients, we'll worth through it together.
2. Communicate with Your Team Before We Arrive
Some of the best Welcome Visits we've had are where our new partners could properly articulate their "why" of the partnership to their team before we arrived. It gave their people time to process their emotions and prepare questions they might have. That allows the conversation to progress and focus on moving ahead, and the discussions become more engaging.
3. Encourage Your Team to Ask Us Questions
One of our main goals during the Welcome Visit is to dispel worries and fears. We understand how scary it is for your team. After all, there are a lot of changes coming. That's why we ask new partners to encourage their teams to ask any questions they might be worried about. It's one of the best ways to clear the air and move forward. Additionally, know there will be many questions for which you have no answer, or are unsure. Be honest with your people, admit your unknowing and commit to finding answers together.
4. Embrace the Messy
Like many complex and multifaceted processes, there will be bumps. Understanding and accepting this ahead of time is key. Unexpected comments may be said, people may decide this isn't for them, changes may be unanticipated, clients may leave. Accepting this as part of the process is a solid step to moving forward with an open mind and reducing your stress. By embracing the messy, we shift from obsessing on the problem to seeing a path forward,
Are You Ready for Closing Day?
We understand that the closer you get to closing day, the more hectic and stressful things become. Thankfully, you don't have to do everything alone. That's because you are now part of a bigger team that has your back and will support you every step of the way.
Are you ready for the closing day? If not, schedule a meeting with us to gain some peace of mind.