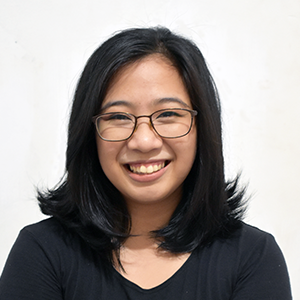 Easy Steps to Cancel an Internet Contract (& How to Do It Painlessly)
As a business owner, you probably rely on a speedy internet connection to conduct transactions and communicate with your team - and any internet disturbances equal workflow disruption.
You might be willing to put up with some minor internet problems, but overall, life is too short for slow Wi-Fi.

Therefore, when things aren't working out with your internet provider, it's essential that you can easily switch over to another more reliable internet partner. You deserve excellent internet in 2022.
ITS, a Managed IT Service and Business Internet provider, has handled multiple clients looking for a better internet partner after bad experiences with their old provider. We know how important it is to have stable, fast, and reliable internet for your business.
So, to easily free yourself from a bad internet provider, we'll talk about:
The steps for canceling your internet service.

Tips for making the cancelation process painless
By the end of this article, you'll have everything you need to cancel your internet plan without any problems.
1. Review Your Contract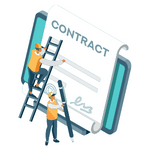 When you get an internet plan with a provider, they'll provide you with a copy of a list of terms and conditions. Included in this contract are the guidelines for canceling your plan. You'll be able to review:
Any lock-in periods (How long do you have to stay with the provider?)

Any cancelation fees (How much do you have to pay if you opt out early?)

Terms and conditions for cancelation (What are the things to consider before cancelation?)
If you don't have a contract, you can easily find these details when you proceed to the next step.
2. Contact Your Internet Provider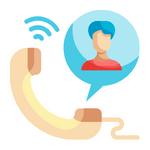 After reviewing your contract, it's time to contact your internet provider. Prepare your:
Account number

Reason for cancelation
By having these two details settled, you'll have an easier time separating from your internet provider. Decide whether you'll contact your provider via call, email, or in-person, then either contact them immediately or put the time you'll go to their office in your calendar.
Good internet providers can assist you immediately and help you through the process of canceling your contract.
3. Pay Cancelation Fees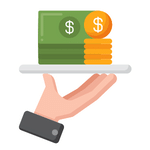 After coordinating your desire to cancel your internet contract with your provider, they'll walk you through the disconnection timeline and point out possible cancelation fees. The prices for cancelation fees vary per provider.
If you've been with your internet provider for more than the lock-in period, there will often be no charge for canceling your contract. Cancelation fees often only apply when you cancel a contract before the agreed upon amount of time is over.
Why Do Internet Providers Charge Cancelation Fees?
Internet providers charge early cancelation fees to recover the equipment investment. Many internet providers are also in a contract with a larger provider, and thus consider their own cancelation fees.
"Honestly, we'd want our clients to be happy," Tom Andrulis, Chief Executive Officer of ITS, mentioned. "If they're not, we'd rather help them find another provider - but our hands are tied in some situations."
He described the reasoning behind these cancelation fees but advised people to ask their internet provider directly. Some accommodations can be made if you ask directly and explain the situation clearly.
4. Schedule Disconnection Date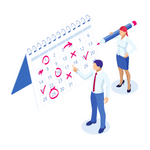 After paying any fees, all that's left is the actual disconnection. Schedule the disconnection date with your provider and wait for staff to get to you and collect any equipment you may have rented out from your provider, such as internet modems.
Most internet providers will disconnect your account between one and two weeks after finalizing all necessary details.
On the day of cancelation, make sure you:
Have staff on-site during the disconnection process

Return any rented equipment from your internet provider
Tips for Painlessly Canceling Your Internet Plan
Canceling your plan and dealing with customer service can be a headache for a lot of people. Here are some tips and tricks to make the cancelation process painless after being ready to leave the partnership.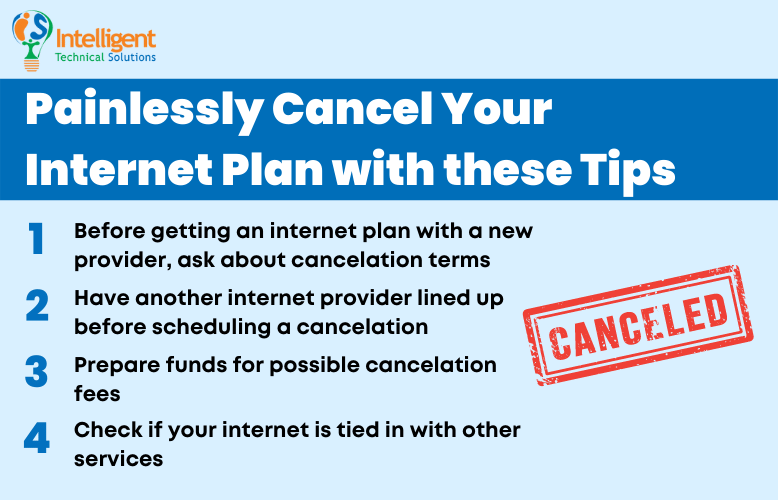 1. Before getting an internet plan with a new provider, ask about cancelation terms.
While this is more of what to do when you sign up with a new provider, having the terms and conditions for account cancelation with a provider will make it infinitely easier to cancel the partnership.
2. Have another internet provider lined up before scheduling a cancelation.
Much like leaving a job is easier with another offer in hand, it is also easier to cancel an internet contract with another provider lined up. Look around your area for the best providers and decide what kind of internet connection is best for your business.
3. Prepare Funds for Possible Cancelation Fees
By being prepared to absorb costs, you'll have less sticker shock when cutting your relationship with your internet provider. Each provider has different cancelation fees, but the general rule of thumb is to prepare one to two months of your internet bill to cover any cancelation costs.
4. Check if your internet is tied in with other services
Business internet is often bundled with a landline - also known as PBX (Private Branch Exchange) - services. If your phone system is connected with your internet plan, you can either keep your landline or shift to another company or a phone system like VoIP (Voice over Internet Protocol).
Need Help Finding a Reliable Business Internet for Your Company?
While cutting off your relationship with your internet provider can be an irritating process, by reviewing your contract, contacting your internet provider, paying cancelation fees, and scheduling a disconnection date, you can make the entire process as easy as possible.
But once you've left a bad company, you'll need to find a good internet provider for your business. Where do you find the good ones, when everyone is claiming they're great?
As a business internet provider, we know you need standards for a reliable internet provider. Check out our video titled Where to Get Business Internet for more information about getting the best business internet for you.