Adding Value to Our Clients
According to Rob Schenk, founder of Intivix, the three companies are making "significant progress in joining teams and systems together." He mentions that, there's still work to do. "Integration takes some time, but the direction we're going is a very exciting one," Schenk said.
"At the end of the day, we're adding more value to our clients. We offer a wider variety of services to help our clients scale and help them meet their own business challenges. And we can do it in such a way where we leverage our deeper breadth of expertise and knowledge," he added.
Fellow partner Dan Izydorek, the founder of PC Miracles, echoed that sentiment. "Our clients will gain the benefits of additional cybersecurity, 24/7 service, and more expertise in different areas of IT across the team," he said. "Some of our clients will also benefit because they have multiple locations. And sometimes, when they expand to other areas, we'll already have offices in those markets," Izydorek added.
What's Changing Post-Merger?
While the merger brings plenty of added value for businesses, it will also usher in a new era for ITS. That means changes are bound to happen. According to all three partners, however, these changes won't impact their deliverables for clients. Instead, they will happen on the back-end with added automation and enhanced processes that will improve the company's level of service.
"It's not a question of changing, as it is adding more. We're able to raise the level of value and service quality that we have overall," Schenk stated. "We're able to leverage some of our automation technologies on the back-end that provides a higher quality product and a higher quality solution than we were able to provide pre-merge," he added.
One of the goals of the merger is to unify the three MSPs into one great company. That means ITS will be incorporating the best parts from each and implementing them for their clients. According to Izydorek, one example of this happening is the implementation of the processes they've been using for over five years. "Our vCIO process and network compliance process here is being duplicated across ITS. So, clients are going to see that impact in a positive way," he explained.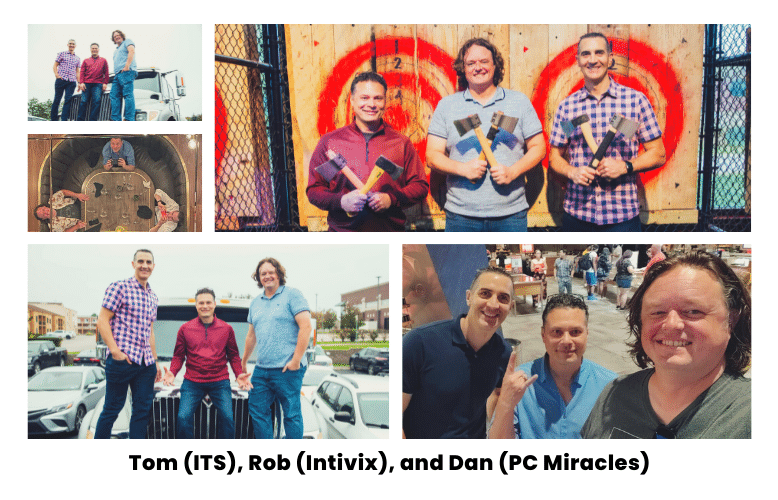 What Will Stay the Same?
While the merger will inevitably bring changes, the people and the core values that clients have learned to trust will stay the same.
According to Schenk, the clients' concerns are centered around; am I interacting with the same people? "It's not like we're going away; it's just that we're bringing more to the party. More to the forefront. We're getting additional help to provide additional value to clients."
"One of the reasons I got really excited about this merger is that you could almost superimpose our core values on top of each other," Schenk detailed. "The three companies have similar perspectives in how we view teams, how we view culture, how we view organizations. We have a very good alignment there, and that for me is something very special," he added.
In Izydorek's own words, "I think a big part if you're going to consider joining the journey with us is to make sure that your business and personal core values complement ours."
Essentially, clients will still be working with the same people and company they have been with for years. Except now, they will also be able to provide a broader range of new offerings and a deeper level of service than ever before.
What's Next for ITS?
The merger is set to bring many exciting changes for clients of all three locations. According to Tom Andrulis, ITS CEO, the merger will bring about better experiences across the board.
"Our clients can expect us to strengthen the locations we already have. We're bringing in more talent. We're expanding in a few more locations that are close to the existing locations we already have," Andrulis shared. "Our cybersecurity stack is also going to broaden. That means we're going to have more tools, more people, more processes in place to meet all of the regulatory compliance needs and concerns that different companies have for security," he added.
Clients should also look out for a bigger push toward cloud computing. "The cloud has been extremely stable. So, a lot of this modern cloud technology, we're going to help modernize our clients' environments and the way they're working," he stated.
Another area that will see more development in the near future is the expansion of the company's data analytics platform. "Our clients are getting a lot of benefits from that platform, so I see us doing a lot more of that work in the future as well," Andrulis said.
Reach Out to Us
At the end of the day, the goal of the merger is to deliver better experiences and better value to the businesses we serve. That doesn't mean we are not open to feedback and suggestions to improve the process, though.
"Clients might have some suggestions and feedback on how to make it better from how it used to be. We want to jump all over that, listen to it, and be able to really think deeply about it so we can make appropriate changes," Andrulis stated.
For any concerns and questions you may have about the merger, feel free to fill out the form below.