85% of Modern Data Breaches Rely on Human Error to Succeed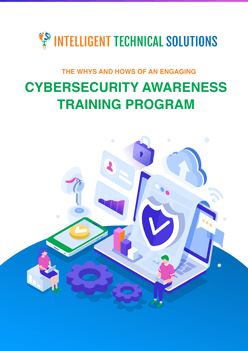 Anyone from your company can unwittingly become a victim of a cyberattack and expose your system, so don't let the human element be your weakest link.
It's paramount that you equip your staff with the knowledge and skills to identify, manage and report different cybersecurity risks. An engaging cybersecurity awareness training program will enable your employees to understand the critical role they play in preventing cyberattacks and developing good cybersecurity habits.

If you're looking to implement a cybersecurity awareness training program, or if you want to improve your existing strategy, then this brand new eBook from Intelligent Technical Solutions is for you. Our eBook will empower you to design and implement a cybersecurity awareness training program that engages its participants and makes them more likely to become advocates of cybersecurity.